With Chinese New Year just a couple of weeks away, many are gearing up for yet another period of festive feasting with family and friends.
If elaborately prepared home-cooked meals aren't your thing, it's not too late to make a reservation at a restaurant of your choice.
From indulgent set menus to All-You-Can-Eat buffets, here are 8 of our picks on where you can go for a hassle-free Chinese New Year reunion dinner – or lunch – this season! 
---
Orchard Hotel
If you love nothing more than a good hot pot session, then make your way to Hua Ting Steamboat in Orchard Hotel for their Chinese New Year set menus.
Featuring two special set menus, relish the joy of dunking fresh ingredients in five flavoursome broths prepared from scratch daily. Well-loved culinary treasures include the Freshly Sliced Garoupa, Live Prawns, Top Grade Australian Scallops, U.S. Sliced Angus Beef and Fish Maw, alongside handmade items such as Fresh Shrimp Paste Ball stuffed with Minced Pork and Dried Beancurd Skin stuffed with Fish Skin.
Hua Ting Steamboat's Fortune Set Menus will be available from 21 January to 19 February 2019 and are priced at S$78 and S$98 per person. Reunion lunch is served daily from 11:30am to 2:30pm, while reunion dinner is served from 5:30pm to 10:30pm. 
---
Grand Mercure Singapore Roxy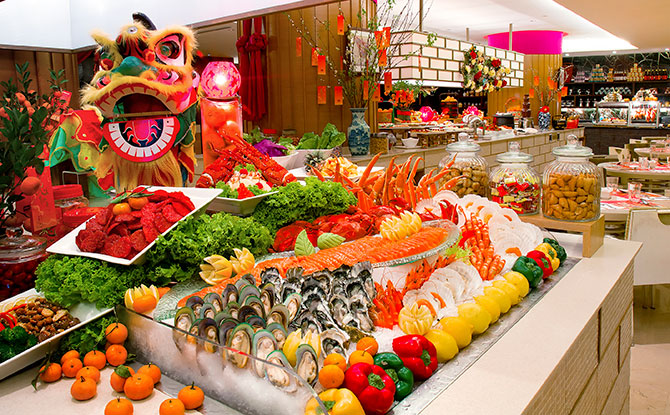 Usher in the Chinese New Year with the whole family at Grand Mercure Singapore Roxy's Feast@East Buffet Restaurant.
From 4 January to 19 February 2019, you and your family can enjoy a mix of authentic Lunar New Year dishes and delightful Peranakan cuisine, including the restaurant's signatures, Katong Laksa and Durian Paste.
With children under the age of 5 eating for free, and special prices for Senior Citizens and Pioneer Citizens, Feast@East Buffet Restaurant is the ideal family-friendly place to get together this Chinese New Year for a reunion lunch or dinner! 
---
Jumbo Seafood @ ION Orchard
With prawns and fish symbolising prosperity and abundance, succulent seafood are must-haves at any Chinese New Year reunion dinner. And in Singapore, you cannot go past the JUMBO Group of restaurants when it comes to great seafood.
From 14 January to 19 February 2019, the established restaurant group's portfolio of brands will be offering an attractive line-up of Lunar New Year festive dishes and exclusive set menus.
JUMBO Seafood's latest outlet at ION Orchard – which only opened on 12 December 2018 – will certainly impress with its Celebration and Reunion Set Menus.
The Celebration Set Menus start from $288 for six-courses for four persons, to $988 for eight-courses for a party of 10, and include dishes such as Braised Codfish Soup with Conpoy and Crab Meat and King Prawn Fried with Golden Salted Egg.
The Reunion Set Menus start at $288 for six courses suitable for a group of 4 and consist of signature dishes such as Live Boston Lobster Steamed with Minced Garlic and Glass Vermicelli and Whole Chicken stuffed with Fresh Mushrooms in Pumpkin Broth.
---
Cherry Garden at Mandarin Oriental, Singapore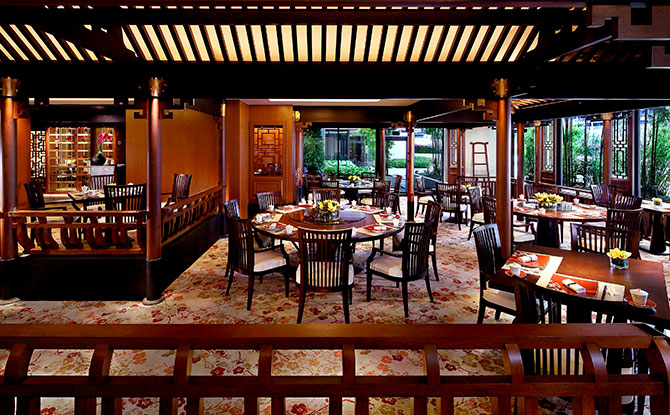 Ring in the prosperous Lunar New Year with a tantalising array of epicurean delights at Cherry Garden in Mandarin Oriental, Singapore.
Toss to endless wealth and prosperity with one of the five Yu Shengs available – our pick is Cherry Garden's vegetarian option with fresh fruits and vegetables, served with julienned Rosella fruit and velvety spring onion sauce, unique to the restaurant.
Another highlight is the traditional 'basin dish', also known as Pen Cai. Cherry Garden's version is replete with premium ingredients such as braised four-head abalone, lobsters, scallops, sea cucumbers, prawns, roasted duck, lotus chicken, roasted pork belly and more!
For restaurant reservations, please call Cherry Garden at 6885 3500 or e-mail mosin-dining@mohg.com.
---
Park Hotel Clarke Quay
Immerse yourself in an atmosphere of prosperity as Park Hotel Clarke Quay welcomes you to enjoy its selection of Lunar New Year delights from 25 January to 19 February.
Reserve a table at Park Hotel Clarke Quay and enjoy the ultimate reunion feast, specially created by Chef James Wong, a culinary specialist with nearly four decades in Oriental and Cantonese cuisine.
You will have your pick of 6, 7 or 8 course set menus, starting from $378++ for a table of four to five diners, to $658++ for a party of nine or ten. The festive menu items have all been thoughtfully put together, and include specials such as The Auspicious Abundance Yu Sheng, a bountiful feast of purple and white cabbage, green and white radish, yabbies, Parma ham, kaffir leaves, fresh pomelo, pickled ginger, zesty lime and finished off with their homemade plum sauce.
For reservations or enquiries, please visit www.parkhotelgroup.com/clarkequay, email bqt.phcq@parkhotelgroup.com or call +65 6593 8825 / 8859. 
---
Singapore Marriott Tang Plaza Hotel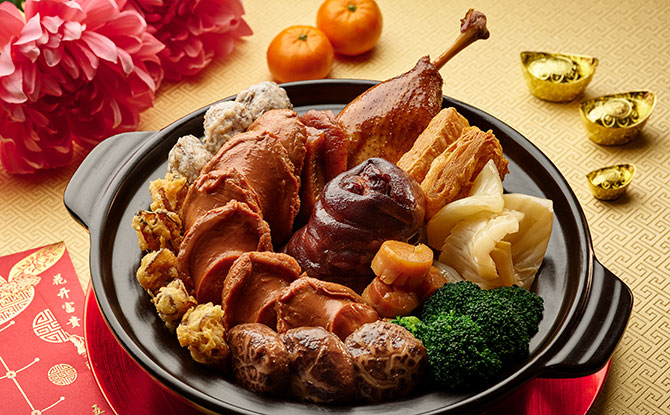 This Lunar New Year, Singapore Marriott Tang Plaza Hotel presents a treasure trove of celebratory treats, perfect for reunion lunches and dinners in the heart of Orchard Road.
Aside from Wan Hao Chinese Restaurant's lavish Chinese New Year set menus, the whole family will certainly enjoy Marriott Cafe's Spring Buffet, available from 4 to 6 February 2019.
Featuring festive favourites, including Braised Pig Trotters with Black Mushroom; Tea Smoked Duck Breast in Beetroot Confit, Roasted Peas & Balsamic Vinegar; and of course, the Eight Happiness Prosperity Yu Sheng, this is one of the most indulgent Chinese New Year buffet spreads to say the least.
With children under the age of 5 eating for free, be sure to head to Marriott Cafe at Singapore Marriott Tang Plaza Hotel this Chinese New Year.
For dining reservations, please call 6831 4605 or email mhrs.sindt.fb.reservations@marriotthotels.com.
---
Mitzo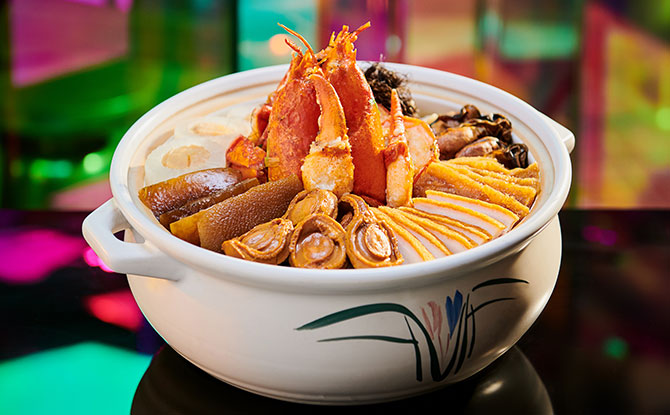 Celebrate the Lunar New Year at Mitzo Restaurant and Bar in Grand Park Orchard as Executive Head Chef, Nicky Ng, presents a modern take on traditional delights.
Available from 15 January to 19 February 2019, diners can choose from Chinese New year set menus that are catered for pairs of two, to groups of 4 to 10, and prices start from S$198++ per person to S$1,388 for a table of 8.
A braised pot of goodness and flavour, Mitzo offers two different renditions of the traditional Pen Cai. The symbol of abundance and wealth, diners can feast on the decadent Superior "Pen Cai" consisting of 10-head abalone, dried scallop stuffed with radish, flower mushroom, sea cucumber, deep-fried fish maw, dried oyster, roast duck, lettuce, lotus root, poached chicken, barbecued pork, roasted pork belly and "Fa Cai".
Each ingredient of Mitzo's Pen Cai is simmered in the restaurant's homemade broth, which offers a complexity of flavours and aromas, and will leave you wanting more!
For reservations or enquiries, please call +65 6603 8855 or email rsvn@mitzo.sg. 
---
Tung Lok
In three locations, namely Changi City Point, Clarke Quay Central, and Orchard Rendezvous Hotel, TungLok Signatures offers a tantalising range of traditional Chinese cuisine, such as Cantonese, Shanghainese and Sichuan dishes with a dash of modern.
Available from 16 January to 19 February 2019, there are 7 set menus and a separate vegetarian one to choose from. Your tastebuds will dance with delight at dishes such as Steamed Star Garoupa Fillet, Signatures' Roast Irish Duck, TungLok Soya Chicken, and of course, the local Chinese New Year quintessential, Yu Sheng.
So make your way to TungLok Signatures, and enjoy the warmth of family as together you indulge in the soulful festive offerings.
For reservations or enquiries, please visit their website www.tungloksignatures.com