Just in front the NTUC at Block 280 Bukit Batok East Avenue 3 is a little playground which has a less-than-usual design. With a wooden cylinder design, actually two, the Bukit Batok East Avenue 3 playground is a little neighbourhood play spot for kids.
---
Bukit Batok East Avenue 3 Playground
Kids can climb up in the two towers at the Bukit Batok East Avenue 3 playground. At one end of the playground is a slide. This grey slide allows kids to get back down to the ground as quickly and they can climb up the tower again.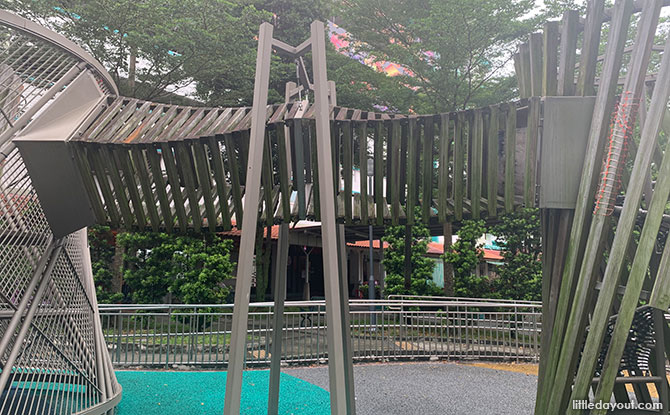 ---
-- Story continues below --
Connecting the two towers is a wooden bridge. These allows for kids to move from one tower to another.
This design is interesting as it is not something which is commonly found.
Another piece of play equipment at the playground is a modern-looking see saw for two.
---
Other Playgrounds Nearby
For those who want to have more fun, there is also a vertical Wallhola playground not too far away. It can be found along Bukit Batok East Avenue 2, facing towards Bukit Batok Nature Park.
This is about the same distance as to Fuji Hill where there's a fun playground which makes use of the hill's terrain.
However, for those who just want some fun in the neighbourhood, the Bukit Batok East Avenue 3 playground will do just fine.