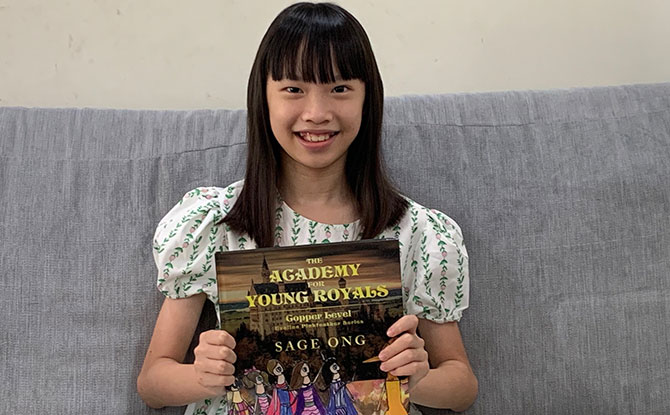 At just 10 years old, Sage Ong's love for writing has already led her to publish her own novel.
The Academy for Young Royals (Copper Level) is a fantasy adventure story is about a young princess Evalina Pinkfeather who attends a prestigious school where she makes new friends and learns subjects like Alchemy, Magic and Astronomy. However, something is brewing and Evalina's best friend Selena goes missing. This sets Evalina on a mission to rescue her.
We asked Sage about her new book and her passion for writing.
---
Little Day Out Interview with Sage Ong, Author of The Academy for Young Royals
What made you decide to write The Academy for Young Royals?
During the pandemic, we stayed home to stay safe. As I had ample time, I decided to write out the stories I had created. I have more than 10 exercise books full of stories and I decided to work exclusively on one, hence The Academy for Young Royals was born. I have always wanted to attend a school like The Academy For Young Royals where unconventional subjects like Astronomy and Runes are taught and one is not confined to a school uniform. For kids like me and my readers, the main event at this stage of our lives is attending school and what happens within.
---
-- Story continues below --
Where did you get the ideas for the characters and story?
I created the story theme and characters from scratch. The setting was to be about royals and an academy because I wanted to imagine that I was a princess. I hardly had any dolls as toys so when I was finally gifted with a beautiful doll named Princess Evalina, I liked her so much that I made her the main character in the story. I started sketching numerous drawings of Evalina and her friends (since I had only one doll, the easiest way to create more was to draw them) who became Prince Samuel, Selena, Meirel, George, etc and so forth. This was followed by drawings of the academy and after the visual representation, I started creating the story plot.
---
What sparked your interest in writing and storytelling?
I have always enjoyed reading and writing since young. As an only child, my imagination was my constant companion and my parents continuously ensured that I have an ample supply of books to read, including bagfuls of hand-me down books from relatives and friends. Reading naturally gravitated to writing as I felt that it would be grand to write a book myself. I can create exactly what and who I wanted and re-design them endlessly. Before I learned how to write, I would draw scenes of a story and likewise pictures turned into words as I became literate. It also helps that I enjoy and excel in English as a subject.
---
My current favourite book series are: Wings Of Fire by Tui.T.Sutherland, Keeper Of The Lost Cities by Shannon Messanger and The School For Good And Evil by Soman Chainani.
In Wings of Fire, a whole world of mythical dragons with their own personalities, inter-dragon relationships and destinies was created. Sutherland's endless imagination allows me to escape from the mundane into a new world. In Keeper of the Lost Cities, I admire Sophie Foster's ability to endure being different (brown eyes instead of blue) from her peers and take relentless hard knocks. It reminds me to be resilient in times of trouble. Soman Chainani creates vivid characters and the endless twists and turns of the storyline keeps me on my toes.
---
What do you enjoy most about writing? What was the most difficult parts of writing?
My favourite part of writing is bringing the characters, settings and story plot to life. I enjoy using descriptive words, metaphors and personification for this intent.
The most difficult part of writing for me is maintaining the balance between imagination and reality. I must remember to ensure that the story remains believable while writing about magic.
---
What do you hope to do in the future to pursue your passion for writing?
I hope to continue the "Evalina Pinkfeather" series. It is meant to be a trilogy and I have started on the second book. The intended title is Darkness Of The Icy Dawn and is about Evalina, Christopher and Lenarella's (who shook her hair impressively in the detention dungeon of the first book) adventures in Frostfjord.
I also aspire to write other book series and poetry in time to come. I have published my first book of poetry called Poetry Paradise.
---
Where to buy The Academy for Young Royals
The Academy for Young Royals is available in eBook, softcover and hardcover versions from Book Depository, Amazon and Barnes & Nobles.