For younger generations, World War 2 may seem like such a distant and irrelevant event. After all, how do you remember such an event when most of us have not been through it? Sim Ee Waun's book We Shall Remember about Singapore at war, targeted at children helps to shed light on the epochal event in the 1940s.
Read on for our review of We Shall Remember.
---
We Shall Remember – a Tribute to Our War Heroes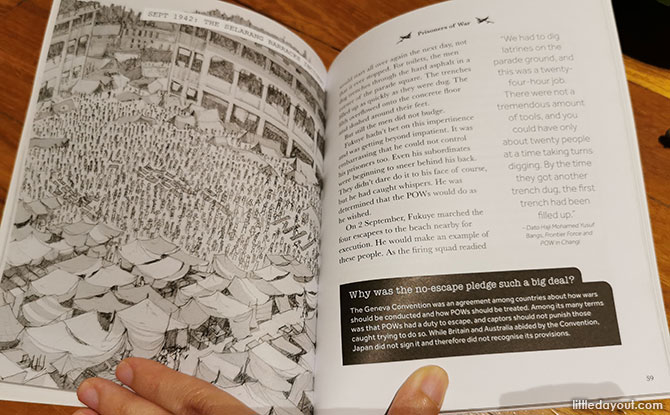 Author Sim Ee Waun does not claim to be a historian but she is a storyteller who wishes to share the local narrative of WW2. Through much research and reading, Sim found lost events, stories, memories and perspectives that younger readers can appreciate.
We Shall Remember has a diversity of voices – the Australian soldier, Armenian Volunteer, Eurasian students, Chinese heroine, Malay soldier, Indian warden and teenage guerrilla. Each lend their choices to the stories captured in in the book.
We Shall Remember does not just mention the familiar events we know so well from our textbooks, but also tells readers of lesser known clandestine missions, raids, resistance movements, stories of courage and life during a time of war.
Little known stories such as the secret school in Sime Road prison, courageous quilters, grandmother who became a fighter, are all in We Shall Remember. The fresh and needful perspectives alongside known stories are what younger generations will remember the war with.
Apart from the main chapters, readers can read explanations, fun facts, eyewitness quotes and helpful glossaries. Illustrator Lim An Ling has beautiful illustrations and maps to accompany the text.
---
A Parent's Perspective
I was excited to see a book on WW2 aimed at nine- to 12-year-olds. War is such a difficult subject to navigate, especially for children and the book was written clearly with very vivid descriptions of the scenes young readers can imagine. There is little literature about World War 2 written for children and I knew my 10-year-old would be delighted to read about it having learnt about the terrible times.
The book yields a bigger lesson in honour, fighting for your nation and putting others before self. These are lessons that are difficult to impart but real stories during the war can inspire and convict the young in so many ways.
Stories written are highly descriptive and brings you right on into the thick of action, and the accompanying pictures enable one to visualise accurately how it looked like.
The book was clearly written with in-depth research with the inclusion of bloody battlegrounds at "Sleepy Valley" or Bukit Batok East, Adam Park and the murder of innocent medical students at Singapore General Hospital.
The clandestine missions such as Operation Jaywick and Operation Limau also intrigued my 10 year old very much. The riveting stories lend such fascinating insights into the war and the human spirit.
---
The Children's Verdict
We also got the children to give us their opinions on the book.
"It was good! The stories were very exciting! The British prisoners were very clever to send messages through the quilts." Elliot, 9.
"I liked the Pasir Panjang battle, it was very well described. Lieutenant Adnan and the Malay Regiment fought hard and caused huge losses for the Japanese." Koen, 10.
""It was very interesting and informative. There were many stories about the war which I didn't know and haven't heard about before." Zachary, 12.
---
We Shall Remember Review: Highly Recommended For Every Young Singaporean
Readers will get more than just history lessons from the book. The themes on honour, brotherhood, courage, freedom and the cost of peace will inspire, encourage and captivate readers.
Purchase the book here.