Baby carriers are the best hands-free ways to carry a baby while staying mobile and juggling bags, groceries or even hold a toddler's hand.
Let's take a look at some tried-and-tested baby carrier options, key features and feedback from users.
---
Best Baby Carriers 2023
Baby Bjorn One Air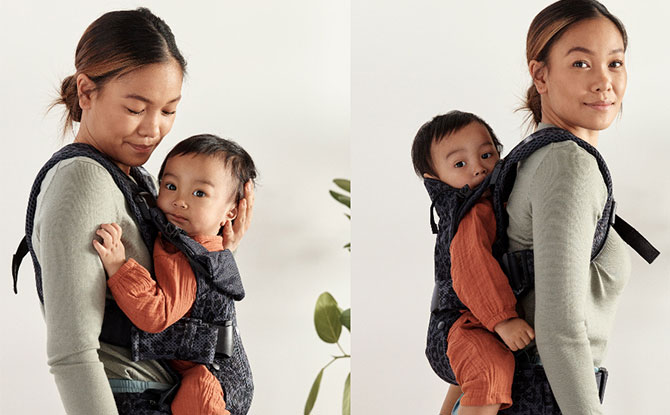 Baby Bjorn is a popular carrier brand and one of the best-selling carriers in the market. The Baby Bjorn One Air has a built-in back support and waist belt, providing ease of carrying and protecting baby. It is suitable for children aged 0-36 months old.
The airy, lightweight and machine washable mesh fabric is perfect for any weather. There are a total of four ergonomic front and back carrying positions: newborn, baby facing in, baby facing out* and back carrying.
---
-- Story continues below --
It features a wide seat area from birth to 36 months, plus padded shoulder straps and waist belt for carrying comfort.
*baby should be at least 5 months old when facing out and no more than 12kg.
User Reviews:
+ Product is lightweight; comfortable and easy to get on/off
+ Easy to clean and easy to adjust
– Carrier's sternum strap is fixed, hence cannot be adjusted nor unclipped.
Other models include: Baby Bjorn
---
Ergobaby Omni 360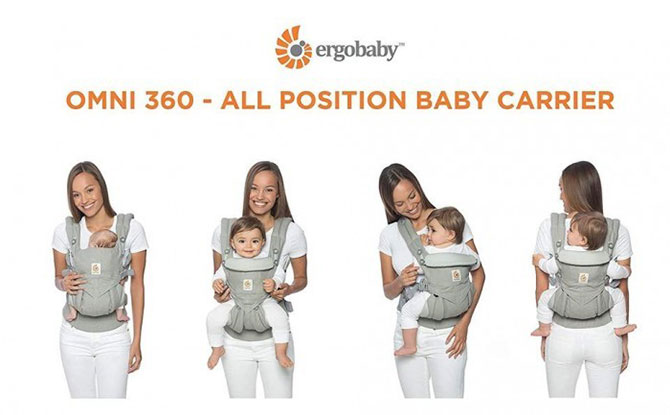 Everyone knows the Ergobaby as a reputable go-to for carriers. For littles ones ages 0 to 48 months, the Ergobaby Omni 360 All-in-One Baby Carrier keeps babies safe and comfortable. It is made with soft and durable mesh fabric providing ergonomic support. No separate infant insert required unlike previous versions of varriers. Babies can face in or out.
The padded lumbar support waist belt provides great lower back support. In addition, the padded shoulder straps give wearer options to wear the carrier 2 ways – crossed or backpack style. As baby grows, Ergobaby Omni 360 supports baby in an ergonomic natural M position. Its one-handed slider adjustment allows quick switch of baby's position facing in or out.
User Reviews:
+ Can be used from newborn to toddler
+ More support for the back
+ Much lighter, less bulky for baby and the buttons and buckles are away from baby's face
+ Comfortable for the us and the our son
– Shoulder straps feel a bit bulky
– Storage pocket a bit hard to access
Other Ergobaby models include: Adapt, Original, 360, Embrace
Purchase here.
---
Tula Standard Baby Carrier
Tula is another popular brand of baby carriers known for stylish designs, comfort and ease of use. The Tula Baby Carrier feature a structured waistband and shoulder straps, both of which are adjustable to fit various body types and baby's size.
Tula baby carriers provide ergonomic support for baby's hips and spine. They can be worn in various positions for front carry, back carry or hip carry. The carriers can also accommodate toddlers. One of the strengths of the carrier is no infant insert required, which can add to both bulk and heat. Tula carriers have a well-designed body panel without the bulk.
User Reviews:
+ Support for me and my baby is amazing
+ Cute designs and patterns
+ Comfortable to wear for long periods of time
+ Distributes weight evely
– Some fraying/snags in the fabric, check the stitching
Other Tula models include Standard, Free To Grow, Explore, Toddler, Coast, Ring Sling and Discover.
Find out more here.
---
Lillebaby COMPLETE
The Lillebaby Complete is known for its ergonomic design and supportive waistband. The Airflow line has breathable mesh to facilitate ventilation. There are six ergonomic carrying positions: front-fetal, front-infant, front-outward, front-toddler, hip and back carry. Parents and caregivers can adjust the positions through different developmental stages.
Lumbar support is a critical factor that increases comfort and maintains healthy posture to prevent lower back strain. Hence, Lillebaby has an extra sturdy waist belt plus two-way straps for easy adjustment. Other features include the sleeping hood, extra neck and back support plus pockets for storage of essentials such as pacifiers.
User Reviews:
+ Extremely comfortable and supportive
+ Gives great back support
-Nowhere to store hood when not used
-Very chunky straps so jacket has to be worn underneath the harness
Other Lillebaby carrier models include All Seasons, Airflow, Original, Embossed and Organic.
Get more details here.
---
Boba Wrap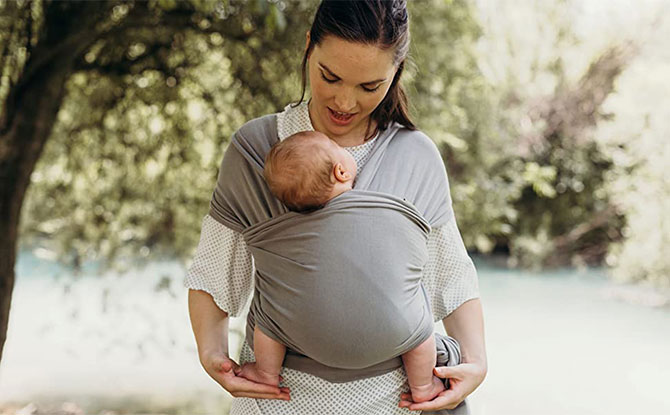 Wraps are popular for their comfort especially for baby. The Boba Wrap is a very soft and stretchy fabric that pulls baby snugly and securely to the babywearer. It is a budget-friendy option and works well for young babies.
The Boba wrap is machine-washable and dryable which means less downtime. It is fully adjustable which makes it suitable for parents and babies of all sizes. However there is a learning curve for babywearing to overcome.
User Reviews:
+ Can be machine washed and dried
+ Comfortable for both parent and child
+ Economical, budget-friendly
– Challenging to use, with high learning curve
– Trouble tightening the wrap
Buy the Boba wrap here.
---
Moby Wrap
Another wrap to consider is the Moby Wrap. It is made of stretchy cotton that can be wrapped around the babywear's body to create a snug pouch. Moby Wraps can be used to carry babies in positions such as front-facing, back-facing and hip-carrying.
Moby Wraps are suitable for babies and children up to 11.4kg. Hence, they are best for infants rather than toddlers.
Other Moby carriers include ring slings and carriers
User Reviews:
+ The stretchy material is forgiving and it's perfect for a first-time parent
+ I loved how light the material compared to other slings
– When baby hits around 5 kg or 11 to 12lbs, "stronger" and with less stretch needed.
---
Baby K'tan Original Baby Wrap
If you love the feel of a wrap but not the stress of tying it around your body. The Baby K'tan baby wrap is a quick and easy alternative. It has no rings, belts, buckles nor excess fabric. Babywearers just need to slip the sling over the head and wear it like a t-shirt.
The Baby K'tan Baby Wrap is made from 100% cotton. It allows for even weight distribution and the breathable fabric is ideal for babywearers. The wrap also has a unique double loop design and one way stretch to hold baby in place. It's ideal for newborns, preemies and infants below 15.8kg.
User Reviews:
+ Very easy to use
+ Little ones will be very comfortable in it and it's easy to put on
– One thing worth noting if you plan to use this carrier for a longer period of time, is that there is basically 0 stretch/give to the fabric, so you might need to size up after awhile
Purchase it here.
---
Konny Baby Wrap Carrier
Another foolproof carrier that is more like a wrap than a structured carrier, the Konny Baby Wrap Carrier helps evenly distribute baby's weight. It reduces pain and pressure in the upper back, shoulders, neck or waist.
Since the Konny Baby Wrap Carrier is made of breathable fabric, it is comfortable and compact for long hours of use. It is safe for baby's use and comes with an eco-pouch.
User Reviews:
+ This carrier helps us both, mum and baby, keep cool
+ It is a game changer to be hands-free, managing a newborn + toddler
– Sizing issues, check measurements first
---
Nalakai Ring Sling
Formerly known as Pura Vida Slings, Nalakai Ring Sling has 20 coloured fabrics to choose from. The Nalakai Ring Sling is made of eco-friendly bamboo and linen. The custom blend fabric is a strong, lush woven fabric that gently holds baby.
With every purchase of the sling, 5% goes to Cepia, a charity supporting low-income families in Costa Rica.
User Reviews:
+ Very easy to use
+ My little one is very comfortable in it and it's easy to put on
+ can nurse easily and more comfortable than structured carrier
It has holes after a wash, a bunch of threads came loose
You may also enjoy reading about how to choose a baby carrier.