If there's one product within the skincare arsenal that's often overlooked and hugely underrated, it's the humble facial skin toner.
Many of would have memories from our teenaged years of swiping toner-soaked cotton pads all over our face to keep zits and sebum in check. Over the years, however, these watery lotions fell out of favour because their alcohol content and de-greasing effects were deemed too harsh and drying to be good for skin.
Until now, that is. Thanks to huge interest in the (in)famously lengthy, moisture-focused Korean skincare routine, improved formulas, plus raves from celebrities, beauty experts and industry insiders, toner has made a comeback as a must-have item in any decent beauty regimen. 
Toners 2.0 – What They Do For Skin Now
Unlike the highly astringent toners of old, many toners now help to hydrate, smoothen and plump up skin. Some also come with ingredients that address specific skin issues such as dullness, sensitivity, enlarged pores and fine lines.
As such, the functions of toner have also expanded beyond just oil-control and removing leftover makeup and dirt that your facial wash didn't cleanse off.
---
Benefits of Skin Toner
Here are some extra perks and benefits of using toners:
1. Restore skin's pH level
Skin's natural pH is slightly acidic, falling somewhere between 4.7 to 5.7. But because soaps are alkaline, they can throw skin's pH off-balance after cleansing, leading to dryness and tightness. As most toners have neutral or mildly acidic pH, they help bring skin back to its optimal acidic state.
2. Prep skin for skincare
By clearing away debris like dead cells from the skin surface and delivering extra hydration, it softens skin so subsequent products like serums and moisturisers can be better absorbed.
3. Provide an added moisture boost
Some skin toners contain hydrating or moisture-binding ingredients like hyaluronic acid, ceramides and amino acid to improve hydration after cleansing so skin feels soft and bouncy.
4. Minimise the look of pores
Skin toners help to tighten pores after cleansing and remove the excess oil and impurities that can cause clogs. Some also reduce their appearance by pumping skin full of moisture.
5. Refine skin texture
Ingredients like alpha-hydroxy acids (glycolic and lactic being among the most commonly used ones) slough away dead and rough skin cells, thereby giving you a smoother, softer complexion.
6. Even skin tone
Increasingly, many toners promise a clearer, more even complexion by including skin-brighteners like vitamin C, licorice and niacinamide (a form of vitamin B) in their formulations.
7. Soothe and refresh
If you have sensitive skin, a toner with calming elements such as aloe, chamomile witch hazel and centella can help reduce redness and irritation, as well as boost skin healing.
---
10 Toners to Try
For dry skin
Heritage Store Rose Petals Rosewater
A clean concoction made with minimal ingredients, including highly moisturising ones like damask rose, aloe vera, hyaluronic acid and vegetable glycerin.

Vichy Aqualia Thermal Hydrating Refreshing Water
Balances skin's water-oil ratio and has mineral-rich thermal spa water to strengthen skin so it can better retain moisture.
---
For oily, blemish-prone skin

Clears up zits without causing irritation. Willow bark extract curbs excess oil while rosemary leaf and turmeric provide natural anti-inflammatory benefits.
Uses naturally derived salicylic acid to remove dead skin cells and impurities, and naturally fermented alcohol to refresh and curb oil. Oil from Jeju Island's bija fruit soothes and protects skin against over-dryness.
---
For enlarged pores
Thayers Alcohol-Free Original Witch Hazel Facial Toner with Aloe Vera Formula, $15.11
The brand's proprietary witch hazel extract is said to have 195% more tannins than other similar formulas, delivering better pore-tightening and oil-control results.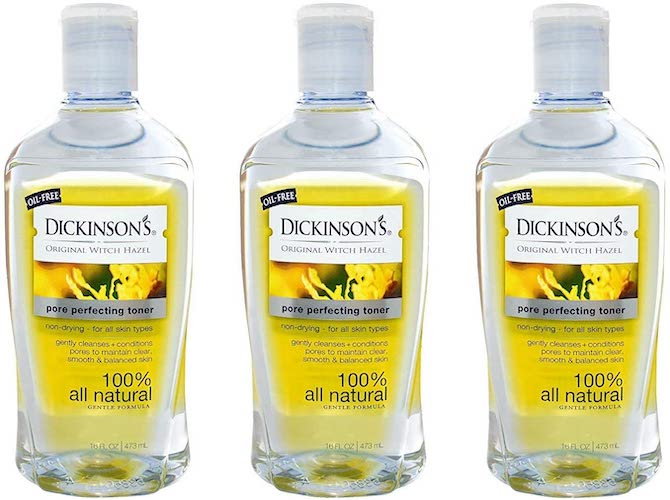 Dickinson's Original Witch Hazel Pore Perfecting Toner, $31.72 for pack of three
Users rave about the pore-refining effects of this all-natural toner, which is so gentle and non-drying even sensitive skin can use it.
---
For sensitive skin

Isntree Green Tea Fresh Toner, $26.20
Comprises 80% green tea extract which is rich in amino acids, minerals and polyphenols to soothe irritation. Centella asiatica and allantoin help boost skin's healing process.
Avene Gentle Toning Lotion, $37.70
Enriched with silicates to protect and strengthen fragile skin. Thermal spring water helps to calm skin that may be red or itcy.
---
For dull, rough skin with uneven tone
OZNaturals Ocean Mineral Toning Mist, $22.08
This pH-balanced clean formula has vitamin C and glycolic acid to exfoliate and brighten, and hyaluronic acid to replenish moisture.
Mario Badescu Glycolic Acid Toner, $24.84
This mild resurfacing toner refines skin texture and evens out splotchy skin tone. Expect to see fresher, more radiant-looking skin with less obvious fine lines.
This story contains affiliate links. This means we earn a small fee if you purchase something through a link from our website. There is no additional cost to you. This helps to support Little Day Out and keeps us going.