What happens when kids get peckish after playing at COMO Adventure Grove? Climb the stairs and head up the hill beside the nature playgarden at the Singapore Botanic Gardens' Gallop Extension to grab a bite at Bee's Knees Petite.
The eatery is located behind the Botanical Art Gallery in its own standalone building. The floor-to-ceiling glass panels at the front of the building let in a flood of light. They also act as a nice frame to the views of the lush greenery on the outside.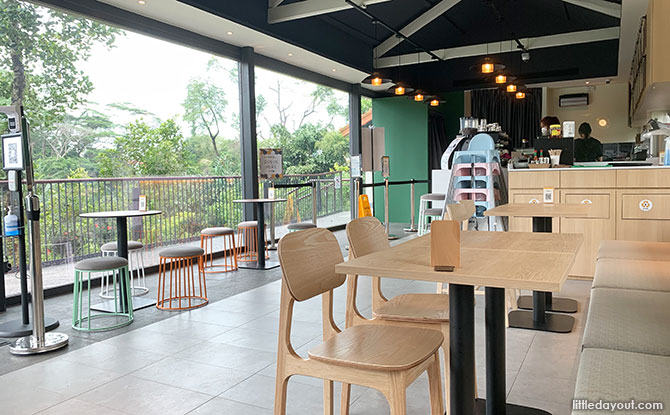 Inside, the green walls and light wood furniture provide a welcoming ambiance which is in balance with the surrounding nature. It is, as the name implies, petite, with enough space for just over 20 diners.
---
Food at Bee's Knees Petite
Bee's Knees Petite serves a menu of breakfast items, sandwiches, salads, pastas and all day pasteries.
The breakfast menu is available from 8 am to 11 am daily and till 3 pm on weekends and public holidays. Choose from a Ham and Cheese Sandwich ($17) or the Bee's Knees Petite Big Breakfast ($18) which includes Nuremberg Bratwurst, Scrambled Eggs, Sourdough, Cumin Tomatoes and Tater Tots. Adds on like sauteed mushrooms and avacados are also available.
As for the mains, choices include Truffle Mushroom ($18), Truffle Carbonara ($20) and Beef Cheek Bolognese ($19).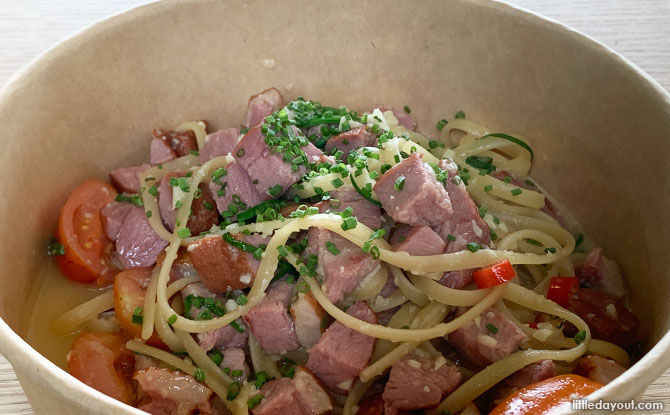 We had the Smoked Duck Aglio Olio (19). It was served piping hot in a disposable bowl. The pasta was cooked al dente and had a bit of a bite to it. There was a generous amount of smoked duck in the pasta dish. It had a nice garlic flavour and a bit of heat, thanks to bits of chilli padi.
We enjoyed it so much that we cleaned out the dish.
---
Kids Menu
Bee's Knees Petite also has a kids' menu for those aged below 10. Breakfast sets are $8 and options include hotcakes and ham and cheese toast.
Kids' lunch sets are $18 and feature a choice of Truffle Carbonara or Beef Bolognese, choice of juice, fries, cookies and a toy.
A selection of pastries are also available.
While Bee's Knees Petite is relatively quiet on weekdays, it gets very busy on weekends when families visit COMO Adventure Grove and people head to the other attractions at the Gallop Extension. With $50 spend, you can get a picnic mat and head out to the lawn to enjoy the outdoors.
---
Bee's Knees Petite
Where: 9 Gallop Road, Singapore Botanic Gardens, Singapore 259014
Website