For this BBQ Chicken Cheese Quesadilla recipe, I ravaged and shredded four chicken drumsticks that were used to make soup the night before.
Alternatively, feel free to cook some chicken breasts in boiling water for 15 minutes and shred them into small pieces. Or for convenience sake, buy a roast chicken and shred some meat for this easy BBQ Chicken Cheese Quesadilla recipe.
Add in whatever cheese and sauce you prefer and make it perfect for your family.
Recipe for BBQ Chicken Cheese Quesadilla
Servings: 4 tortilla wraps, each cut into 3 portions
---
-- Story continues below --
Ingredients
Shredded chicken from 4 cooked drumsticks
3/4 cup of mixed cheese (cheddar, mozzarella, Asiago or your preferred cheese)
1/3 cup of barbecue sauce
4 soft flour tortilla wraps (8" or 10")
Method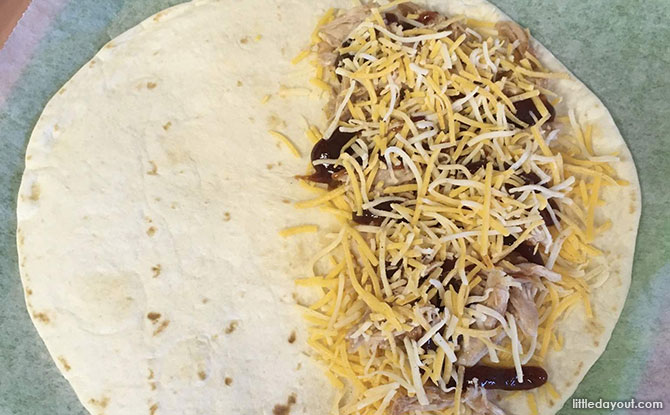 Heat up a skillet on medium-low, lightly grease the skillet with cooking oil.
Lay a piece of tortilla on a plate and sprinkle a thin layer of cheese on half of the tortilla, followed by a layer of shredded chicken. Apply some BBQ sauce on the chicken.
Add another layer of cheese on top of the chicken. Fold the empty side of tortilla over to crest a half moon shape.
Carefully take the filled tortilla and place it onto the heated skillet.
Cook each side for about 1 to 2 minutes to melt the cheese.
Let each BBQ Chicken Cheese Quesadilla cool on a wire rack for a minute and cut them up to your preferred portions. Enjoy with a side of fruits, chips or even a bowl of fresh salad.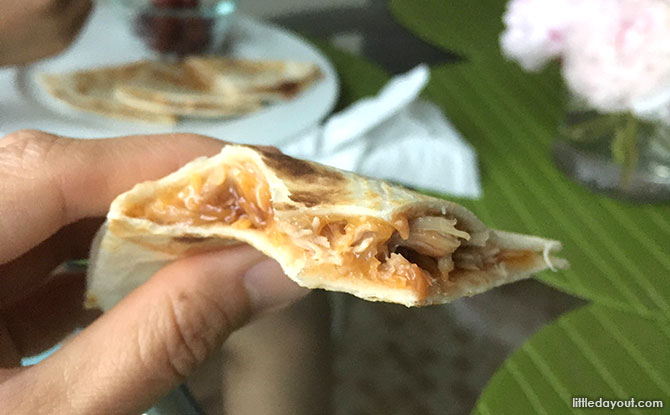 Click here for more recipe ideas.