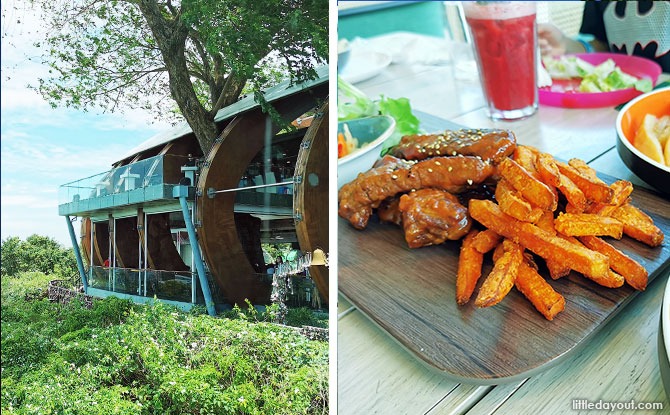 Arbora Hilltop Garden & Bistro, atop Mount Faber, is a dining concept close to the skies where you can enjoy a family meal or even a picnic. It is also located right next to the cable car station at Faber Peak for a quick ride to Sentosa.
We loved the vistas at Arbora Hilltop Garden & Bistro! With a panoramic view of Keppel Bay and Sentosa island, we could just sit back, relax and enjoy the breeze in peace. Arbora offers both indoor and alfresco seating options, and even "PEAKnic" sets for picnic-lovers.
It's a rejuvenating hideaway from the rush of the city, which is a mere 15 minutes' drive away.
---
Family Meals at Arbora Hilltop Garden & Bistro, Faber Peak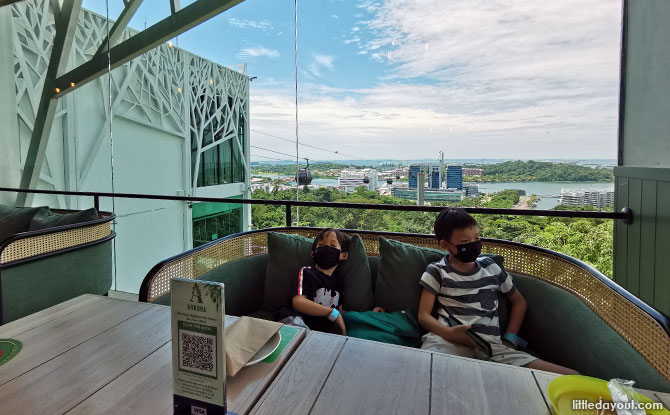 ---
-- Story continues below --
Arbora's botanical theme is evident from its décor, rattan furnishing and colours of its restaurant. It had an inviting and relaxing atmosphere perfect for chilling at on a balmy afternoon. There was also sufficient space for kids to explore or walk around and admire their surroundings 100 metres above sea level.
Dining as a family is easy when there are family combos to choose from with a good variety for both adults and children.
Mains include fisherman's stew, pineapple glazed pork ribs, steak and more. The sumptuous spread is bound to satisfy your tastebuds. Children can also choose sandwiches, fish and chips or chicken meatballs. We appreciate how there are more than enough options to please the fussiest of tastebuds.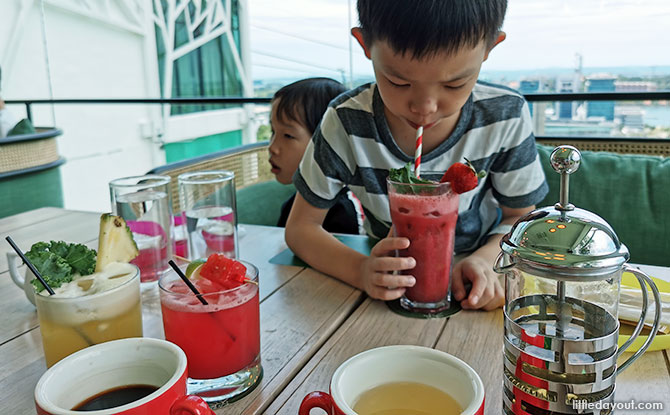 We were first served drinks – a welcome thirst-quencher in the midst of a hot day. While adults can enjoy gin or rum cocktails and teas, the children could delight in juices.
To our surprise, the children and adults enjoyed Arbora Singapore Dream tea most! The specially concocted brew is exclusively available at Arbora Hilltop Garden & Bistro and has the sweet scent of wild berries with black tea leaves.  Be sure to try out a pot or two for a satisfying brew.
---
Innovative Concepts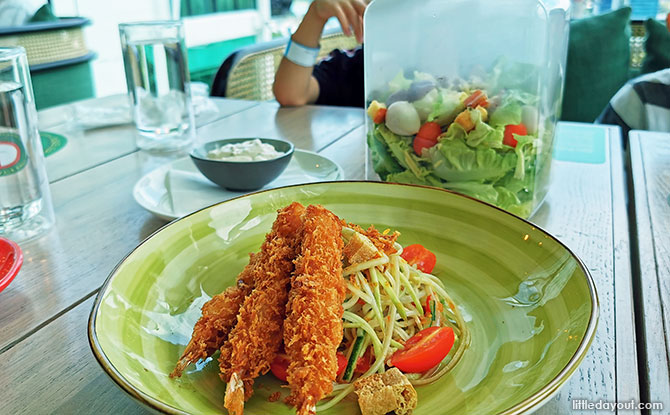 Heard of shaker salad? Appetiser comes in the form of a Caesar salad that has a spin. Mix the chicken, bacon bits, quail eggs, croutons and romaine lettuce with the salad dressing in the container given. The kids will be thrilled to toss the ingredients and enjoy them after.
The adults dug into the Arbora rojak, inspired by the numerous papaya and mango trees on Mount Faber. The local rojak dish had shreds of papaya and mango with tofu puffs and cucumber paired with crispy ebi prawns.
The infusion of fruity flavours seem to be the common thread for all the dishes. The latest addition to the menu includes pineapple-glazed pork ribs which were sweet and tender. We all particularly enjoyed the sides of sweet potato fries.
For seafood lovers, you may like to try the fisherman stew served with lobster, abalone, scallops and squid in tomato gravy. The stew made for a savoury dip with bread. As a family combo, the mains and appetisers (except the spicy Rojak) can be shared.
The kids seemed to prefer the adults' mains to their own. While they enjoyed the brioche bun with ham and cheese, especially the fries, the mushroom pasta wasn't a popular dish. However, there are plenty of other options on the kids' menu to choose from such as fish and chips and chicken meatballs.
---
Arbora's Desserts – The Winner for the Meal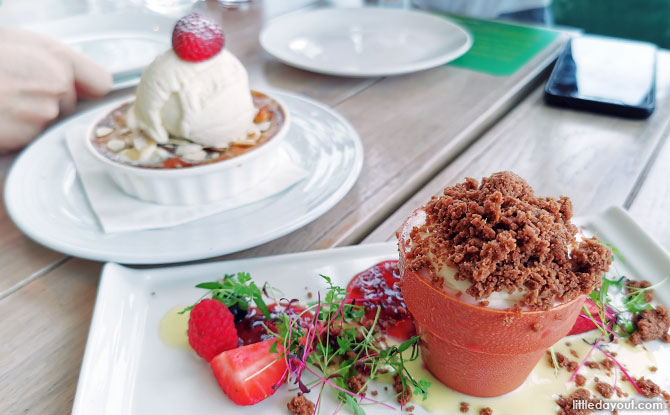 If we were to be back for more, the desserts would be it!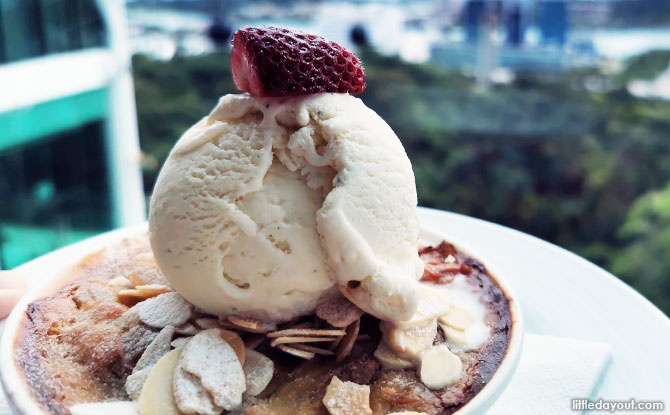 Cempedak bread and butter pudding was a delight and well complemented with vanilla ice cream. We love this local spin on a traditional dessert, cempedak mixed with custard was just divine.
The clever take on edible flowerpots surprised all of us. Everything on the dessert plate was edible – the soil which was cookie crumble, the pot made of milk chocolate and the filling of lemon cream! This was a treat for all in all senses. Yum!
---
Other Specials for Families
Till 28 November 2020, families can choose to purchase the Arbora PEAKnic set which has potato salad, cheese, meatball burger for a lovely picnic atop Mount Faber. Get away from the hustle and bustle of city living with a quick getaway to the hill – and a nicely packed meal, plus a picnic mat!
Local favourites are also available during lunch at affordable prices if you prefer lunch with a view. Dishes include Chicken Biryani, Bak Kut The, Prawn Hokkien Mee, Singapore Laksa and more. The menu changes weekly with other regional flavours as well.
For more on Arbora's offerings, click here.
---
Sights and Activities at Mount Faber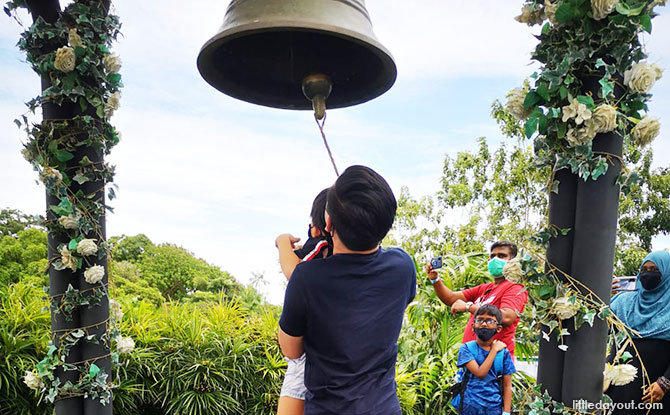 While at Arbora, don't forget to ring Poland's Bells of Happiness at the Arbora Garden to bring blessings of joy. Or hang a wishing bell to make your wish come true on the bridge!
To get the most out of your time at Faber Peak, how about finding out more about its history and heritage by taking a walk? From Arbora, kids can also try to spot the landmarks in the area of Keppel Bay as well as sights on Sentosa.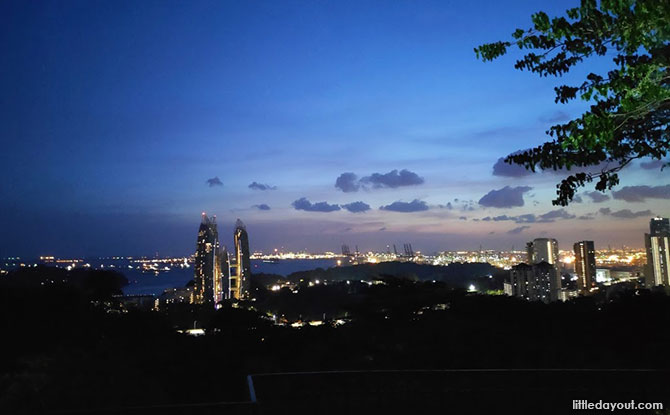 Better yet, take the cable car from the Faber Peak station across Harbourfront into Sentosa to end off the outing on an even sweeter note. We recommend getting on the cable car either in the morning or evening for a cool ride before proceeding to dine at Arbora Hilltop Garden & Bistro. Catch the city lights and sunset as you "fly" over the horizon. These will be precious memories as a family to be cherished for a long time.