Apple Marina Bay Sands, the first Apple Store to sit directly on water and the third location in Singapore, opens on Thursday, 10 September 2020.
---
World's First: Floating Apple Store
The new store is completely surrounded by water and offers uninterrupted 360 degree views of the Singapore skyline and the iconic Marina Bay.
This makes it the perfect setting to take panoramic photos and test out the Apple products.
---
Inside Apple Marina Bay Sands
The floating Apple Marina Bay store has an all-glass dome which is fully self-supported. It has 114 pieces of glass with 10 narrow vertical mullions.
---
-- Story continues below --
At the very top of the dome is an oculus. This has been inspired by the Pantheon in Rome and allows light to flood into Apple Marina Bay Sands.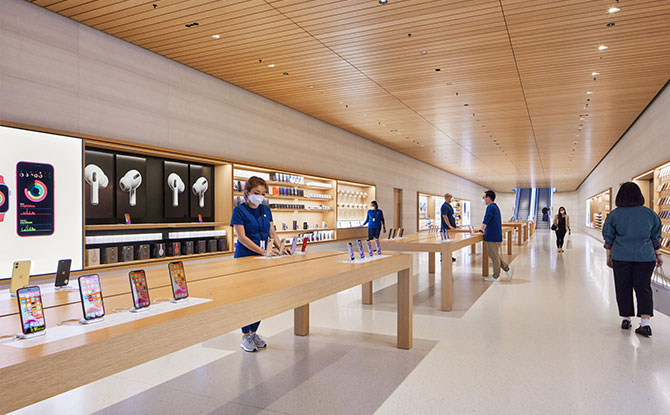 Visitors entering the store will be surprised by the volume of the dome. Lining the interior of the dome are trees, a nod to the Singapore as a garden city.
Another space at the Apple Marina Bay Sands store which alludes to Rome is the Forum. This is centered around a Video Wall, which will serve as the stage to host Today at Apple sessions featuring Singapore's artists, musicians, and creators.
The people at Apple Marina Bay Sands are just as impressive as the hardware. The 148-person team collectively speak over 23 languages.
---
Apple Store at Marina Bay Opening 10 September 2020
The new landmark at Marina Bay will open its door to visitors on Thursday, 10 September at 10 am. On the first day, visits to Apple Marina Bay Sands will be by appointment only. Bookings will need to be made online. However, as capacity is limited, guests can expect to experience wait times before entering the new store.
"We couldn't be more excited to open the breathtaking Apple Marina Bay Sands in Singapore, building on our commitment to this special place that began more than 40 years ago," said Deirdre O'Brien, Apple's senior vice president of Retail + People. "Our passionate and talented team is ready to welcome this community to our new store and deliver the care and support that our customers around the world love."