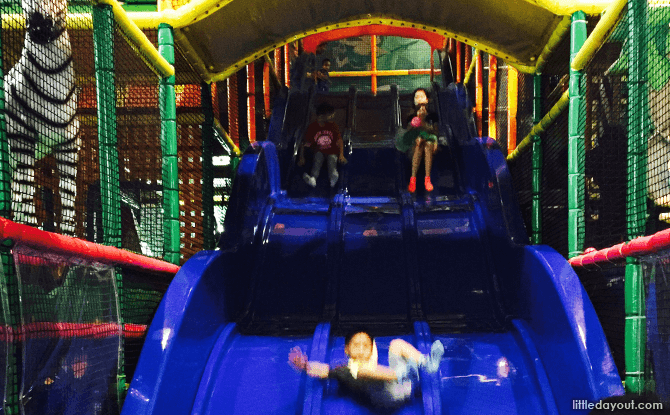 As its name suggests, the Amazonia Indoor Playground at Great World City is themed after all things Amazon Rainforest. Located on Level Three of Great World City shopping mall, Amazonia Singapore is a 9500 square feet air-conditioned indoor play facility.
Besides the main six-storey Jungle Play Gym, it boasts a toddler play area, a 3D Glow mini-golf course, and a glow-in-the-dark Spaceball room. It also has party rooms with party packages for that special birthday celebration.
Welcome to Amazonia Indoor Playground at Great World City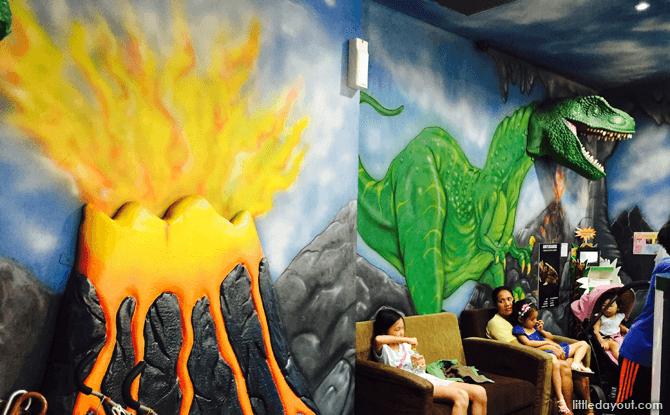 Its entrance sign sits against the façade of a rainforest. Its ticket counter is decorated with an underwater scene of tropical fishes and on the walls behind the counter are a fierce 3D dinosaur head and an angry, erupting volcano.
Near the counter, there are ample cubby-holes for visitors to place shoes and bags. All down the long L-shaped walkway to the indoor play hall, the walls and ceilings are decorated with rainforest murals, so you have the feeling that you are walking under the canopy of a huge dense tropical rainforest as you make your way to the main play area.
Jungle Play Gym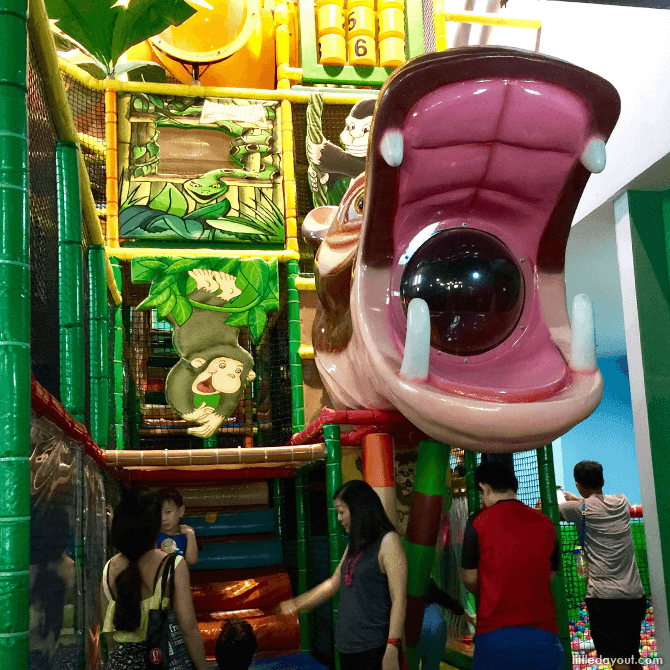 The six-storey Jungle Play Gym is decorated with tropical animals – a monkey, a hippopotamus, a tiger (though tigers are actually not found in the Amazon Forest). While the gym is compact, it promises lots of fun with its eight-metre high, four-level wave slide, long spiral slide, spacious ball pit, trampoline and network of suspension bridges and tunnels.
It is suitable for children from three to 12 years of age. My six-year-old boy loved the green spiral slide, saying it was a fast thrilling ride with its darkness inside making for a convincing rainforest canopy effect.
He also loved the variety of swings and obstacles inside the play gym, including Tarzan/Jane-style swings, and a padded obstacle reminiscent of a wooden dummy used in kungfu training, which my boy gleefully took on.
A few parents and I ventured into the gym with our kids. It is a possible fit for an average-sized adult to pass through but may be a squeeze for bigger adults. The suspension bridges and tunnels with the few look-outs were nicely designed.
I also appreciated the generously-sized and abundantly-filled ball pit which could accommodate several children comfortably.
Toddler Play Area
This toddler play area is strictly for three-year-olds and under. The Amazonian themed area comes with interactive play panels, a musical keyboard, ball pit and a mini slide.
Parents are welcome to sit and play with their toddlers. And, if you play tag-team with your partner, the Bistro is just next to the toddler play area so both of you can take turns having a break.
3D Glow Mini-Golf Course
This short nine-hole course has three sections: Under the Sea, Pirates, and Dinosaurs.
The experience comes alive with the 3D glow-in-the-dark artwork and motion props. My child liked the 3D, glow-in-the-dark effects, especially the giant octopus, in the first section. However, he was a bit frightened by the open-and-shut treasure chest in the Pirate section and the dinosaur that suddenly came to life, roaring and swinging its head.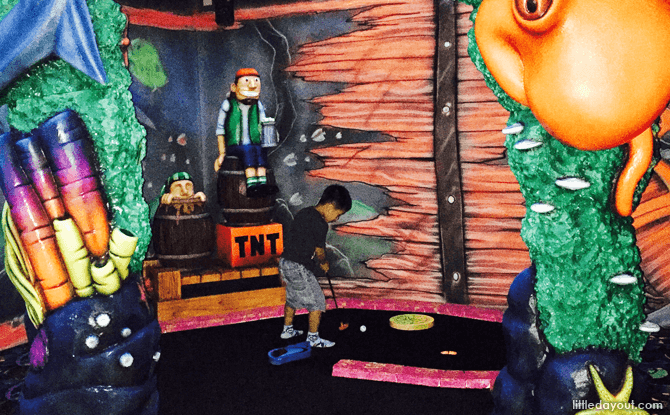 It was a bit disorientating to play in semi-darkness, but, overall, the golf course was really fun and creatively designed. I was sorry that it was only nine holes long.
Glow-in-the-Dark Spaceball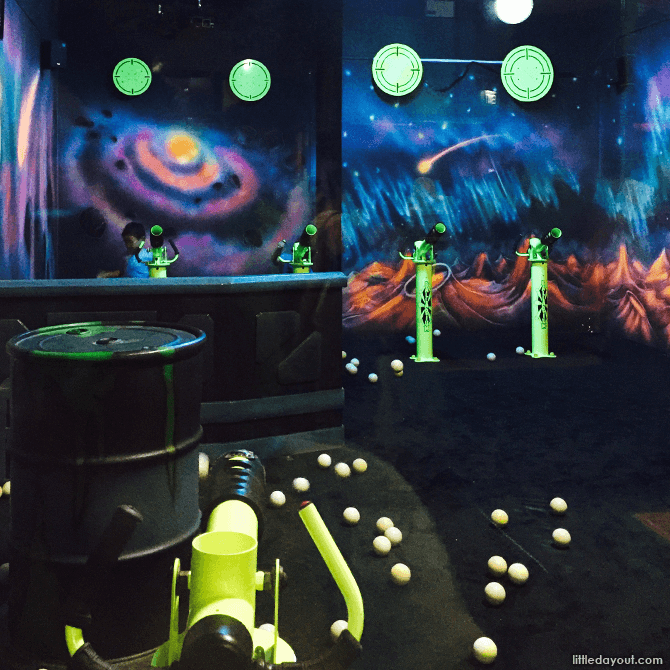 With eight cannons – four facing the other four – and an electronic scoreboard, you can have a two-team competition or simple family fun here.
The glow-in-the-dark artwork gives the experience an additional twist. My boy and I had fun checking out the aiming positions for the four cannons. Once ascertained, it became a matter of leaving the cannon there for continuous shooting to rack up your points. This is the weakness of a fixed target for an older child. Nonetheless, it was still exciting, given that there was another family on the opposite row of cannons.
Party Rooms at Amazonia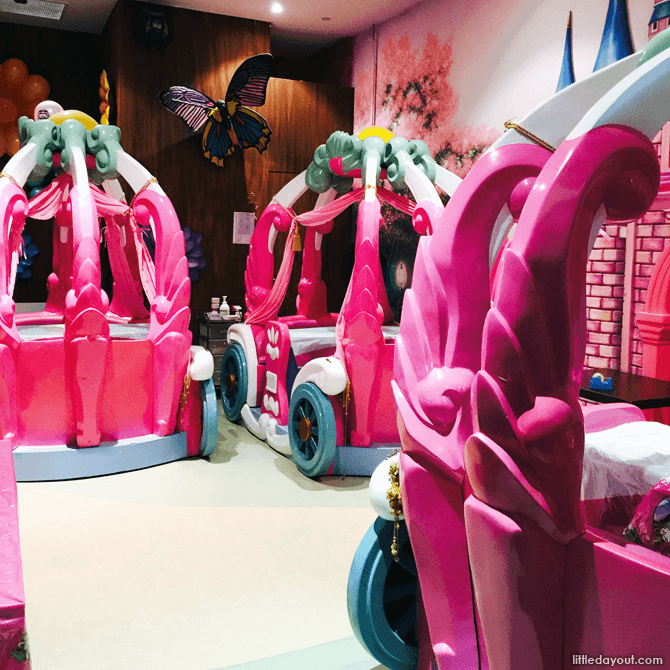 The Amazonia indoor playground at Great World City has two party rooms – one racing-car themed and one princess-themed. Each room comes with four tables – either racing-car tables or princess-carriage tables – and can hold between 15 to 20 guests. They are also equipped with a stereo for music and special disco lighting effects.
The basic party package, aka the Classic Package, costs S$699.59 for a standard duration of two hours and comes with invite cards, balloons and themed banner, children's party food and a party coordinator. There is also a one-year membership for the birthday child with 20% discount on entry.
The pricier themed packages start at S$1199.59 and come with these additional extras: a cake, goody bags, two more food items, disposable cups and plates, a party host, and free play at spaceball and mini-golf. Themes for your choosing include Science Party, Wildlife Encounter Party, Magic Party and Laser Tag Party.
Amazonia's Bistro
The Bistro has artificial trees sprouting up through the dining tables. On the wall is a mural of the Amazon River. Diners can imagine that they are dining in the rainforest – but in air-conditioned comfort.
It serves pasta, salads, sandwiches, smoothies, drinks and bakery items as well as Illy coffee. There is an effort to continue the Amazon theme with the wall mural of the Amazon River and the overhanging fake tree canopy. The only downside would be that the windows open up to a rather sad, uninspiring view of plain concrete flooring in the unused outside space baking in the sun.
Tribal Membership
Amazonia indoor playground at Great World City has two membership types available:
The Premier Kids membership is priced at S$888 for one year and comes with an Amazonia stationery set, unlimited visits, unlimited playtime for all days (weekdays, weekends and public holidays). It includes an additional five kids' complimentary entrance for party bookings (not inclusive of food and goodie bags). Members enjoy express check-in, S$20 Amazonia for every referral and confirmed party booking) and a 30% discount on special events (e.g. Children's Day Party and Halloween's Party). There is also 50% discount on Spaceball and Mini-golf, 5% discount on food and beverages, 10% discount for siblings, and rewards and promotions from participating merchants in Great World City.
The Siblings Membership is priced at S$298, with the first child enjoying a 24% discount, the second child a 39% discount, and the third child a 54% discount. You get express check-in, Monday to Friday unlimited playtime, 30% discount for special events and an additional five kids' complimentary entrance for party bookings (not inclusive of food and goodie bags). There are also rewards and promotions from participating merchants in Great World City.
Our Verdict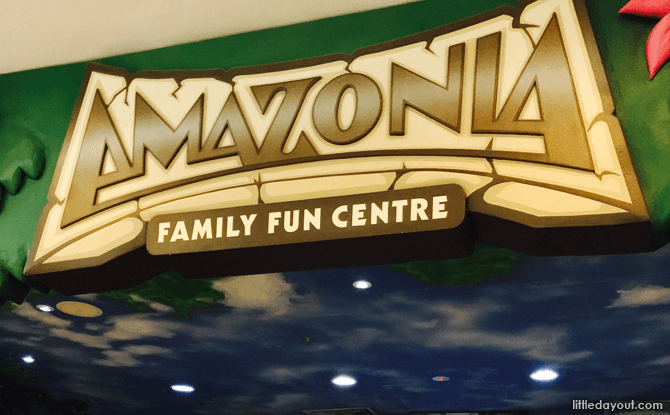 Overall, the floor space at the Amazonia indoor playground at Great World City felt rather limited. However, Amazonia has compensated for this by having a tall Jungle Gym structure and varied play options such as mini-golf and spaceball. There are even two arcade game machines thrown in for good measure.
In terms of time, my boy finished exploring the Jungle Gym in about 40 minutes. Hence, I strongly suggest the combo bundle so you can access the 3D glow mini-golf and the glow-in-the-dark spaceball.
Definitely come with other friends, so that the children can have a good time together and entertain themselves. And as a bonus, you can have some kid-free Me-time at the Bistro.
Amazonia Indoor Playground at Great World City
Address: Great World City, 1 Kim Seng Promenade, #03-08, Singapore 237994
Tel: 63354522
Email: info@amazoniafun.com
Website: amazoniafun.com
Opening Hours: 10 am to 9.30 pm daily
Admission rates:
Babies (below one-year-old): Free per baby with minimum spend of S$10
Toddlers (one to three years old): S$22 per child (with free Spaceball or Mini-Golf from Monday to Friday only; minimum single receipt spending of S$70 to enjoy complimentary Spaceball or Mini-Golf on weekends)
Children (above three years old): S$33 per child (with free Spaceball or Mini Golf from Mon to Friday only; minimum single receipt spending of S$70 to enjoy complimentary Spaceball or Mini-Golf on weekends)
Adults: S$1 per adult (applicable for first two adults accompanying one child)
Monday to Friday: Unlimited playtime
Saturday, Sunday and Public Holidays: two hours of play