Learn about animal conservation, rescue-work, responsible pet ownership and getting up close to different kinds of animals! Let your kids stay home, stay safe and stay engaged through this virtual learning experience. This June holiday will be fun for them with Little Day Out's weekly virtual Amazing Animal Adventures Children's Camp.
Amazing Animal Adventures Children's Camp: 8, 15, 22 June 2021 (Virtual)
Love all creatures big and small? Then this camp is for you! Set aside the Tuesdays of the June holidays for Amazing Animal Adventures virtually together with SPCA, ACRES, OSCAS and The Untamed Paths.
Campers will learn about animal rescues, types of wildlife in Singapore, responsible pet ownership and even meet the animals! By discovering dangers that wildlife face, children can develop compassion and skills to care for the other inhabitants on our planet.
Caring for Furry Friends by SPCA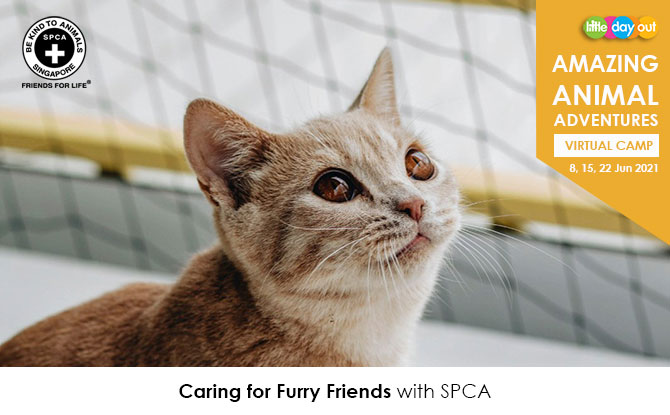 There is no better place to learn pet care than at the Society of the Prevention of Cruelty to Animals (SPCA). Children will learn valuable tips to understand their pet and how SPCA tackles animal cruelty and welfare issues.
Visit ACRES Wildlife Sanctuary & Rehabilitation Centre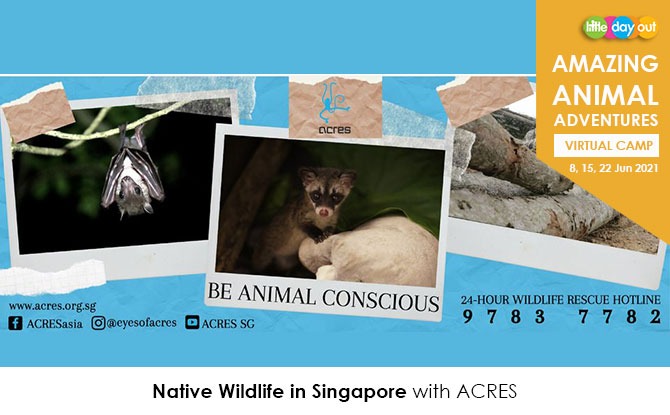 ACRES (Animal Concerns Research and Education Society) is a pioneering animal protection organisation which rescues, rehabilitates and speaks out on animal protection. There are over 100 animals at ACRES' Wildlife Rescue Centre, which are either victims of the illegal pet trade or are native species being rehabilitated to be released back to the wild.
At ACRES, these creatures have a second chance in life with care and rehabilitation until they can be repatriated to the country of origin. Campers will tour the outdoor sanctuary virtually and also learn about the different wildlife in Singapore, how to respond to long-tailed macaques and wild boars in an encounter plus go on a treasure hunt!
Find Out About Unconventional Biodiversity with The Untamed Paths
Ever wondered about the biodiversity in our city state? The Untamed Paths will bring us on a journey to discover and learn about the unknown and often overlooked creatures that are rarely seen. We will be learning about native species, how to stay safe while exploring and what we can continue to do for the creatures and the environment. Topics on both terrestrial and marine animals will be uncovered! This encounter might just change your mind about how tame our paths are!
Paws-e at Oasis Second Chance Animal Shelter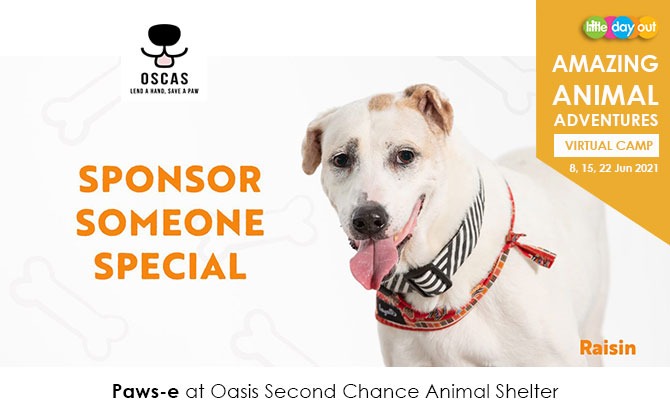 Dogs are man's best friends, are they? Dogs have often been abandoned in the streets. That's when OSCAS decided to rescue the dogs and shelter them. The registered charity and non-profit dog shelter is run with much love for our canine friends. Hear the volunteers' stories about the dogs and the units where the dogs are kept in our tour of OSCAS.
Show & Tell of Pets
Guess what's the best way to show off our pets in a pandemic? Via a virtual platform of course! Our proud owners will do a presentation about their little pets through a guided session of online presentations, public speaking via Zoom and planning the structure of their sharing. You might even meet the beloved pets of the Little Day Out team.
For those without pets, do not fret. Children will get a chance to create an imaginary pet, get pet care tips and a be involved in a discussion on pet genealogy.
Crafting Your Own Animals with Canon Creative Park Crafts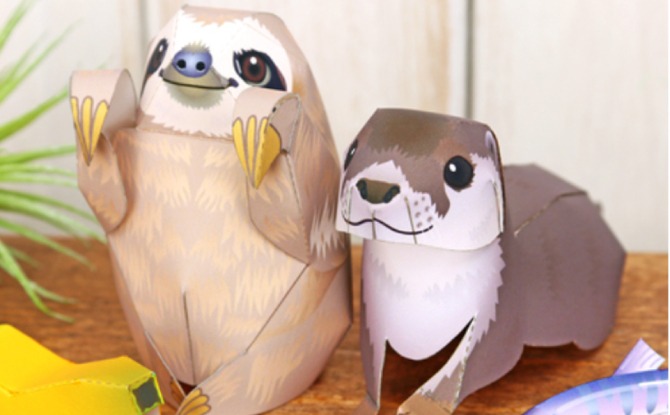 Apart from learning all about the Amazing Animals, how about making them? Campers at our Amazing Animal Adventures Virtual Camp will be receiving exclusive Canon Creative Park materials consisting of origami materials of animals that can be found in Singapore! The Creative Park paper crafts in our Amazing Animals Adventure camp kit can be completed quite easily by children. Materials like glue, cotton buds, A4 matte papers are included.
Canon Creative Park is home to Canon's origami crafts where you can download, print and cut templates to make all sorts of animals, plants, space themed crafts, architecture or even gifts for Father's Day! If you wish to print your own, Canon PIXMA printers are perfect for home-crafting with family. Just visit this site to get inspired.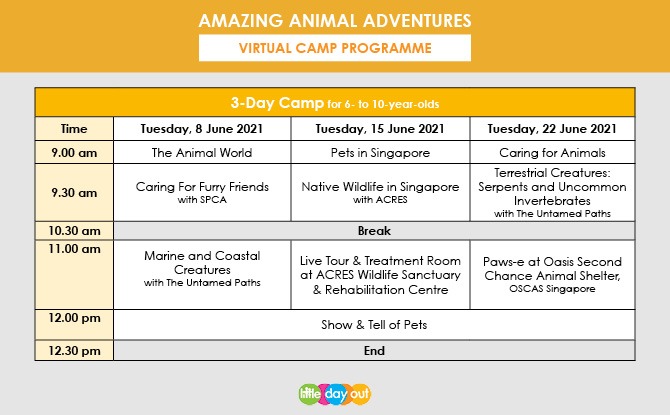 Amazing Animal Adventures Children's Camp
Date: 8, 15, 22 June 2021, Tuesdays
Time: 9 am to 12.30 pm
Where: Online via Zoom
Recommended for: 6 to 10 years old

We are only accepting a limited number of registrations of a better experience online. Join us for a fun-filled, meaningful Amazing Animal Adventures Children's Camp, sign up here.
---
Stay in Touch for Future Little Day Out Camps & Outings
If you would like to participate in future Little Day Out camps and outings, do fill in the form below so we can get in touch with you!