If I have learnt anything from having twin boys is that they never come back in the same outfit as the one that they left the house in. Kids get dirty. In fact, they seem like super-magnets that attract anything that can and will leave a mark.
Remember that last playdate or party that you had been looking forward to with your little one? Everything you could need for a day out was neatly packed in your day bag. You looked gorgeous for a change and your little toddler looked so cute, you could barely believe that he was capable of driving you up the wall on a daily basis.
You arrive at the event and are having a great time when, suddenly, you look at the stains that have magically appeared on his clothes and realise 'this day is not going to end with us just getting home. How am I ever going to get them out?' 
Dishing Out the Dirt
In this series, After a Little Day Out, I will show you the easy way to manage common stains that your child is likely to come back home with after a fun day out.
While you may graduate from carrying around two changes of clothes per child per outing to just one and then eventually nothing, those stains still keep coming home with you. The only thing that changes as your little one gets older are the variety of stains determined to try your patience. Right now, you may be dealing with milk and vomit stains, but the day isn't far away when you will be battling grass and paint stains instead.
You can take your clothes to a laundry or the dry cleaners (or throw them out the window!), but that can be quite an expensive option. Getting out the stains at home is not only cheaper, but can also be tremendously satisfying because you know exactly what you are using to clean your child's clothes – no fancy chemicals or cleaners here!
Dealing with Body Fluids
As a start, here are some useful tricks and tips I have uncovered for dealing with little bio-accidents that find their way on to children's clothes.
Urine
Flush stain immediately with club soda or water.
Soak the stain in a solution of 5 cups warm water, ½ teaspoon liquid detergent and 1 tablespoon ammonia or bleach for 30 – 60 minutes, depending on the strength of the stain.
Rinse and repeat as required.
If the stain is old and stubborn, soak the clothes in a solution of 5 cups warm water with 1 tablespoon white vinegar for 1 hour.
Rinse as usual.
Apply fabric conditioner to help restore the previous texture of your clothes.
Vomit
Remove as much vomit as possible from the garment.
Soak the stain in cold water, not warm. Warm water will only help to set the proteins in the vomit.
Apply a generous layer of baking soda to the stain and let stand for a minute.
Pour lemon juice or vinegar over the baking soda till it starts to fizz and then rub out the stain with your finger.
Rinse in warm water.
Repeat as required.
Blood
For fresh stains, soak stain immediately in cold water till stain fades away.
For older stains, pre-soak in warm water with a liquid detergent or pour on club soda.
Wash clothes as per normal. Repeat as necessary.
Poo and Diarrhoea
Scrape out as much as the faeces as possible and flush down a toilet (you do not want your wash basin getting choked with this).
Run the clothes under cold water to remove anything else possible.
Soak the fabric for 1 hour in warm water and a laundry detergent with enzymes.
Wash with hot water.
Use baking soda as with dealing with vomit, this time allowing the baking soda to sit on the stain for 15 minutes.
Wash with warm water.
Next time – Food Stains!
About the Author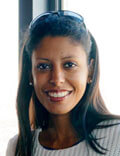 Indian by birth, Priyanka grew up in Kenya and attended universities in Switzerland and the UK. After a two-year sojourn in Florida, she moved to Singapore 11 years ago. She has always had a passion for languages, reading, trying out new foods and travelling. Priyanka is a mom to six-year-old identical twin boys and together with her husband, they enjoy embarking on exciting global adventures as a family. In another lifetime, Priyanka used to be a Recruiter before finally following her passion and becoming a freelance writer. She has done freelancing for various magazines and online publications. She is also currently writing a children's book about her twins and their favourite teddy and the adventures they have shared till now, as seen through the eyes of the little boys.