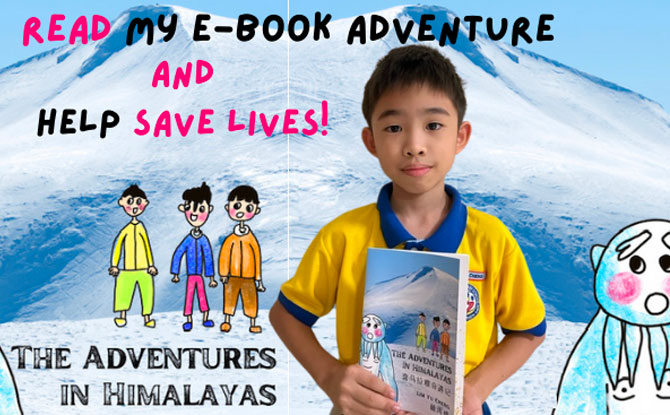 As a way to support members of the community with blood diseases such as leukaemia, lymphoma and myeloma, 9-year-old Lim Yu Cheng has created a bilingual storybook to raise funds for the Bone Marrow Donor Programme from now till September 2022.
Titled 'The Adventures in the Himalayas', this book tells the story of three adventure rangers who explore the mysterious Himalayas.
---
E-book Inspired by His Grandfather
His parent, Sze Wei, shared that the idea for this project was sparked by Yu Cheng's love for reading adventure stories and his hobby in writing stories and drawing characters. He also participated in a story creation workshop.
A deeper motivation for this project was also inspired by Yu Cheng's grandfather(Sze Wei's Father) who passed away at a young age due to lymphoma. After witnessing the amount of pain that patients with lymphoma have to ensure as well as experiencing first-hand the hardships of caregivers, Sze Wei volunteered with the Bone Marrow Donor Programme as an ambassador.
---
-- Story continues below --
A bone marrow transplant is one of the effective medical treatments for patients with blood cancer. When patients are unable to find a matching donor within their family, they depend on the Bone Marrow Donor Programme (Singapore) to search for a Matched Unrelated Donor (MUD).
With his e-book, Yu Cheng hopes to do his part in supporting patients in Singapore suffering from terminal blood-related diseases that require a bone marrow transplant. 100% of all donations will go towards supporting the work of the Bone Marrow Donor Programme.
---
How to get "The Adventures in the Himalayas" E-Book
To get the e-book there are two simple steps:
Step 1: Donate at least $10 to this fundraising page at giving.sg.
Step 2: Screenshot/send a copy of your giving.sg donation receipt to szeweithegreat@gmail.com and they will reply with a pdf copy of the e-book.
Doners can also choose not to claim the e-book and simply support the cause by donating any amount.
The fundraising will be until September 2022 to coincide with World Marrow Donor Day.
View the official campaign link here.