Want to know where to get superb CNY bargains? We uncover where the aunties shop for their festive goodies! Don't let the distance deter you because the deals warrant busloads of aunties and uncles "chionging" for goodies. Keep your eyes peeled for the lowdown on factories to visit for your festive shopping. Here are SIXTEEN Chinese New Year Factory Shopping and Warehouse Sales 2020 spots to boast about when you face-off with your least favourite relative during Chinese New Year.
CNY Factory Shopping & Warehouse Sales 2020
---
Seafood & Meat
Pan Ocean
Get all your seafood needs from Pan Ocean which has cod fish, snow crabs, half shell scallops topped with various seasoning, lobsters, prawns and more. Spend above $100 to participate in the Ang Bao lucky draw with special prizes to be won.
When: Till 23 Jan daily, 9am to 6pm
Where: 10 Fishery Port Road, S619732
---
Portopantry Factory Sale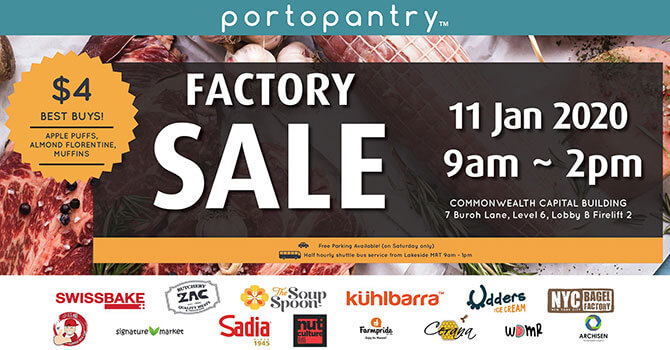 Featuring more than 6 popular F&B and fresh food brands, shoppers will have a field day shopping for great deals on home-grown barramundi, soup packs, fresh cuts for meats and even cool down in the heat with some ice cream! Brands you will find at Portopantry's Factory sale include Zac Butchery, Swissbake, The Soup Spoon, Kuhlbarra, Sadia, Udders and more.
When: Saturday, 11 Jan 9 am to 2 pm
Where: Commonwealth Capital, 7 Buroh Lane, S618291
---
Song Fish
Beat the price hike at Song Fish's CNY Factory sale. You can get snow crabs, pomfrets, lobsters, salmon sashimi at attractive prices. Song Fish's sale is on not just at its factory outlet, but at all 12 retail locations islandwide.
When: 2 Jan to 23 Jan, 8 am to 5.30 pm at Factory Outlet, 10am to 9.30pm at retail stores
Where: All 12 retail stores, Factory Outlet at 19 Fishery Port Road, S619736
---
Fassler Gourmet
Another popular seafood wholesaler is Fassler Gourmet. It is also known for its delectable soup packs. Other CNY must-buys include smoked salmon, cod fish, king crab, prawns, sea cucumber, fish maw and even yusheng sets. Do note that the factory outlet sales are on during weekends only.
When: 13 – 24 Jan, 8.30 am to 5.30 pm on weekends only
Where: 46 Woodlands Terrace, S738459
---
Far Ocean Warehouse Sale
Far Ocean offers a one-stop shop for shoppers and stocks frozen seafood, meat products, hotpot ingredients plus Chinese New Year goodies. This year, Far Ocean has teamed up with Taste, known for its meat products. Enjoy up to 70% discounts storewide.
When: 11, 12, 18, 19 Jan, 9am to 5pm
Where: 15 Fishery Port Road, S619735
---
Dried Food, Canned Products & Snacks
Hosen Annual Warehouse Sale 2020
Fancy some salted egg fish skin crackers,  dried fruits, canned fruits and chocolates? Head down to Hosen's warehouse sale!
When: Now till 23 Jan, weekdays 9am to 6pm, weekends 8am to 6pm
Where: 267 Pandan Loop, S128439
---
Wing Huat Long CNY Warehouse Sale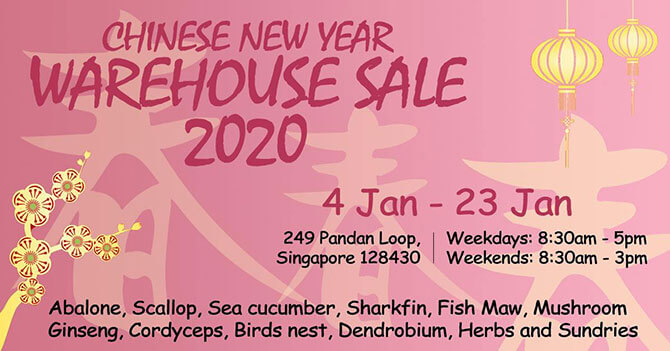 Buy chinese delicacies including abalone, scallops, mushrooms, ginseng and other herbs. Don't forget your mother-in-law's favourite foods. #Protip get South African abalones for its fragrance and Australian abalones for its sweetness.
When: 4-23 Jan, 8.30am to 5pm on weekdays, 8.30am to 3pm on weekends
Where: 249 Pandan Loop, S128430
---
Seng Hong
Not exactly a warehouse as Seng Hong is located at Hong Kong Street, near Clarke Quay. Get dried goods, snacks, bird's nest which makes really good festive gifts.
When: Till 23 Jan, 10am to 6pm daily
Where: 8 Hong Kong Street, S059651
---
Teck Sang
A well-known nuts and dried food wholesaler also located at Hong Kong Street, Teck Sang will be extending its business hours during this festive period. Grab nuts, berries, Chinese sausages, sea cucumbers from this established wholesaler.
When: Till 22 Jan, 8.30am to 6pm daily
Where: 10, 11 Hong Kong Street, S059654
---
Bak Kwa
Fragrance Factory Sale
Who can miss out on Bak Kwa during Chinese New Year? Head down to Fragrance factory for its assorted bak kwa flavours, salted egg pork floss, salted egg potato chips. There are buy one get one free promotions as well as gift with purchase for every $20 spent.
When: Now till 24 Jan, 9am to 8.30pm daily except eve of Chinese New Year
Where: 60 Woodlands Terrace, S738466
---
Bee Cheng Hiang Factory Sale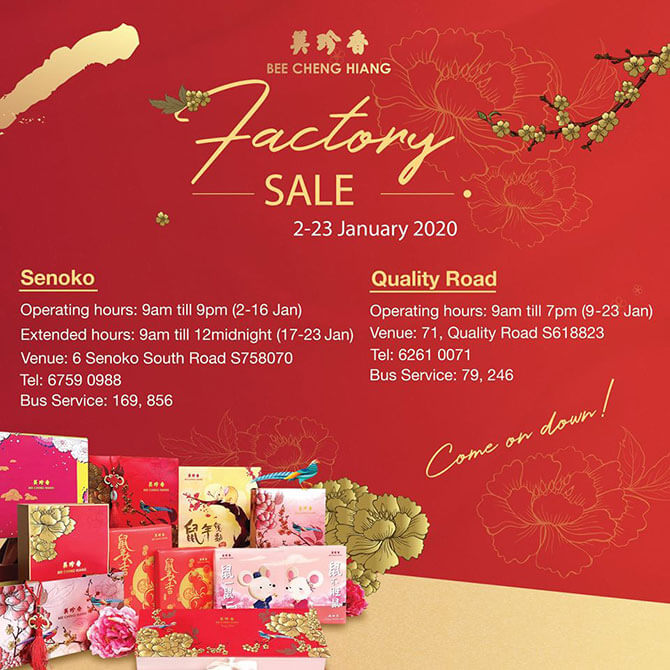 Aside from the well-loved Bak Kwa, shoppers at Bee Cheng Hiang Factory can purchase prawn rolls and other goodies like floss roll and cookies. There are two factories to head to – one in Senoko and one at Quality Road. You can even enjoy late night shopping at Senoko without battling the crowds!
When: Till 23 Jan, 9am to 7pm at Quality Road, 9am to 9pm at Senoko (Senoko's extended hours to 12 midnight from 17 to 23 Jan)
Where: 6 Senoko South Rd S758090, 71 Quality Rd S618823
---
Nuts & Snacks
Tai Sun Factory Sale
Nuts are a great way to snack healthily without all the guilt. Tai Sun has an extensive selection of nuts, berries and other snacks. Visit the factory sale for guilt-free shopping!
When: Till 23 Jan, 9.30am to 5.30pm on weekdays, 9am to 5pm on weekends
Where: 255, Pandan Loop
---
Camel Festive Sale 2020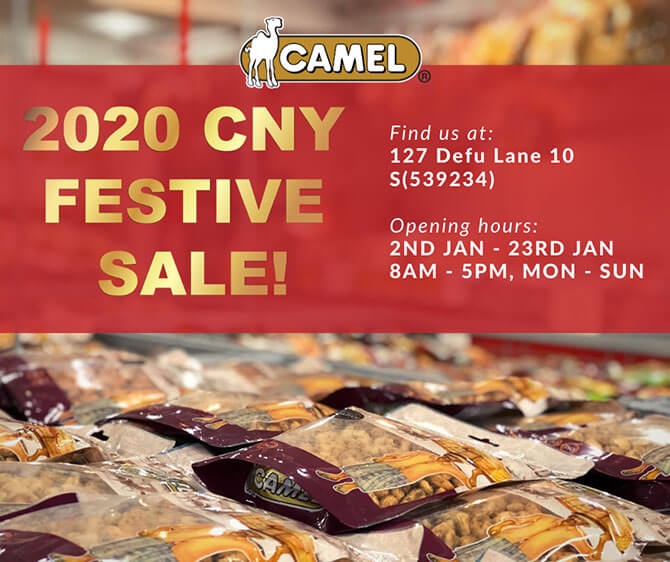 Go nuts at Camel's festive sale. Apart from nuts, you can purchase yam crisps, crab stick crackers, pineapple rolls, nut-flavoured cookies, oatmeal and chocolate cookies at very reasonable prices.
When: Now till 23 Jan, 8am to 5pm
Where: 127 Defu Lane,  S539234
---
Tong Garden
More nut and seed options are available at Tong Garden's Chinese New Year warehouse sale. Since there is a lot happening at the Pandan loop area, you might want to go on a shopping spree and get all the festive shopping done!
When: 10 – 23 Jan, 9am to 5pm daily
Where: 21 Pandan Avenue, #03-08, S609388
---
Others
Melvados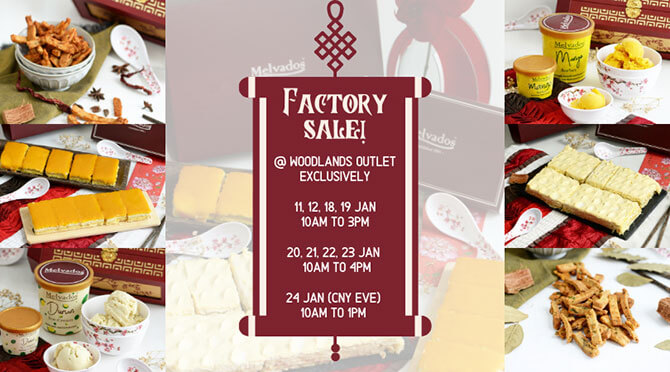 We love Melvados' pesto sauces, they aren't exactly festive delicacies but they have a Chinese New Year Factory sale too! Grab their salted egg with sesame cookie, yuzu with cashew nut cookies as well as other goodies with an interesting twist such as Mala bread sticks. One of the hot sellers is the Durian Mousse cake and for the ones who can't decide – get the festive sampler set consisting of different cakes.
When: 10, 12, 19, 19 Jan 10am to 3pm, 20 – 23 Jan 10am to 4pm, 24 Jan 10am to 1pm
Where: 26 Woodlands Terrace, S738449
---
Lock & Lock
For avid home bakers, where else to get pretty containers for your homemade cookies than Lock & Lock. In need of lazy susan-styled cookie containers? Head down to Lock & Lock's warehouse sale!
When: 9-12 Jan, 9am to 7pm
Where: 2 Pandan Ave, Foh Foh Building, S609382
---
Bonus Map of Warehouse and Factory Locations 2020
Since the Chinese New Year season is descending upon us, we thought you might like this link to our map with all the factory or warehouse spots highlighted for your use. You are welcome, happy shopping! Please share this link and tag us on your CNY warehouse journey @littledayout !