New school year, new foot size, new shoes! One of the highlights of a school year is shopping for new school shoes, necessary because children's feet grow fast.
You might need to change their shoe sizes within weeks or months. My experience with two boys in primary school is that – the branded shoes may not last the "shadowless kicks" inflicted in school. I have had poor experiences of expensive school shoes getting scuffed or falling apart within weeks and months of usage.
For those who need to go shopping for new school shoes, here are six options to go school shoe shopping (other than BATA).
---
Where to Buy School Shoes in Singapore: 6 Shopping Options
1. Decathlon
My favourite store sells durable and cheap school shoes. As a family with very small feet, we find it hard to find suitable footwear in the right sizes. Decathlon's options are lasting – proven from the absence of scuffing despite the activities in school. There are three options for white shoes – walking shoes, tennis shoes and athletic shoes.
Store Locations and Online store
---
2. Cotton On
This was a surprising find. We had to get laced white shoes, but the sizes are usually made for Juniors with larger feet (US 2 and above). We managed to find laced white shoes that run in smaller sizes – possibly the average preschooler sizes. They are also priced very reasonably at IMM's Cotton On outlet.
---
3. Shopee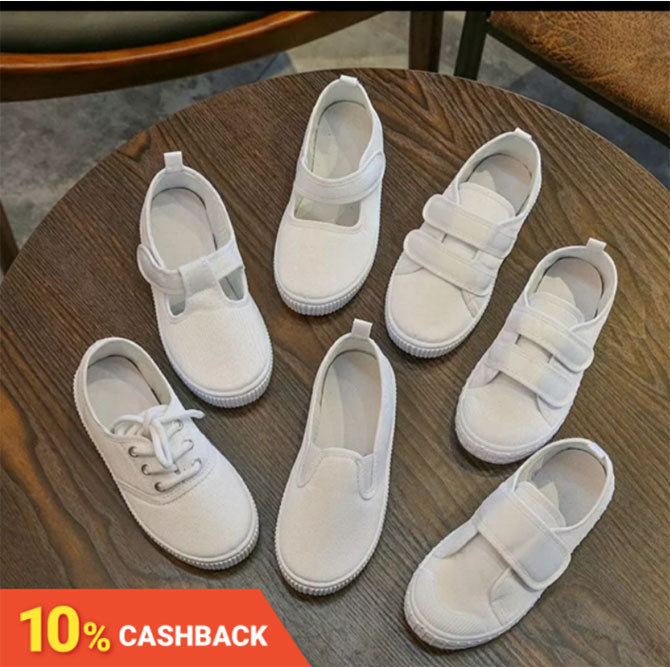 If you know your child's shoe sizes, shopping online via Shopee would be fuss-free. There are plenty of options from canvas shoes to sports shoes to choose from and you can check the different designs at one glance. Buying online also beats the crowd, saves on parking and other transport charges. The downside is you can't try before purchasing.
---
4. IMM
IMM at Jurong East has many factory outlet stores of renowned brands – World of Sports, Nike, Adidas, Puma, Asics, Converse, Superga and more. Since there are plenty of brands to shop at, you could probably find a pair that suits your needs in one mall.
Where: IMM, 2 Jurong East St 21
---
5. Queensway Shopping Centre
Another mall to look for new kicks is Queensway Shopping Centre! Look past its old façade and uncover the haven of shoe shops. You can also find sports equipment and specialized footwear here. It's a one-stop shop to get ready for school with reasonably priced spectacles from opticians, sports attire, equipment and test papers for the school year. Plus there is a McDonald's!
Where: Queensway Shopping Centre, 1 Queensway
---
6. Holland Road Shopping Centre
Another option for Westies is Holland Road Shopping Centre at Holland Village. There are two stores here selling school shoes – Lim's School Shoes and Ten Feet Tall which cater mainly to the expats' market as most shoes are black.
Lim's School shoes has been around since 1967 and is a popular pitstop for parents looking for new kicks for school. Given its ratings, this store is a go-to for quality shoes.
Where: Holland Road Shopping Centre, 211 Holland Avenue