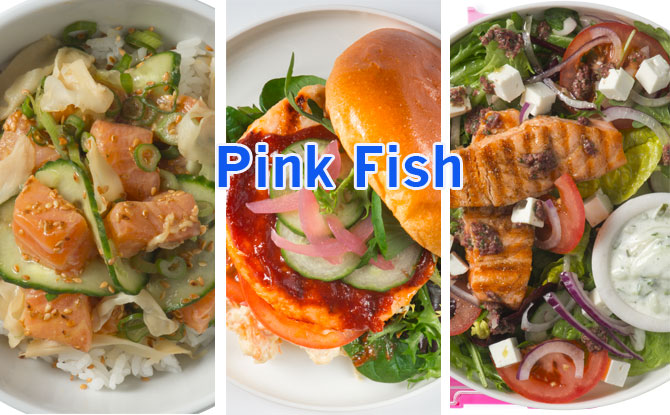 Food that is healthy, ethically sourced and delicious is hard to come by, but you can find foods that fit the description at Pink Fish, Jewel Changi Airport!
Pink Fish's first international outlet makes its splash in Jewel, and breaks the status quo of fast food being unhealthy with their variety of burgers, wraps, salads and soups. The star of their dishes is high-quality Norwegian salmon that is traceable, responsibly farmed and flown in fresh. They aim to serve all dishes in five minutes and is also proud to brand themselves as highly eco-conscious, using plastic-free cutlery and packaging.
Three Styles
You can choose to have the items on the menu in one of three styles: Asian, European and American. We tried three different items on the menu in the three different styles.
Asian Raw
What we see as Pink Fish's take on Chirashidon or Poké, the dish done in an Asian style has salmon cubes tossed in a yuzu and miso dressing on top of a bed of rice and topped with ginger, cucumbers, edamame and a generous sprinkle of sesame seeds. As we bit into the fresh raw fish, the texture was different from the "chewy yet firm" sashimi cubes that are usually served in these dishes, but had a unique "softer" texture to it that we thoroughly enjoyed. It was simple yet flavourful and we were especially surprised by how much we liked it despite not having a personal preference for yuzu or ginger.
---
-- Story continues below --
European Salad
With crisp greens and a grilled salmon fillet as the base, Greek Yogurt Dressing with feta cheese cubes and olive paste are the main ingredients that you would find in most of the European-style dishes at Pink Fish, Jewel. The salads come in a hearty portion that will fill up rumbling tummies, and if not, are three different portions of fish to choose from. We really liked the clean flavours of this salad and would imagine this being a great option when looking for a healthy and delicious meal.
American Burger
We ended our taste test which what is told to be the most popular item on the menu. Inspired by Texan flavours, this salmon patty is brushed with BBQ Sauce and topped with coleslaw. The toasted organic brioche bun used here are actually freshly baked at a local Singaporean bakery! We were glad that the BBQ sauce was not too heavy and the taste of the salmon shined through.
Our Picks
Of the three styles available, the European one was our favourite as we thought that the dressing paired with the salmon the best and we can imagine it being good on a burger, wrap, or even raw. Maybe it has something to do with Pink Fish's Norwegian roots
With that being said, a menu item worth mentioning is the American Soup, which is a hearty stew with kidney beans, spices and cubes of grilled salmon. Other interesting soup flavours include a Thai green curry (Asian) soup and traditional Nordic fish (European) soup, which we will probably be back to try sometime in the near future.
Pink Fish, Jewel Changi Airport
Pink Fish is located at #B1-261/262 Jewel Changi Airport and opens daily from 10 am to 10 pm.
Website