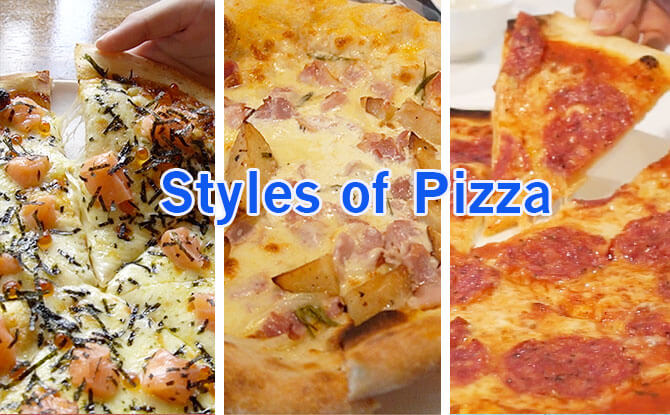 Next to chicken rice, pizza might just be one of the foods that you can't really go wrong with when you're wondering what to eat. What's not to like? Pizza can vary, of course. From the thickness of the crust to the types of toppings. It is such a versatile dish. We tried three different takes on pizza in Singapore in search of the one we like best.
---
Different Styles of Pizzas in Singapore
Fusion Pizza
Hidden on the second floor of the row of shops in Boat Quay, Depizza is known for its fusion pizza. You might have heard of them for locally-inspired pizzas such as Lemak No Nasi Pizza or Hei Hu Hei Hu Pizza, which is their take on a black pepper crab pizza.
On our visit, we tried their Sashimi Pizza as well as an 'All About Them Proteins Pizza' which was topped with Beef Meatballs, Pepperoni, Bacon, Chicken Sausage and Jalapeño Peppers.
We especially liked the Sashimi Pizza which came with fresh salmon sashimi, ikura and was topped with nori flakes. The crust was not too thick and the pizza was very flavourful and the toppings were distributed evenly.
As for the All About Them Proteins Pizza, there was a large variety of meats, all well-seasoned. We see this being a great hit with meat lovers, although we did question a little how Jalapeño Peppers were a protein but the spice that it added prevented the pizza from being too bland.
Where: 35A Boat Quay (2nd floor), Singapore 049824
---
Classic Pizza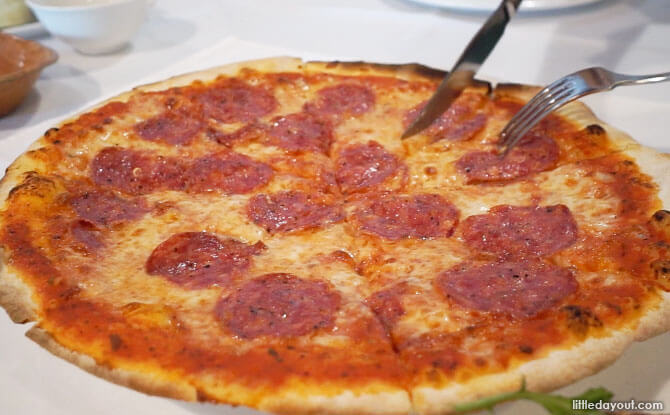 After being seated at the former Rosso Bianco Italian Restaurant, now Roots, we tucked into the Parma special, which is made with an Extra-crispy pizza base topped with fresh cherry tomatoes and buffalo mozzarella, finished with parma ham, rucola and parmesan shavings.
Parma ham might be one of our favourite toppings and the variety of vegetables balanced out the salty slices of cured meat.
There's also nothing more classic than a pizza base topped with tomato sauce, mozzarella and Italian salami. The current Roots has similar classic pizzas on offer too.
Where: 2 Greenwood Avenue, Singapore 289189
---
White & Vegetarian Pizzas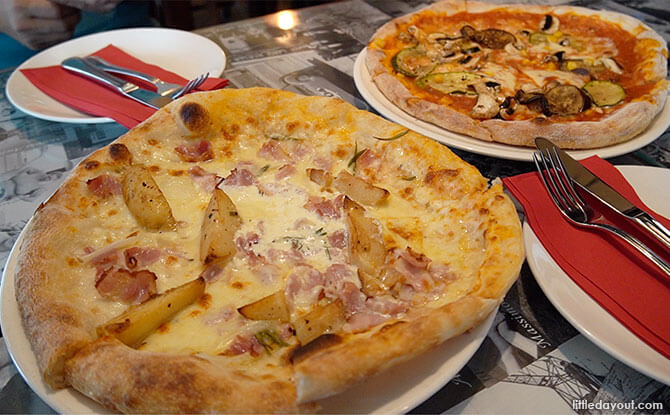 Directly translated, Rosso Vino means "Red Wine" in Italian, a pretty fitting name for an Italian restaurant as a tribute to the beverage that is a significant part of the Italian food culture.
This restaurant prides themselves in giving an authentic Italian dining experience complete with an alfresco bar which gives a great view of the Singapore River.
The first pizza we tried was the Pizza Patate E Pancetta was a white pizza with roasted potatoes, onions, bacon and rosemary.
It was a super hearty pizza and the herbs, potatoes and bacon on top of a creamy white sauce was delicious.
The second pizza was the Vegetariana which had Tomato sauce, mozzarella cheese, eggplant, zucchini, corn and mushroom. Beside the Pizza Patate E Pancetta, the vegetables were much welcomed and very delicious.
We especially liked that the eggplant and zucchini were not too mushy despite being cooked through with the pizza.
Where: 15 Merbau Rd, Singapore 239032
---
Our Verdict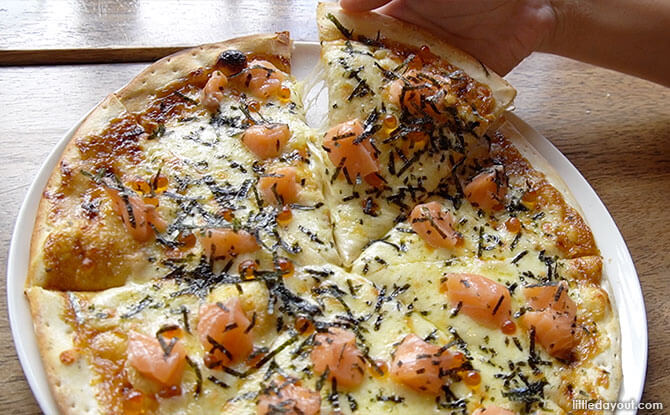 Deciding from amongst the three pizzas in Singapore that we tried and liked the best as hard but in the end, we felt like Depizza was our favourite spot. We liked their fusion take on pizzas.
And, if you are craving a traditional pizza with classic toppings of cheese and sausage, you will find it here too.
We also enjoyed its cosy atmosphere which makes it a great casual dining spot with family and friends.
If you enjoyed this story, you may also enjoy this one about an Italian place serving authentic pizzas.