Looking for plans to pamper mum with this Mother's Day? Consider bringing mum to enjoy a Mother's Day Special Royal Afternoon Tea Set at The Marmalade Pantry. Available for two weekends only, from 1 to 2 May and 8 to 9 May 2021, dine on a tea set filled with both savoury and sweet treats featuring dishes such as roast beef sandwiches, bonbons and pink Moscato.
The Special Royal Afternoon Tea Set is suitable for sharing among three persons and is available as a Mastercard exclusive. Diners can enjoy it at The Marmalade Pantry's Downtown and Novena outlets, subject to a one-day in advance reservation.
---
Dishes to enjoy in the Royal Afternoon Tea Set
Here are some of the dishes that you can enjoy when ordering the Royal Afternoon Tea Set from The Marmalade Pantry.
Enjoy roast beef sandwiches, open face truffle egg mayo sandwiches, cranberry chicken sandwiches and spicy crabmeat dip with fried mantou. We liked the variety of the selection of meats and especially enjoyed the spicy crab meat which was sweet yet savoury with the right amount of heat.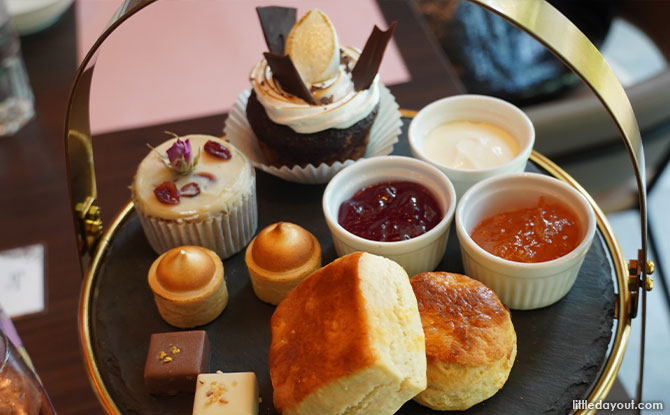 For sweeter treats, we enjoyed some Marmalade petite cupcakes as well as mini lemon meringue tarts and chocolate bonbons. We tried the smore cupcake as well as the cranberry cupcake. Both were fluffy and satisfied our sweet tooth. The bonbons were also available in interesting flavours such as Osmanthus, which had delicate floral notes of Osmanthus and apricot.
Our favourite sweet treat however was the plain buttermilk scones which are served with a side of clotted cream, strawberry preserve and of course orange marmalade. We liked the texture of the scones and also how the preserve was not overly sweet.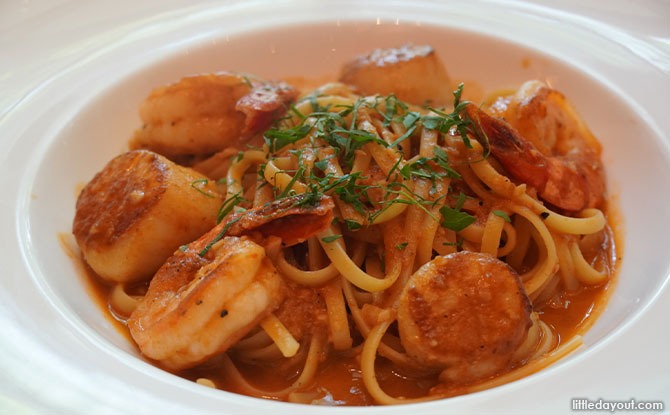 Our favourite option in the Royal Afternoon Set was the pasta that we had. The Seared Scallop and Prawn linguine from the Marmalade Pantry was delightful and came with tender tiger prawns and Japanese scallops in a prawn bisque sauce. Other pasta options include Carbonara, Marmalade Mac & Cheese, Clam Vongole and more. Diners can also opt for the local delight of Hokkien Noodles.
---
Fancy drinks for an Afternoon Treat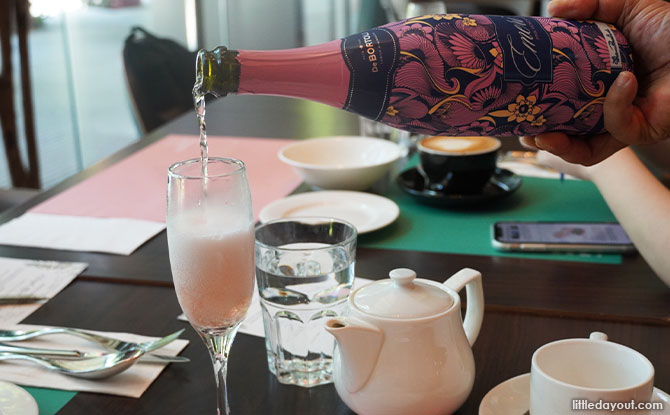 Each Royal Afternoon Tea Set comes with three glasses of De Bortoli Emeri Pink Moscato Sparkling Wine, which has fresh fruit aromas with strawberry and musk.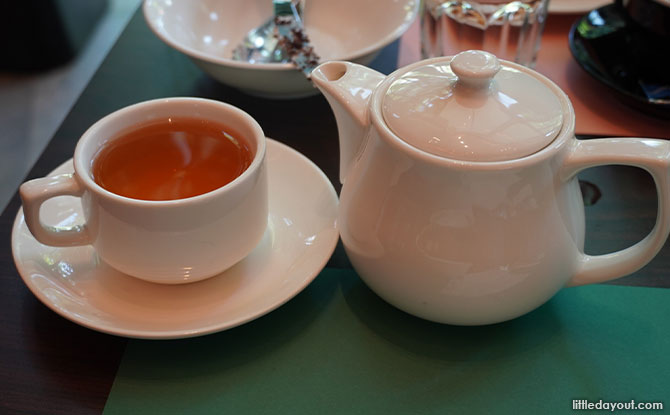 Each set also comes with a choice of two teas in a large variety of options by local tea company Monogram. Some interesting sounding ones include Jasmine Silk Pearls, Lapsang Florale with Saffronis and Milky Oolong.
The one we tried was a Gold Moscato blend which had a naturally sweet taste of rose and grapes, and it also came with edible gold glitter, a true tea to indulge and treat mum to on her special day.
The Mother's Day set will be available for delivery but may exclude certain items. Do check the website for more details.
---
Mother's Day Special T-shirt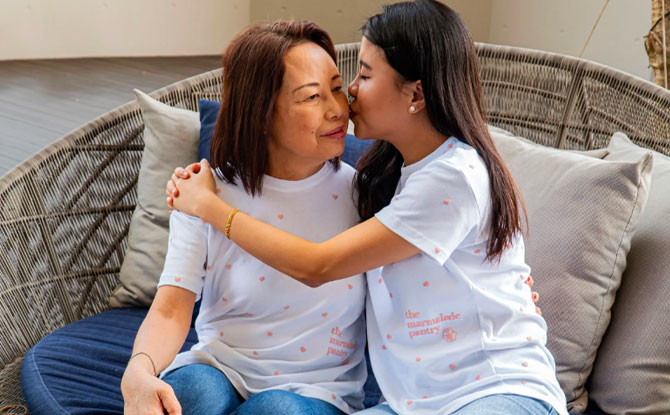 From 1 to 31 May, with a minimum spend of $100 nett (after government taxes and service charge) and paid with Mastercard, diners will receive a complimentary exclusive Mother's Day T-Shirt worth $38. The T-shirt is a white shirt with small pink hearts and The Marmalade Pantry's logo. This offer is valid at all three outlets and for orders made online.
For more information, check out The Marmalade Pantry's website here.