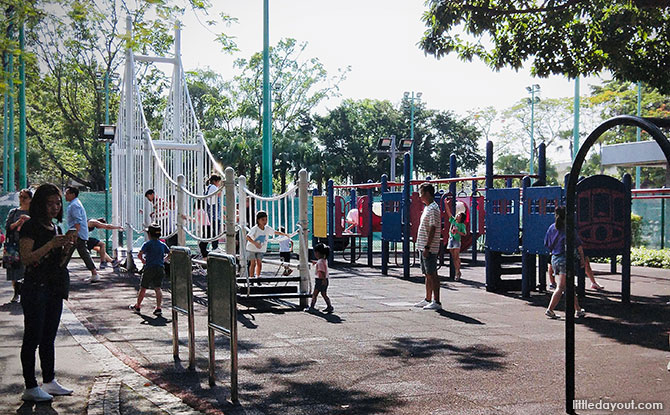 Hong Kong is easily one of my favourite cities in the world, and I love that I now have my daughter to go on Hong Kong adventures with. Getting around Hong Kong with toddlers and kids is fairly easy; it's simple enough navigating their public transport system, and perhaps catching a taxi when the going gets tough.
But where to from then on? Trust Hong Kong to have a ton that you could do with your toddlers and kids, so here's a round-up of things you could do with them the next time you're in the city!
What to Do In Hong Kong With Toddlers
---
Hong Kong Disneyland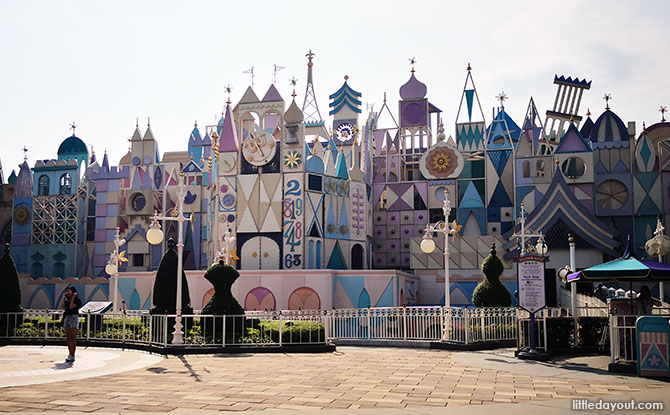 If you need to visit a theme park for the holiday to count as a real holiday, then you're going to have to get yourselves to Hong Kong Disneyland.
---
-- Story continues below --
Talk about creating memories; your toddlers and kids will be raving for months about their Hong Kong getaway after a day out to Hong Kong Disneyland.
In summer when the days are hot and the queues are long, plan to visit Hong Kong Disneyland in the late afternoon. Level up and indulge in some character dining before you hit the rides! Make a lunch reservation at World of Color Restaurant and who knows, Mickey, Minnie or even Pluto might be your lunch buddies!
---
Ocean Park
Ocean Park is an all-time favourite with locals and tourists alike, so you can imagine it gets real crowded!
Once you're in, some of the must-see attractions are Grand Aquarium, one of the world's largest aquariums filled with over 5000 fish from 400 species, and Whisker's Harbour, a children's play area complete with carnival games, a bouncy castle, and a sizeable climbing frame.
A theme park with a difference, you'll definitely want to spend some time in the Amazing Asian Animals zone where you can say hi to the two Giant Pandas, some Asian otters, monkeys and alligators.
As Ocean Park is spread out over two levels, you'll have to take the Ocean Park Cable Car or the Ocean Express to get up and down. As the Cable Car is far more popular with visitors who want to take it up to The Summit, you should consider taking the Ocean Express up, and the Cable Car down.
---
Star Ferry Hong Kong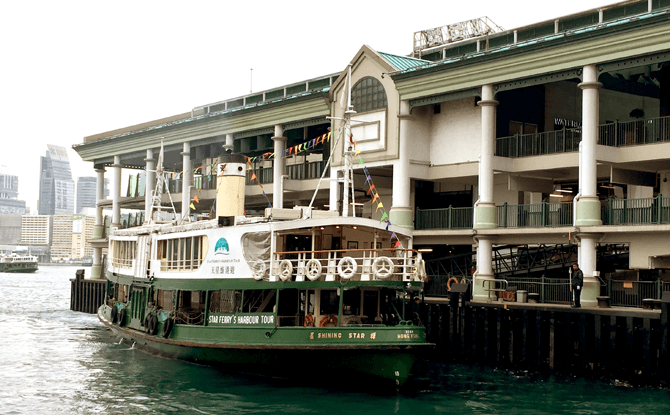 The Star Ferry Hong Kong sails from Central to Kowloon, or Wan Chai to Kowloon in under 12 minutes, depending on the time of the day. Star Ferry Hong Kong also travels to Hong Kong Disneyland Hotel once a day.
Depending on how far you are from a Star Ferry terminal, it could be faster to hop on a ferry to get to Kowloon than to take the MTR. It's cheap too – an adult ticket for the Upper Deck costs HKD 2.70 on weekdays, while a child's ticket for the same costs HKD 1.60.
For an extra memorable experience, get tickets to Star Ferry's Harbour Tour – "A Symphony of Lights" to catch the infamous laser light show from the ferry.
---
Hong Kong Zoological and Botanical Gardens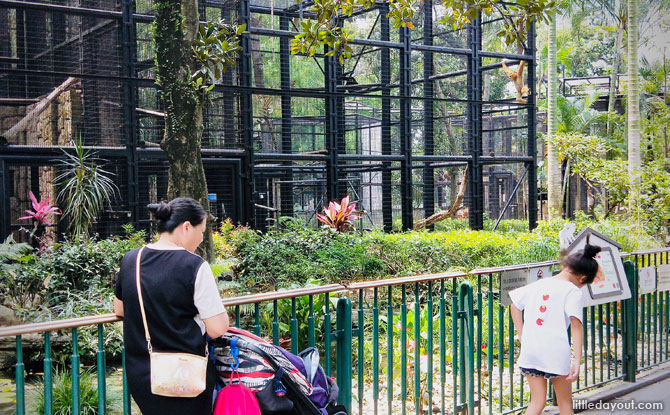 The oldest park in the territory, Hong Kong Zoological and Botanical Gardens – located on Albany Road, an uphill trek from either Central or Admiralty MTR station – is home to a variety of birds and mammals, gibbons and tortoises, and lots of beautiful trees and flowering plants.
Pack a simple picnic to enjoy at lunch time, especially in summer. Sit by the Fountain Terrace or in front of the Aviaries; with benches everywhere in the Gardens, you have your pick of seating!
Your children would probably love to spend some time in the Children's Playground. While the kids hit the swings and merry-go-round, you can chill out in the shade and take advantage of the free Wi-Fi service.
---
The Peak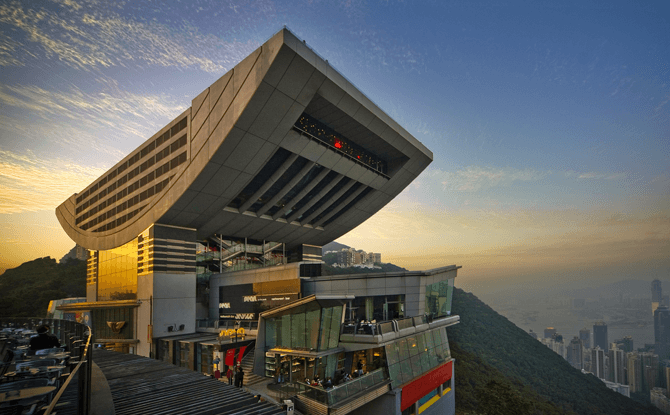 The Peak offers the most spectacular view of Hong Kong, especially if you make your way to the rooftop of Sky Terrace 428.
Morning, afternoon or at night, the stunning 360-degree panoramic view of Hong Kong from The Peak will definitely take your breath away.
After lunch at The Peak – how about dim sum with a view in Lu Feng? – walk up Mount Austin Road which is just beside The Peak Tower. Let the kids loose in Mount Austin Playground, a great spot found amongst well-kept gardens and calm, meandering pathways.
---
Hong Kong Science Museum
Opened since 1991, the Hong Kong Science Museum – located on the Kowloon side – occupies a permanent exhibition area of 6500 square metres, and is home to more than 500 exhibits, of which almost 70 percent are interactive.
Spread out over four floors, visitors – young and old – are invited to learn about and experience a wide variety of STEM-related topics, including life sciences, transportation, electricity, magnetism, biodiversity, and even food science.
Put aside a good half-hour at least for your kids to play to their hearts content in the Children's Gallery at the Hong Kong Science Museum.
With fun and engaging exhibits such as Build Your Own Coaster and Big Kids' Work Site, you might need to bribe your way out of the Museum when it's time to leave!
---
Victoria Park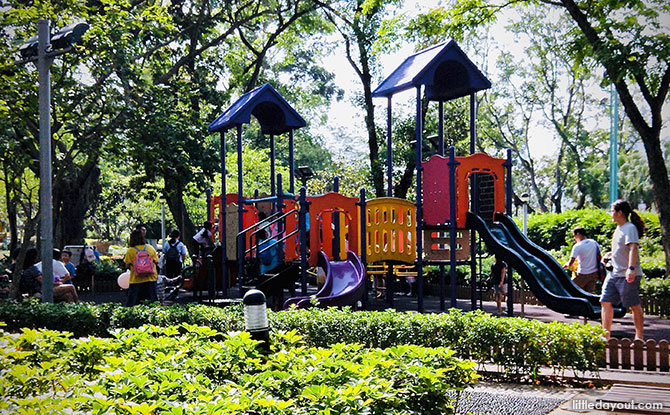 Victoria Park is the biggest park on Hong Kong Island and has football fields, basketball courts, a swimming complex, tennis courts and FOUR playgrounds to sufficiently wear the kids out! Very often, there are events like a carnival or a festival market on the grounds of Victoria Park too.
---
Eat and Eat Some More – Dim Sum, Roast Goose, Wanton Noodles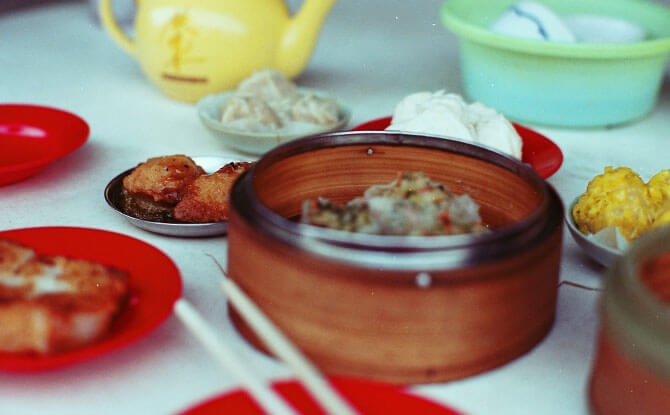 Hong Kong is a foodie's paradise with dining options aplenty on every street and side-street!
Go cute and make a reservation at Yum Cha for some character dim sum which will delight the whole family, or scoff down piping hot Gai Daan Jai egg waffles en route to your next stop.
Satisfy your craving for Wanton Noodles in Central – choose between Mak's Noodle or Tsim Chai Kee – then join the long queue for a coveted spot in Lan Fong Yuen, the 50-plus-year-old Cha Chaan Teng on Gage Street.
Once you're seated, place an order quickly for their signature Hong Kong milk tea, pork chop buns, and French Toast.
Since you're in the area, have dinner in SoHo. There are Italian, Mexican, and even Asian restaurants to choose from – SoHo is perfect for the fussiest of travellers.