A great place for diners to chill over good food and coffee, The Assembly Ground has two outlets in Singapore, with the main one located at The Cathay and the other located at Cineleisure. The Assembly Ground is currently having a few ongoing promotions that families can enjoy together.
The Assembly Ground Cathay outlet is located on the first floor and easily spotted from the moment you enter The Cathay. Visitors who enter will be welcomed with colourful murals, classy wall decor and neon signs.
---
Dining at The Assembly Ground Cafe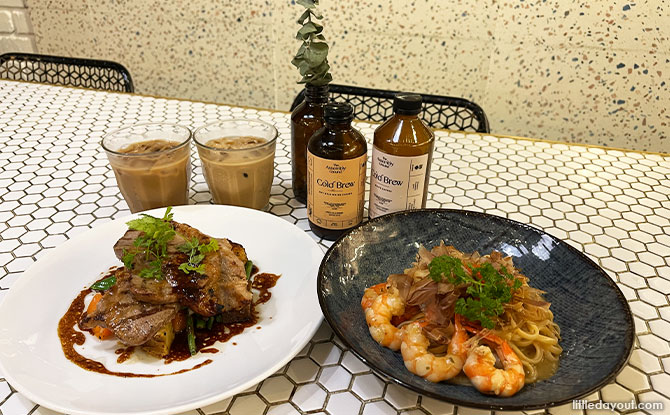 The Assembly Ground serves a variety of food options such as appetizers, pasta, burgers and pizzas. Some popular items include the Truffle fries, Crab Pomodoro, and Laksa pizza.
A few items on the menu that we tried was the Umami Prawn Pasta, Nagano Miso Pork and the Cold Brew Coffee.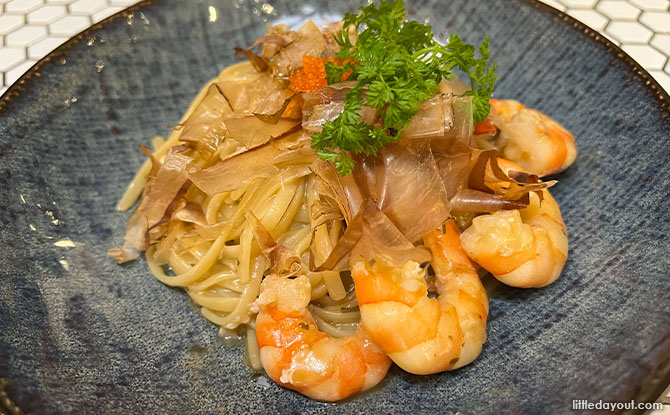 The Umami Prawn Pasta consists of linguine, sea tiger prawns, crustacean oil, bonito flakes and is topped with tobiko. We appreciated that the dish lived up to its name and was indeed very savoury and the sauce was creamy yet thick enough for it to be similar to a dry pasta dish. This is sure to be a dish that will satisfy seafood lovers.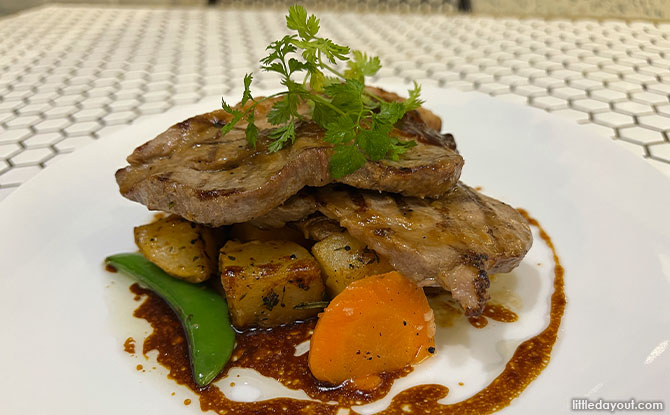 The other dish we tried was the Nagano Miso Pork. This dish consists of a grilled pork collar that is served with a side of roasted potatoes, seasonal vegetables such as snapped peas, long beans and carrots as well as a raspberry sauce.
The Pork was tender and well-cooked, and the vegetables were fresh and crunchy. Although we could not taste the raspberry sauce, it was an enjoyable dish that we recommend diners giving a try.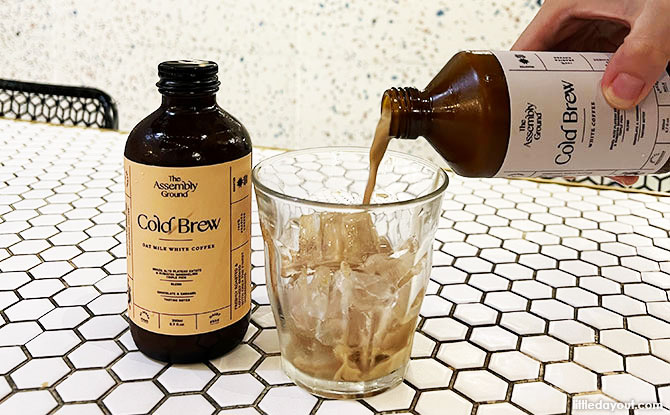 We also tried the White Cold Brew Coffee and the Oat Cold Brew Coffee. Both coffees had Chocolate and caramel notes but the white coffee was a tad sweeter as compared to the one with oat milk. All coffees are freshly brewed and can be stored for up to five days.
---
Kids Eat Free from 8 to 10 October 2021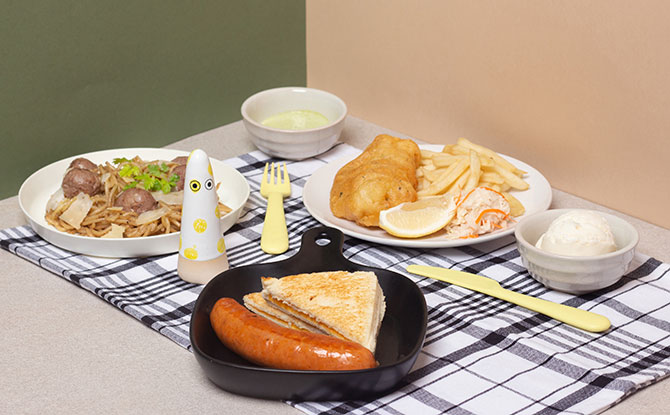 For a limited period of time, kids aged 12 years old and below can dine for free with every main ala-carte dish ordered. Kids can choose any main and drink from The Assembly Ground's menu. This promotion is not valid in conjunction with other promotions. See other promotions by The Assembly Ground here.
---
New Kid's Menu at The Assembly Ground
Adding on to the great Kids Eat Free deal, kids will also have more options to choose from with The Assembly Ground's refreshed kids menu. The kid's menu will have three dishes, all of which are new.
There is a Cheese Toastie dish that consists of melted cheddar in a toasted sandwich and served with chorizo sausage as well as a Spaghetti Meatball dish that is served with a porcini mushroom sauce.
Kids can also choose to enjoy a battered haddock with shoestring fries, pear slaw & gribiche sauce. These meals are served with a hot or iced chocolate of the kid's choice and diners can top up a dollar for vanilla ice cream to be added as dessert.
---
The Assembly Ground Store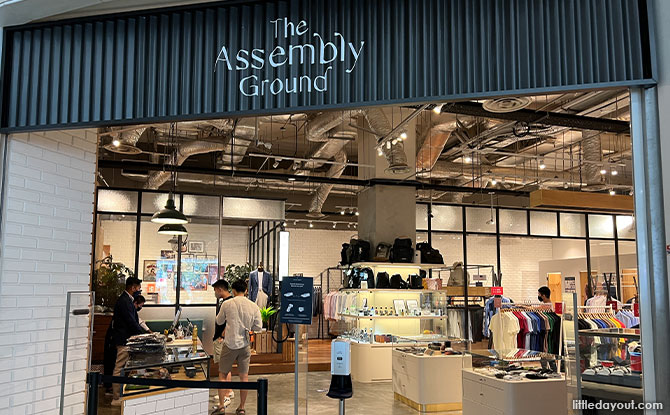 There is also an Assembly Ground retail store located beside the cafe. There, visitors can shop for fashion, lifestyle, sports, streetwear and more. The items sold are more masculine in design and sizing.
The Assembly Ground
The Cathay 2 Handy Road #01-21 Singapore 229233, 229233, Singapore
The Assembly Ground, Cineleisure
8 Grange Rd, Cineleisure #01-01, 239695, Singapore