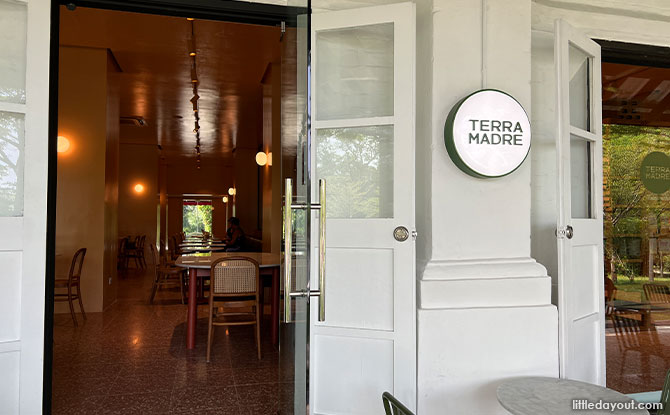 Located at Loewen by Dempsey Hill is Singapore's largest organic store and natural food restaurant. Terra Madre is directly translated to mean "Our Mother", and this brand's name is a tribute to Mother Earth and represents their dedication to serving the local communities good, healthy and high-quality natural food.
They have a restaurant as well as a store that serves organic products at competitive prices. Their restaurant offers a variety of dishes from their modern Australian inspired menu. Open every day from 8 am to 10 am, the interior of the restaurant has splashes of green amongst their marble tables and wooden chairs.
---
Terra Madre Restaurant
---
-- Story continues below --
They have recently launched their Breakfast and Lunch menu which has over 20 wholesome dishes to choose from. The dishes are made with high-quality ingredients which are bought fresh almost every other day instead of it being frozen. We got to sample a few items from both their breakfast and lunch menus.
Spiced Amaranth Bowl
One of the highlights of our breakfast was their Spiced Amaranth Bowl which is made with the base of the superfood, amaranth and also combined with turmeric, black pepper, coconut milk, goji berries and other berries. This dish is suitable for vegans and is also gluten-free.
It was our first time trying amaranth, a highly nutritious grain that has an impressive nutritional profile and a great source of protein, fibre, manganese, magnesium, phosphorus and iron.
The combination of turmeric and black pepper is another powerful combination when prepared correctly as they have key active ingredients that contribute to their anti-inflammatory, antioxidant and disease-fighting qualities.
We thoroughly enjoyed this unique dish which we have not seen on other menus at other restaurants. The texture was similar to that of a cross between couscous and a thick porridge. The coconut milk paired great with the turmeric and the hints of black pepper with each bite was surprisingly delicious along with the tartness from the berries.
Smashed Avocado with Vine Leaf Verde
Another dish we got to try was the Smashed Avocado with Vine Leaf Verde that is packed with spinach, lime, chillies and poached eggs served on multigrain toast. We liked how tart and refreshing the avocado was and it reminded us of a very well prepared guacamole. The chillies also gave an extra kick to those who enjoy spice.
Fluffy Pancakes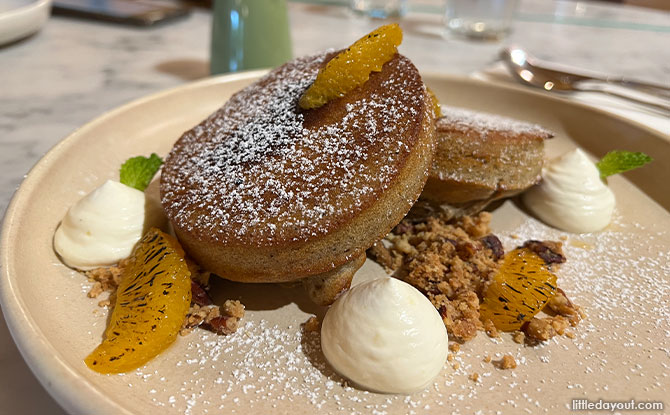 Those who wish to end their breakfast on a sweet note can try the Fluffy Pancakes which is made with banana flour, smoked pecan crumble, caramelised orange, chantilly cream and organic maple syrup.
This pancake dish was closer to the texture of banana cakes and the caramelised oranges were another unique touch to this dish. The smoked pecan crumble was very enjoyable and paired well with the sweet chantilly cream.
---
As for their lunch menu, a must-try dish is the mix-and-match of the fresh selection of salad and vegetable pairings with a choice of proteins. We tried the Asian slaw paired with Kurobuta Berkshire pork skewers as well as the Charred Baby Carrots with Gochujang baked salmon.
The tangy Asian slaw made with wombok, pickled red cabbage, chilli, pickled ginger, tamarind dressing, mint and jalapeno was the perfect pair with Kurobuta Berkshire pork skewers which were perfectly cooked and the other ingredients such as thyme, butter, smoked paprika, and paprika oil.
The Charred Baby Carrots were served with Dukkah and Tahini. They were very well roasted and the sweetness of the carrots shone through even on their own.
We think that this dish pairs best with the spicy and aromatic Gochujang Baked Salmon as a protein. The salmon is topped with yuzu, miso, lemon, spring onions and organic sesame seeds.
To accompany the meals, Terra Madre lets customers select from a range of refreshing superfood smoothies, slow pressed juices, kombucha and even organic coffee from Australia.
---
Terra Madre organic store
The Terra Madre organic store is located in the same space as the restaurant. This organic store is expected to have an extensive range of over 1,000 products and counting including pantry essentials, organic beverages, confectionery baking ingredients, and more. There are also speciality products like truffles, oils, spices, vinegars, and pastas.
Some interesting products we spotted include unique pastas such as edamame pasta and a wide range of gluten-free options too. Other product highlights include a decadent and organic Hot Chocolate sourced from a small family farm in the Amazon headwaters region of Peru.
Terra Madre will continue to source and grow its product range in the upcoming months, and shoppers can look to Terra Madre's website to find out more about the retail store's selection.