At Our Tampines Hub, folks living in Tampines are even more spoilt for choice with a smorgasboard of food outlets in one place. From restaurants to food counters and grab-and-gos. The wide variety of Our Tampines Hub food outlets not only caters to the tastebuds but also makes great meeting spots for groups, families and even dates. Here are some highlights of Our Tampines Hub restaurants and food outlets.
Commonground
With a comprehensive menu comprising salads, sandwiches, pastas, pizzas and entrees, there is something for everyone at Commonground! One of the choices worth mentioning is their "Commonground Appetisers Platter" which is great for sharing. If you are looking for a bite to grab-and-go, head straight for Portopantry – the lifestyle retail corner within Commonground offering a wide range of wholesome yet affordable gourmet foods. Customers can also look forward to ice cream by Udders, and wholesome takehome soup packs by The Soup Spoon. Commonground has large tables which make it ideal for group gatherings over food at Our Tampines Hub.
Unit Number: #01-103
Opening Hours: 10 am to 10 pm
Out Of The Cake Box
Out Of The Cake Box is a counter store that offers a tempting collection of unique sweets that are freshly baked daily. Their famous flavours which include unique flavours such as Chendol, Watermelon and Mango Sticky Rice are worth trying. Out Of The Cake Box is also piloting an Ignite Kitchen Project where people with disabilities and at-risk youths find training and vocational opportunities through developing a passion for baking. What a great way to pair giving back to the community and sweet treats! 
Unit Number: #B1-43
Opening Hours: 10 am to 10 pm
Toasties
If a tagline like "Sandwiches with Character" isn't enough to catch you eye, here are a few more reasons. Toasties is a halal-friendly sandwich restaurant which prides themselves in serving only fresh ingredients with value for money prices. It also offers an environment which is welcoming to customers. It is a great spot for people who are looking for a place to have a no-fuss meal or something to takeaway. 
Unit Number: #01-85
Opening Hours: 10 am to 10 pm
The Hawker Centre @ Our Tampines Hub
There's no denying that we Singaporeans LOVE our hawker centres. Who can say no to great food at affordable prices? The Hawker Centre @ Our Tampines Hub is the first 24 hour hawker centre in Tampines! With over 40 tantalising stalls offering a huge variety of dining options, as well as ample seating for 800, the Hawker Centre @ Our Tampines Hub is sure to win over your heart and stomach. The Hawker Centre is also hopping on to the "self-service" bandwagon and all stores have an "iCashBox" which function as a automated money-collecting machine. This helps to improve the stores' hygiene as the servers no longer handle cash and also facilitates faster turnaround when the peak crowd comes to dine.
Unit Number: #01-31 to 73
Opening Hours: 24 Hours
Griddy 
Griddy offers diners an array of pasta, brunch-style selections and sides, but their waffles are the main attraction. Savoury Chicken Waffles and Dessert Waffles with flavours such as Salted Egg Yolk and Caramel welcome diners to get "greedy". Griddy's other outlet is all the way in the west, with its outlet at Our Tampline Hub, easties can now get a taste of lip-smacking waffles without making the journey to the west.
Unit Number: #01-86
Opening Hours: 10 am to 10 pm
I Am… (Haji Lane) 
For those who have heard of the iconic "I am…" at Haji Lane, you can now try it here at Our Tampines Hub. "I am…" serves a line-up of Western food with signature dishes that include the Dutch-inspired Fries and Mayo, Charcoal-Grilled Juicy Burgers, the well-known Matcha Burger and many others! It's halal-certified and the Our Tampines Hub outlet is fully air-conditioned which is great for those who want to beat the heat while they eat.
Unit Number: #03-03
Opening Hours: 10 am to 10 pm
Saap Saap Thai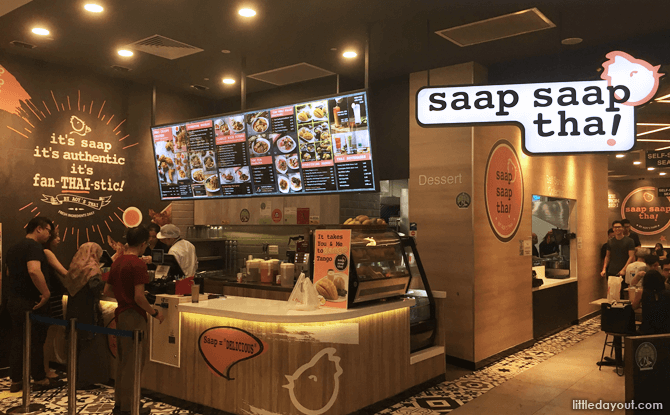 Saap Saap Thai is a new specialty concept store that features all-time favourite Thai dishes Singaporeans are familiar with. By using fresh produce, genuine Thai imported sauces, herbs and spices, Saap Saap Thai promises to bring across the true essence of delicious Thai cuisine. They have an all automated ordering and paying system and are also halal-certified.
Unit Number: #01-100
Opening Hours: 10 am to 10 pm
The Pizzarean
The PIZZERIAN is a hospitable and cozy family outlet at Our Tampines Hub. It caters to the lovers of authentic Italian pizza and pasta cuisine. Their extensive menu caters to all ages in the family! It's said that you will smell it before you see it, so head down to check it out for yourself.
Unit Number: #B1-K3
Opening Hours: 10 am to 10 pm