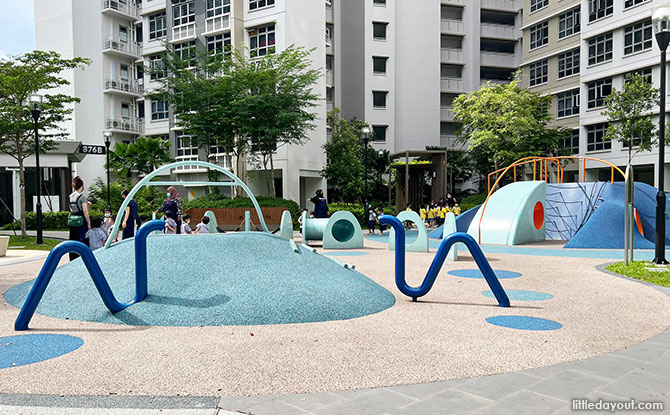 Within the area of Tampines Street 85, Tampines Street 86 and Tampines Avenue 8 is Tampines GreenBloom, a development completed in 2020 with a residential area, a rooftop garden and a playground.
The Housing Development Board states on their Facebook page that the name 'Tampines GreenBloom' takes inspiration from the "abundant lush green spaces and flowering plants grown within the development".
---
Green Areas in Tampines GreenBloom
There are many green spots in the area as well as trees and shrubs. There is even a small open green field to run around in. One spot that we liked was a sheltered open area near Block 876B. This space seemed to be a popular spot for residents who wanted to have a separate space from the nearby playground.
---
-- Story continues below --
Tampines GreenBloom Playground and Fitness Area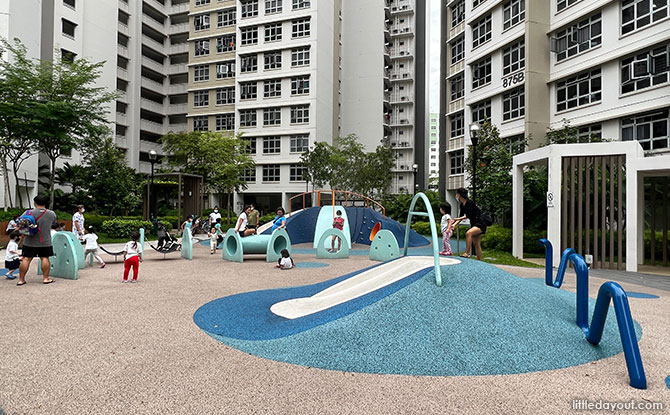 The playground at Tampines GreenBloom has pops of blue and is designed to mimic "bubbles on the surface of the water".
This theme is further followed by the small mounds around the playground which act as an obstacle to interact with as well as hills that they can climb on.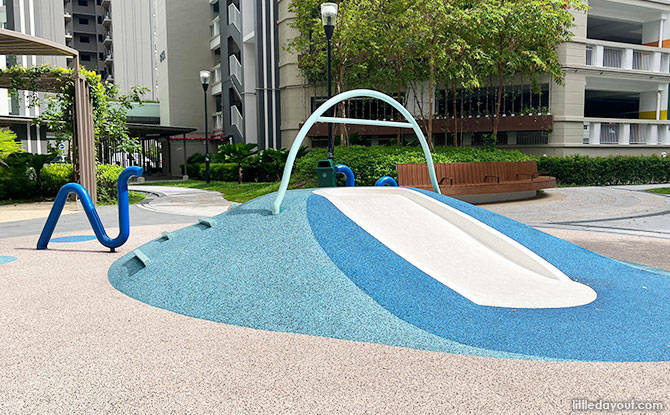 There are also play elements such as slides, tunnels and a mini climbing wall.
There are mini hammocks too.
Next to the playground is a fitness area with equipment suitable for doing exercises such as pull-ups, sit-ups and even tricep dips.
---
Interesting Structures at Tampines GreenBloom
An interesting feature in Tampines GreenBloom are the wooden trellises. The Housing Development Board also states that they are meant to "mimic undulating earth mounds and take reference from the earthy theme of the development." Throughout the day, residents and visitors can see the play of lights and shadows as they walk through the structure.
---
Tampines GreenBloom Rooftop Garden
The last feature of Tampines GreenBloom is the rooftop garden. Located at the 6th floor at the multistorey carpark, this open rooftop garden has ample space with benches, tables and greenery galore. There are also a few sheltered spots in the event that it is too sunny or if it rains.
---
Tampines GreenBloom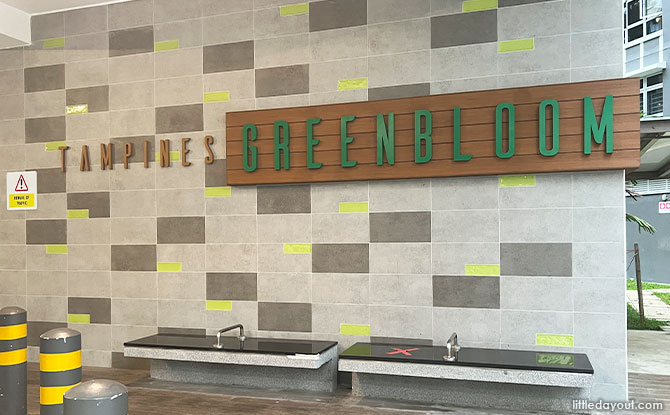 Tampines GreenBloom is also located just a stone's throw away from Tampines Green Forest Park & Playground, which has a huge cargo net tower and a large playground area. Read more about it here.