Christmas Wonderland at Gardens by the Bay evokes a wonderful sense of the holidays. With beautifully lit sculptures, a carnival fairground and festive bites, it is no wonder that it is highly popular with families and friends looking for an evening out.
However, with its popularity come the throngs of crowds. If you are planning a visit to Christmas Wonderland, here are some tips to enjoy a visit.
1. Visit on a weekday night. Crowds are thinner and you will not have to jostle with as many people as on the weekends. If you must visit on the weekend and are driving, be sure to arrive early before the sun goes down. If not, you can expect a queue of cars leading to the parking lots. If you are early, you can visit the Cooled Conservatories first or have an early dinner and wait for the lights to come up.
2. Visit Christmas Toyland Floral Display in the evening. When the sun goes down, the flower field gets lit up. There are fewer people inside the domes and you will be able to walk around easily. Remember to book your tickets online to enjoy a discounted rate too.
3. Coincide your visit with the special Christmas edition of Garden Rhapsody. The light show at Supertree Grove takes place from 7.45 pm to 8 pm and 8.45 pm to 9 pm daily with additional sessions on Fridays and Saturdays from 9.30 pm to 9.45 pm.
4. After watching Garden Rhapsody, head to the Spalliera for Blizzard Time. This takes place at 8 pm, 9 pm and 9.45 pm daily. The "snow" here isn't as intense as at some other locations around Singapore. Adults can get in on the snowy action too and there is no need for a change of clothes for the kids.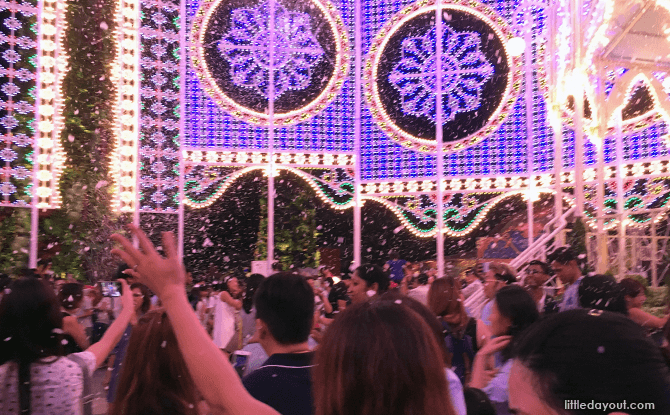 5. Even though entry to Christmas Wonderland is free, expect to spend a bit of 'coin'. There are carnival stalls, a merry-go-round, swinging chairs and an Ice Palace. A token system is in place and you can pick up them up from counters at $2 a piece. The most striking attraction at Christmas Wonderland is Helter Skelter, a tall wooden slide that kids will love swooping down. It costs 4 tokens to ride but keep a look out for specials like the one below!
Finally, we leave you with some images of year's Christmas Wonderland at Gardens by the Bay.