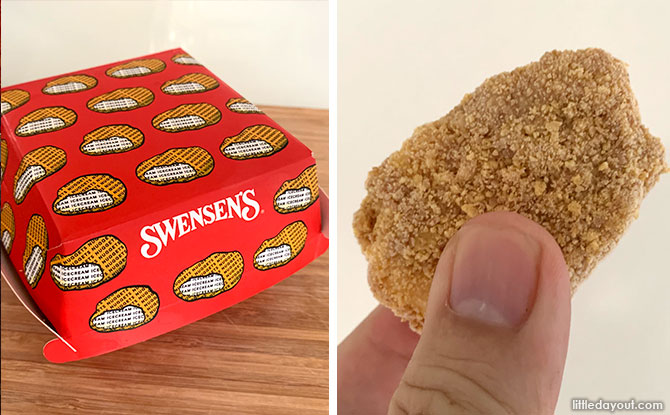 Is that a crispy chicken nugget? From Swensen's? Except it isn't. It is Swensen's new novelty nugget ice cream.
The striking red box with the Swensen's motif on the outside is the restaurant chain's latest bite sized addition to their novelty ice cream line.
---
Swensen's Nugget Ice Cream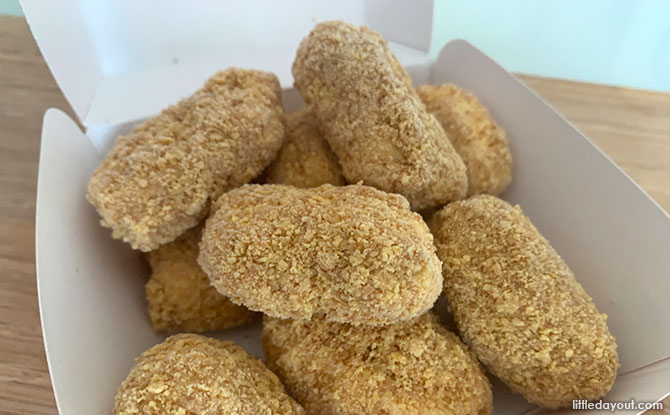 Opening up the box, you'd would forgiven for think that you have stumbled across a box of crispy chicken nuggets with golden, crusty batter. However, bite into it and you'll be in for a surprise.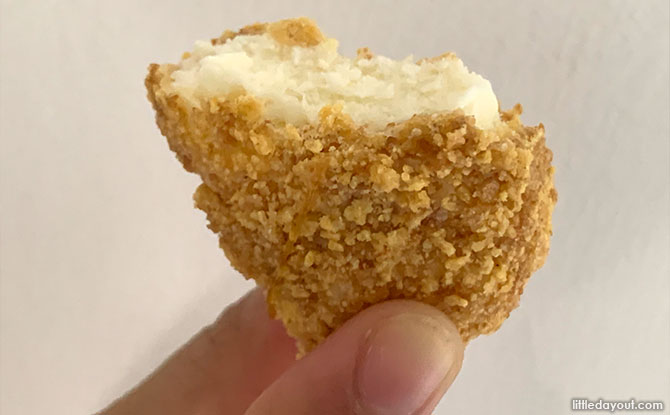 The Swensen's nugget ice cream may look like fried golden nuggets but once you bite into them, they reveal a creamy and delightfully core of Swensen's signature vanilla ice cream.
There still is a crunch though, thanks to the crispy cereal bits that coat the chilled ice cream.
It is a pretty neat way to sample ice cream with the fingers and not have to dirty them.
The Swensen's nugget ice cream also comes with dipping sauces that look like chilli sauce, barbecue sauce and ranch sauce.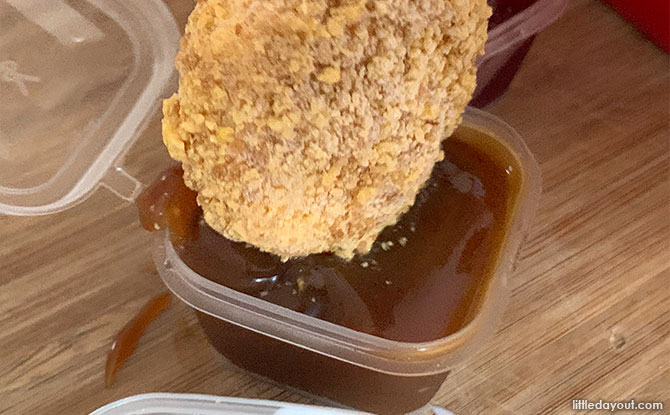 However, instead of the usual sauces that accompany nuggets, these are sweet sauces that give an added flavour against the plain canvas of the vanilla ice cream.
Swensen's Nugget Ice Cream is priced at:
• Box of 6 pieces ($8.80)
• Box of 9 pieces ($12.80)
• Box of 12 pieces ($15.80)
• Pint of 18 pieces ($21.60)
The 'Nugget' Ice Cream will be available for purchase from Swensen's and Earle Swensen's stores islandwide and for delivery on the Swensen's website, GrabFood, Deliveroo and Foodpanda from 31 March 2023 – just in time for April Fools Day.