With additional measures having been announced by the Multi Ministry Taskforce to combat the spread of COVID-19, NParks has announced that some parks, gardens and nature reserves will be closed.
Closures in Parks, Gardens and Nature Reserves
These closures in parks, gardens and nature reserves include:
Closure of all car parks in parks, gardens and nature reserves
Closure of F&B outlets, convenience stores, retail and recreation outlets. This includes the food vending machines in parks
Closure of the Exhibition Hall at Bukit Timah Nature Reserve
Closure of Lakeside Field, Butterfly Field, and the Oval at Jurong Lake Gardens
Closures of the Nature Gallery, Chek Jawa Visitor Centre and Ubin camping areas and campsites at Pulau Ubin
Closure of hot spring stations at Sembawang Hot Spring Park
At Singapore Botanic Gardens, the National Orchid Garden will be closed, along with Jacob Ballas Children's Garden, Heritage Museum, Ethnobotany Centre, Library, CDL Green Gallery, Seed Bank and the lawn at Eco Lake
Sisters' Islands Marine Park's Marine Park Public Gallery will be closed
Closure of Mangrove and Nature Galleries at Sungei Buloh Wetland Reserve
Other Facilities in Park That Are Closed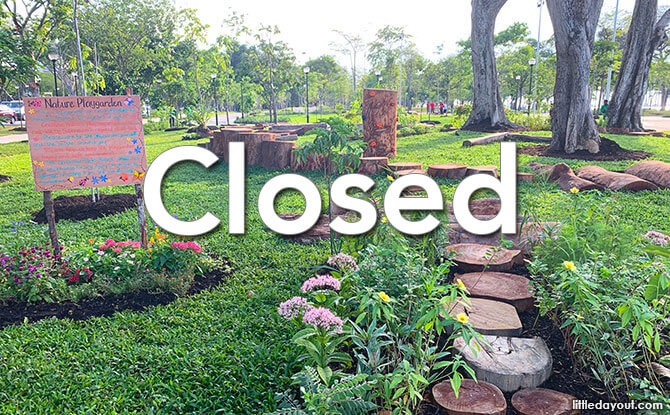 To prevent gathering in groups and facilitate safe distancing, the following facilities are also closed in the parks:
Playgrounds and Nature Playgardens
Fishing areas
Fitness corners/stations, football fields, and basketball/volleyball court facilities
Dog runs
Water play and water recreational facilities
Beaches at East Coast Park, Changi Beach Park, Pasir Ris Park, Punggol Point, Sembawang Park and West Coast Park
In addition, NParks also advised that some of the parks such as TreeTop Walk and Southern Ridges could be closed temporarily if it gets too crowded.
Stay Home or Only Visit A Park Near You To Exercise Alone
Ideally, you should be staying at home during the Circuit Breaker period. However, if you need to head out to exercise, do so at a park or park connector in your neighbourhood. And do so alone. Remember to wear a mask unless you are engaging in strenuous exercise.
Do also note that gathering in groups in parks is not allow. This includes activities such as having picnics, photography, kite-flying, or playing games like frisbee and football.