Staying home doesn't mean idling away. Singapore Writers Festival 2020 invites you to explore the festival and unleash your child's imagination from the comfort of your own home! Taking place in the digital realm this year from 30 October to 8 November, the festival also features over 30 SWF Playground programmes, meaning there is plenty in store for children, youths and families.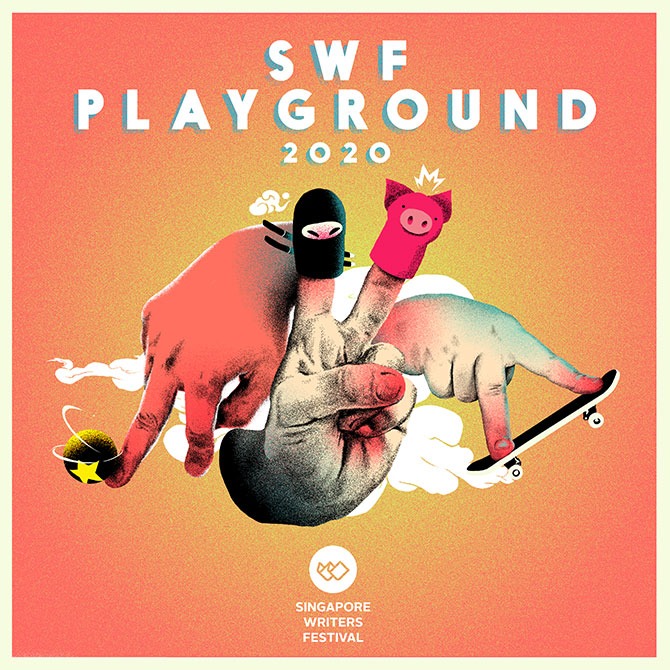 Singapore Writers Festival 2020 is organised by the National Arts Council as part of the #SGCultureAnywhere campaign.
---
SWF Playground 2020 for all Families
SWF Playground 2020 will feature pre-recorded videos, story-telling, craft sessions as well as workshops by renowned writers, cartoonists, poets and content creators.
With many young ones aspiring to create, they will get plenty of opportunities at the festival's SWF Playground's wide variety of programmes for kids and families.
Recording a podcast, creating a comic, writing poetry, illustrating characters, and crafting are some of the festival programmes just for the little Neil Gaimans out there.
As part of SWF Playground 2020, families can also enjoy creative storytelling sessions, fun workshops, and video art shows with authors and illustrators.
There will also be inclusive programmes co-presented with Act 3 Theatrics and Very Special Arts Singapore. These programmes are suitable for all children.
Subtitles will be included for all pre-recorded SWF Playground videos.
Here are some ticketed workshops, talks and hands-on activities at SWF Playground you don't want to miss.
---
Programmes for 4 to 6 year olds
Little Godwit Finds His Wings, by Emily Lim-Leh
Little Godwit is a little bird who hatches late and is separated from the rest of his flock. He tries his best to fit in with other birds and embarks on journey of personal growth and self-discovery. This inspiring story celebrates the uniqueness of each individual and the value of success and failure in learning.
Free with registration
Recommended for ages 4 to 6
Get more details.
Other programmes in this series available.
Elly's Art Show, by Elieth Sardinas
Ever seen an online art show? This one comes with a twist! Join children's book illustrator Elieth Sardinas "Elly" and her co-host Berry Bubblegum on a fun and artsy journey. Meet artists from both Singapore and across the globe who will inspire you and your kids to create art!
This event is pre-recorded and will be available on the SWF YouTube Channel from 30 October
Free
Recommended for ages 4 to 6
Get more details.
Other programmes in this series available.
---
Programmes for 7 to 12 year olds
The Write Weekend, featuring Nat Amoore, Anittha Thanabalan, Karl Nova, Gavin Aung Than

Level up during The Write Weekend with artists who will share practical insights, guide children in creative exercises and more. Nurture young authors, poets, artists with this hands-on program. Just select a preferred genre or format – short stories, performance poetry, comics or podcasts and get started.
With a ticket, your child will attend a talk and two workshops to create a short story, podcast, comic or perform poetry. The final masterpieces will be published online at the SWF e-bookstore!
The talk and workshops will be held on 31 Oct and 1 Nov.
Ticketed event : $10
Suitable for children ages 8 to 12
Get more details.
Furry Tales by Leia, featuring presenter Daniel Boey
Wonder if your pets lead secret double lives? This session will intrigue you with a alternate universe where pets are leads in their stories. Join fur friend Leia with Daniel Boey as they talk about their latest fairy tale collection inspired by pets. Families will enjoy the animated readings, find out about animal adoption and wonder about the secret lives of their own pets.
7 November, 1.30 pm
Free with registration
Get more details.
Pinocchio, featuring Story Connection Ltd
Be entranced with a retelling of the Italian fairytale Pinocchio with storyteller Alice Bianchi-Clark. A magical journey awaits, filled with music, song and puppetry. There will be digital break-out rooms where the children can interact with characters from the story – the formidable puppeteer, the compassionate Blue Fairy and the tricksy Cat and Fox. Register early as there are limited spots available.
This programme will be held live over Zoom
1 Nov, 10 am to 11 am
8 Nov, 10 am to 11 am
Free with registration
Recommended for ages 7 to 9
Get more details.
Other programmes by Story Connection Ltd available.
---
Inclusive Programmes

Dancing Leaves, featuring Act 3 Theatrics
Written by author and actor R Chandran, Dancing Leaves tells the story of Nip the leaf who encourages his friends to dance to the music of the breeze. Led by actress and educator Amy J Cheng, the audience will join along with simple dance movements followed by a fun craft session, all whilst exploring the shapes and textures of leaves around us.
This event is pre-recorded and will be available on the SWF YouTube Channel from 30 October.
Free with registration
Get more details.

Other SWF Playground programmes include storytelling sessions of Asian Folktales and Billy Goats Gruff. Families can stay at home and enjoy the lively sessions even if a troll is lurking nearby.
---
Programmes Available all Year Round
Whether it's pre or post-festival, enjoy programmes for children ages 4 to 10 with SWF Playground all year round. Story-telling, craft, workshops await you.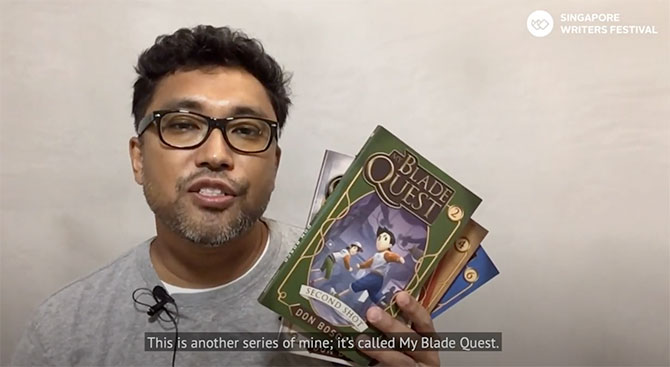 Find your Inner Ninja with Leila Boukarim and Barbara Moxham, journey with birds with Roger Jenkins and Gophi Nathan in Birds of a Feather, be inspired to write your own original stories with Don Bosco, and learn an illustration lesson from Darel Seow.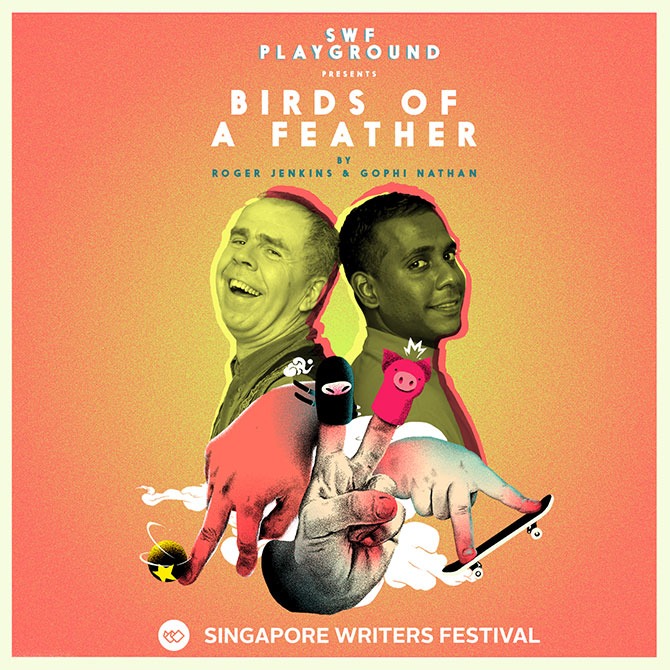 There are a total of ten pre-recorded programmes to check out, some are told in different mother tongues.
Check out the perennial programmes here.
---
Other Exciting Programmes for Parents & Teens at Singapore Writers Festival 2020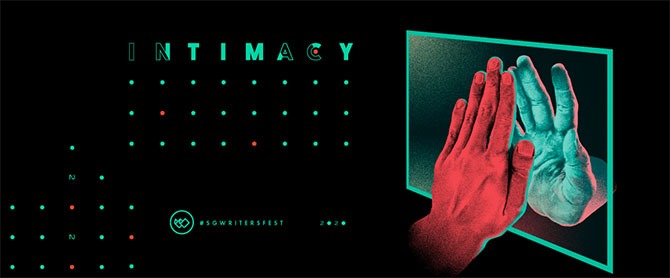 The Art of Writing in Pictures
For the fangirls and boys who love illustrators Heimi, Josef Lee and Ah Guo, here's your chance to hear from the accomplished authors and illustrators on what makes a good picture book. The panel will give their take on the relationship between pictures and words, share their inspiration, artistic styles and creative processes.
The session will be in Mandarin, with English subtitles available on video-on-demand replay.
The programme will be streamed as a live event on SISTIC Live.
1 November, 5 pm
Ticketed event: accessible through the Digital Festival Pass
Get more details
What's That Sound? A Comic Zine Creation Workshop
Budding comic creators would love to hone their skills in making their own comic zine. Join Soefara Jafney and Nadhir Nor, co-creators of SOUND: A Comics Anthology to tell a story using the unseen. From traffic noise, crunching a snack, an argument – What does sound look like? The duo will guide participants with audio prompts to develop their own comic zine. This programme is for those 16 year olds and above.
Forming Connections Through Comedy. Featuring Arianna Pozzuoli
To get by this tumultuous year, we have probably relied on humour a lot. We have watched and listened to parodies and laughed a whole lot.
How about creating your very own hilarious recordings to spread the laughter? The online workshop will help you use songs, films, television shows, pop culture phenomenon to create a video or audio recording that will bring some cheer to someone.
5 November, 8pm
Ticketed event: $10
Get more details.
Travel Writing in the Time of Quarantine, featuring Ning Cai
This might sound like an oxymoron but it could be timely to hone your writing skills and reminisce those travel memories now. Create your personal travelogue or memoir from your trips using photographs and learn how to craft your best stories and themes. Ning Cai will bring you armchair-travelling and transform your memories into page-turning chapters.
The programme will be held as a live event over Zoom
5 Nov, 7.30 pm to 10.30 pm
Ticketed event: $10
Get more details.
Also, be sure to check out the Singapore Writers' Festival E-bookstore at swfbooks.com for the best festival reads. The site will go live on 16 October 2020.
---
Loving and Creating Stories at Singapore Writers' Festival 2020, 30 October to 8 November
Nurture the love for stories in your little ones at Singapore Writers' Festival 2020 from 30 October to 8 November. With festival's digital format this year, it more convenient than ever to participate and be part of the literary action.
#sgwritersfest #swf2020 @sgwritersfest
This feature is brought to you by National Arts Council.