The Singapore Brickfest 2021 takes place from 25 October till 14 November 2021. This family-friendly exhibition is takes place on Level 4 of ION Orchard at the ION Gallery. It feature unique fan builds by local and international award-winning Adult Fans of LEGO.
The exhibition focuses on two themes: "Memories" and "Imagine".
Under the theme of "Memories", fans can view LEGO builds which draw upon the memories of their master builders. These builds represent scenes or items from the past.
---
-- Story continues below --
Some of the nostalgic builds include one of the old Jurong Drive-in cinema and the old-school elephant playground.
On the other hand, "Imagine" focuses on futuristic elements. We spotted an interesting take on the Cat Bus from My Friend Totoro, a Cat Monorail.
Together, the SG Brickfest 2021 exhibition cover a ranges of themes and ideas, including pop culture, traditional Chinese architecture, castles and mythical creatures.
---
A Gathering of World-class LEGO Artists at Singapore Brickfest 2021
One of the highlights that will greet Singapore Brickfest 2021 visitors is a massive medieval castle diorama designed and built by Bricks Knight Alliance. Another massive diorama lies beyond the Ice Wall.
There are also builds by world-class LEGO artists such as Kelvin Low (@chubbybots), Arthur Cao (@caomianyu), Evan Chang (@evan.chang.589), Titans Creation (@titanscreations) and many more.
Video interviews with some of the builders of Singapore Brickfest will be featured on Singapore Brickfest Facebook and Instagram. Fans will be able to hear different perspectives and build tips from the experts.
---
Singapore Brickfest 2021 online workshops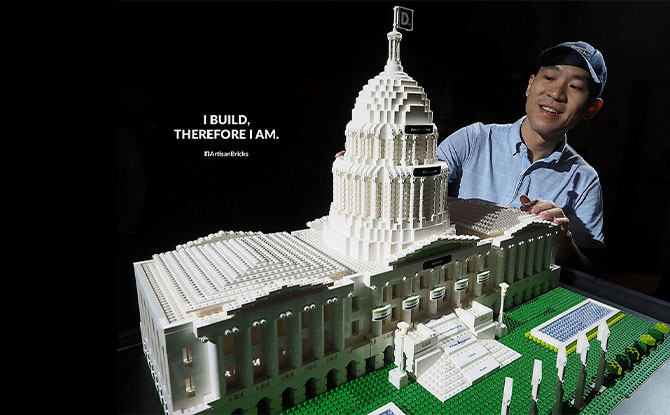 Alongside the exhibition, fans can take part in online workshops by Jeffrey Kong (@artisanbricks), a well-known brick-based artist whose work has been featured in international media including BBC World News, The Straits Times, Channel News Asia and MediaCorp Channel 8. Click the link here for sign up details.
---
Singapore Brickfest 2021
To celebrate the opening of Singapore Brickfest 2021, visitors to the exhibition will stand a chance to receive vouchers for use at the LEGO Certified Store (Bricks World) ION Orchard, along with the opportunity to redeem an exhibition-exclusive LEGO Brick and Build a Minifigure at the store. More information about the giveaways can be found on site.
The exhibition is open from 11 am to 9 pm. Those interested to visit it should register at the link here. Visit Singapore Brickfest Facebook, LEGO® Singapore Facebook, and Titans Creations Facebook for more information.