Sakura Matsuri 2020 is now on till 29 March 2020 at Gardens by the Bay's Flower Dome. This popular flower display in the Gardens by the Bay calendar brings the beauty of the sakura or cherry blossoms to Singapore.
Thinking of heading down to hanami or view the cherry blossoms at Sakura Matsuri 2020? Here are some useful things to know before making the trip to view the pink blooms.
1. When are the sakura in bloom?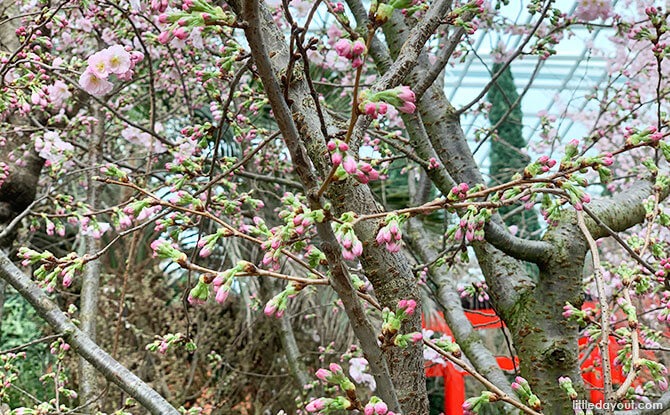 The cherry blossoms signal the arrival of Spring. There are over 300 trees at Sakura Matsuri 2020 this year's display also features 200 peach blossoms. The flowers go through different stages of flowering. They start off as buds, sprout out as florets before bursting into full bloom as blossoms.
The sakura can be at different stages of growth. Some may be in bloom while others are still developing buds. If you wish to keep track of when the sakura are in bloom, Gardens by the Bay will be providing updates through its official Telegram channel.
---
-- Story continues below --
2. Sakura Matsuri 2020 Cultural Activities on Weekends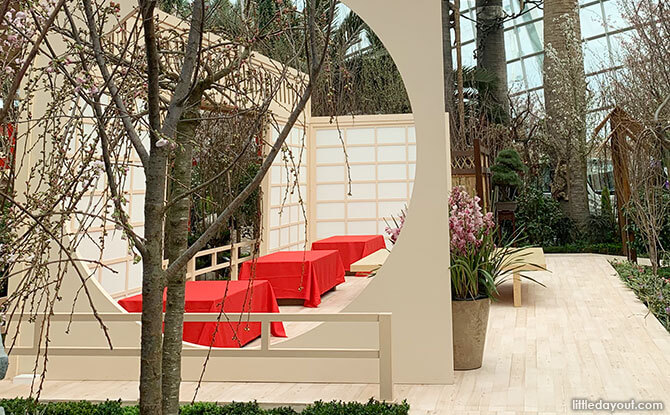 Sakura Matsuri 2020 on stretches over four weeks in March. If you wish to immerse yourself into the feeling of being at a sakura festival, visit on the weekends. Look forward to cultural programmes organised by the Japan Creative Centre at the Flower Dome.
Some highlights include Japanese tea ceremony which showcases the preparation and serving of powdered green tea. This takes place on Saturday and Sunday each weekend at 11 am and 12 pm. Other activities include taiko performances and kendo demonstrations.
3. Experience Areas around the Flower Dome (selected dates)
The Flower Dome features gardens from around the world. During this period, the South American and Mediterranean Gardens have coopted to become experience areas. There will be a Kotobukiya Pop Display, showcasing plastic model kit figurines, from 13 to 22 March. Also during this period, there will be a Sony Playstation Demo Kiosk where visitors can try out different games. On the weekends of 14, 15, 21 and 22 March, look out for a Danbo Colouring Workshop (additional fees apply).
4. Hanami Experience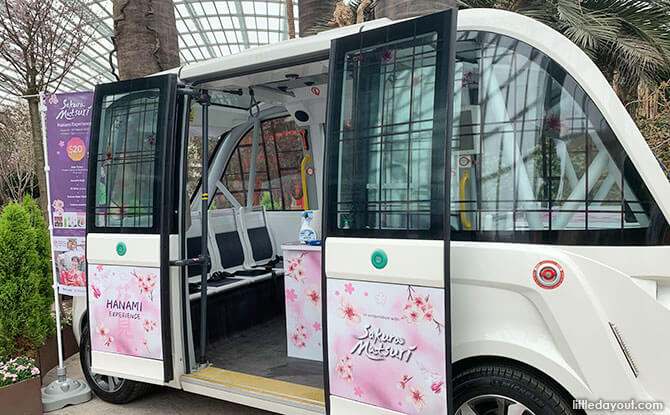 To fully embrace hanami, rent a yukata and pick up hanami pack of sakura flavoured snacks imported from Japan. It includes an Auto Rider vehicle ride between the Bayfront Plaza and the Flower Dome. The Hanami Experience can be purchase from either Bayfront Plaza or inside the Flower Dome.
5. Anime Garden (last weekend of March) – Cancelled
Fans of Japanese culture should take note of Sakura Matsuri: Anime Garden 2020. This takes place at The Meadow and Flower Dome on the last weekend of March, 28 and 29 March. It features cosplayers, anisong artists, J-pop performances and anime screenings. There will also be a Creators Hub and Matsuri Marketplace. Activities take place from 3 pm to 11 pm and programmes are free.
[Editor's note: The Anime Garden event has been cancelled.]
6. Ticketing Promotions
Singapore Residents also get to enjoy 50% discount on tickets purchased for One Conservatory, Two Conservatories, Floral Fantasy, Supertree Observatory and Attraction Bundle for visits from 6 to 22 Mar 2020. Get more details about this promotion here.