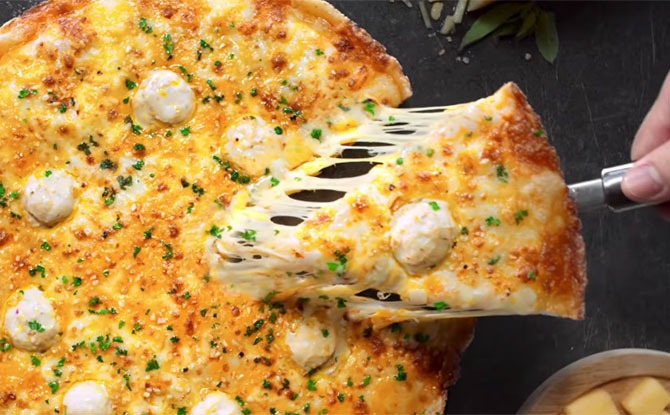 Singaporeans love durians and durian pizzas are not entirely new. In the past, there have durian pizzas from brands like Pezzo. However, Pizza Hut has now upped the ante with a Cheesy 7 Durian Pizza.
---
Pizza Hut's Cheesy 7 Durian Pizza
The brand new Cheesy 7 Durian Pizza has Montery Jack, Mozzerella, Cheddar, Romano, Parmesan, Provolone and Gouda. And, according to a response on their Facebook page, because it is their tenth anniversary, there is also additional cheese in this year's Cheesy 7 — Cream Cheese.
Wait a minute, doesn't that make it an eight cheese pizza?
For the Cheesy 7 + 1 Durian Pizza, the combination of cheeses is topped off with real durian.
---
-- Story continues below --
The Cheesy 7 Durian is available online in Regular Pan size for $36.90 or in Large Pan size for $44.90.
---
More Normal Flavours
For those who aren't so keen on having durian on their pizza, Pizza Hut also has the Cheesy 7 Original (with the addition topping of spice cream cheese) and Cheesy 7 Hawaiian with chicken ham and pineapple.
There are also promotions and discounts on the Cheesy Pizzas available.