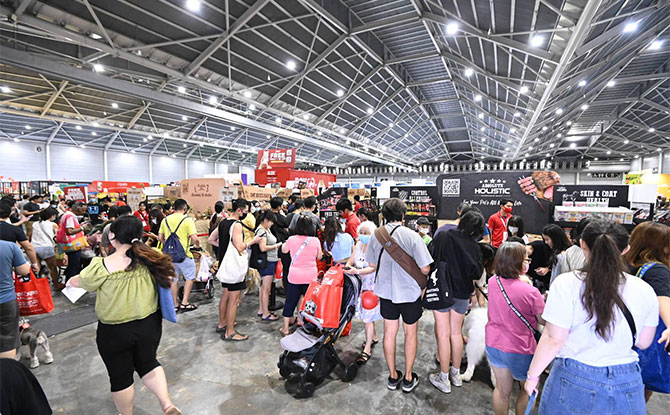 Singapore's largest pet fair, PetExpo is returning this April 2023 – bringing together the pet community, industry and owners in one central location.
After a successful comeback from a 2-year long hiatus last year which saw a record 33,000 visitors and close to 10,000 pets, PetExpo is taking over a bigger space this year with many new vendors and activities across 10,000 square metres of exhibition space at Singapore Expo Hall 6.
---
What to Expect at PetExpo 2023
This year's edition of PetExpo will feature a full programme of activities with a common theme of improving the well-being of pets, as well as educating pet owners on how they can effectively do so.
---
-- Story continues below --
The Animal & Veterinary Service (AVS), a cluster of the National Parks Board, will conduct free pet health checks and share more about pet health, and the importance of regular health checks.
There will also be a variety of themed booths that cover AVS' work, including promoting responsible pet ownership, the importance of licensing and microchipping, and enhancing capabilities in animal training and husbandry.
In addition, attendees can look forward to a wide variety of products and accessories from more than 90 local and regional exhibitors, as well as a specially-curated series of talks and workshops, discussing key interest topics for pawrents.
Visitors will have the opportunity to learn more about their pet's nutrition and how diet may play a part in addressing certain conditions such as diarrhoea and skin problems, in panel discussions such as 'Allergies Explained and How to Deal with Them' by Bom Bom Pte Ltd and 'Pain in Pets: Identifying Common Symptoms and the Role of Rehabilitation' by Beecroft.
They can also learn pet grooming tips through talks such as 'Trimming the Fear Away – Training Cooperative Nail Care in Dogs' by AVS, and more.
---
Providing Pet Owners with What Is Needed to Care for their Pets
Speaking on this year's edition of PetExpo, David Lim, Project Director of PetExpo, said, "In previous editions, we have seen a higher number of consumers looking for pet-related products. As such, we have increased the size of the show to include more products and services to meet today's demand, while ensuring the well-being of pets is taken care of. We are heartened and inspired to continue seeing a rising trend of pet owners going the extra mile to give their pets the well-deserved love and care. Our goal at every edition remains the same each year, that is to provide pawrents with the support they need as well as bridge access to a wide range of services and products in one location — so their pets receive only the very best."
---
Pet Expo 2023
When: 14 to 16 April 2023 (Fri-Sun), 11 am to 8 pm on Friday, 10 am to 8 pm on Saturday & Sunday
Where: Singapore Expo Hall 6, 1 Expo Dr, Singapore 486041
Admission: $5 per day / $12 for 3-Day Pass, Free entry for children below 12.
Pets are welcome.
If you are looking for more things to do over the weekend, check out our list of suggestions here.