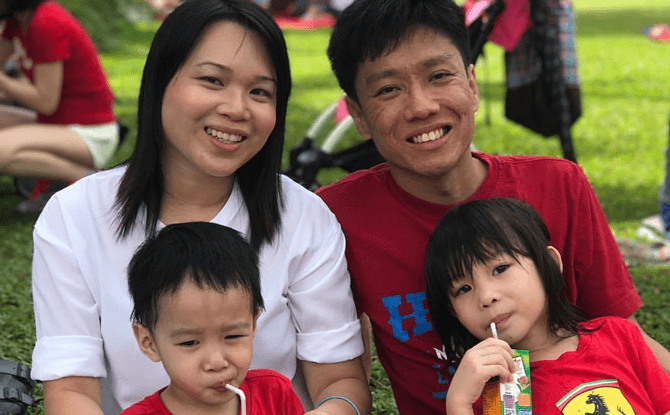 Little Day Out speaks with Foo Yong Ning, Founder and Director of Coding Lab, as part of the Our Little Day Out interview series to obtain a down-to-earth insight on what other families do, why they do so and where they go.
Previously a Regional Director at a Fortune 500 Multinational, Yong Ning, a Master's Degree holder from the Massachusetts Institute of Technology (MIT), left his high-flying job in the corporate world to pursue his passion. In 2015, he founded Coding Lab, a school that teaches children coding and computational thinking and is currently in Japan, Australia and Singapore. He is happily married, and a father of two children, five-year-old Audrey and three-year-old Mitchell.
What was your favourite place for a family outing as a child?
I really enjoy East Coast Park. I love being able to look out into the horizon while enjoying the sea breeze and experimenting with sand structures.
Where are your favourite places around Singapore to bring your kids to and why?
The Singapore Botanic Gardens for nature, East Coast Park for the sand and the sea, Esplanade for the music and arts (we love the fringe performances as well as the concerts and plays for children!) and the different parks across Singapore such as Admiralty Park and Bishan-Ang Mo Kio Park.
What types of activities do you typically do together as a family?
We like to play music together. My wife and I were both in the school band, so we like having a 'family band' to encourage the kids to jam and practise their music. We also do puzzles together, and spend time tinkering with the latest tech-related, preschool-friendly toys, for example Scratch Jr, Cubetto and Makey Makey, which are always a hit with the kids.
Meal-times are great for building bonds. Where are your favourite dining haunts with the family?
We love to explore new places such as Bollywood Veggies, Seletar Aerospace Park with the Aeroplane playground, and other eateries with lots of space for the kids to run and play around, such as Spruce. Dining at open spaces with fresh air builds up the kids' bodies and is fantastic for their growth and development.
Where have you holidayed as a family, and what's next on the passports and why?
We haven't holidayed for quite some time as I've been really busy with work. But the family has been to Australia a few times, and also to Taiwan. We are also hoping to travel to Japan next year.
What are your biggest challenges as a parent?
I would say that it is having to balance between having fun with our kids, while ensuring they are properly brought up with the right manners and attitude to life.
Why do you value family time?
Family are the people dearest to you. There is no doubt that we have to work hard to provide for our family. Time is probably the most meaningful (and non-renewable) resource we can give to our family. The bonds forged last a lifetime and at the end of the day, we know we can depend on each other for support, weathering both the good times and bad times together as one family.
How have you and your kids benefited from having little days out?
We can often get caught up in our day-to-day work pressures, and having these days out are like a treat for the entire family. We make it a point to bring the kids to their favourite parks around Singapore at least once a week – their recent favourite is Admiralty Park! – and attending concerts whilst having a picnic at the Singapore Botanic Gardens are events we look forward to. The kids get to learn more about nature and have a good run, and the feeling of the cool breeze blowing through the crowd helps us to relax and plan for the week ahead.