Dazzling light art installations, vibrant stage shows, and lively street performances come to life after sunset at Singapore Night Festival 2015.
Back for the eighth time, the annual festival boasts light art and performances from more than 50 artistes – 40 of them local and 14 from abroad – to this year's theme of Glitz and Glamour.
Over the two weekends of 21 to 22 August and 28 to 29 August, the streets of Bras Basah.Bugis will be buzzing with art, music and culture – and they are mostly free.
Here are our picks of the kid-friendly nocturnal adventures that you don't want to miss.
Nocturnal Adventures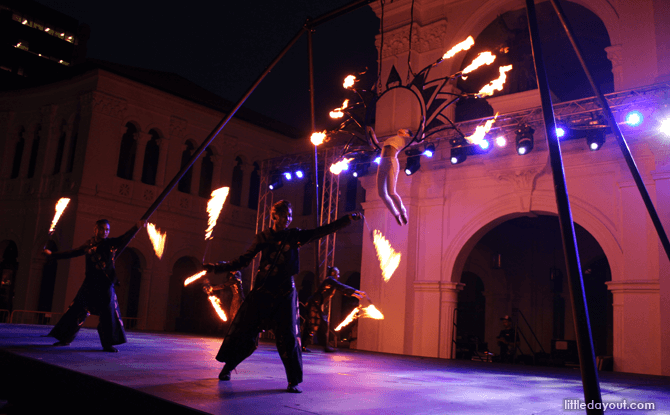 Feel the heat of real fire on your face as the members of Starlight Alchemy twirl flames and neon lights across their bodies. Headlining the Singapore Night Festival for the first time, the flow arts collective's gig is 100% local – even the costumes are hand-sewn, the props are custom-made here, and the music, locally composed.
21 & 22 August (8 pm, 9.30 pm, 11 pm)
23 to 27 August (7.30 pm – 11 pm)
28 & 29 August (7.30 pm – 2 am)
SAM Front Lawn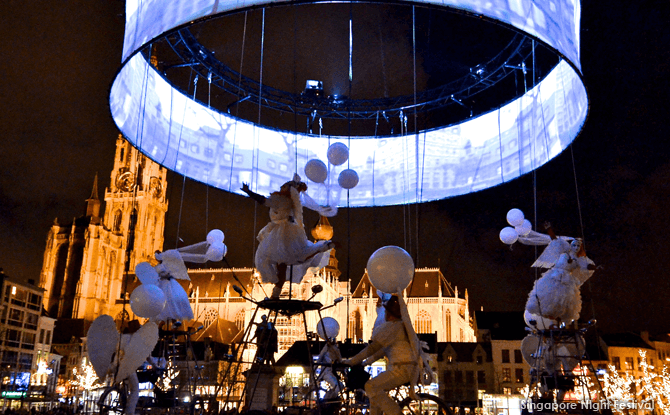 Be enchanted by the aerial carousel that is Garden of Angels by Belgian group Theater Tol, where the graceful acrobats in the air are bathed in ethereal light.
28 & 29 August
9 pm, 11 pm
National Museum, Front Lawn
The little tykes will be thrilled by the giggle-inducing antics of the Anooki, the world's smallest Inuits. The adorable grunting creatures run amok across the façade of the National Museum in a special Jubilee birthday tribute to Singapore. The Anooki Celebrate Singapore by French artists David Passegand and Moetu Batlle will stop passers-by in their tracks – so give the family a treat and park yourselves in front of the NMS for a bit.
21 to 29 August
National Museum, Façade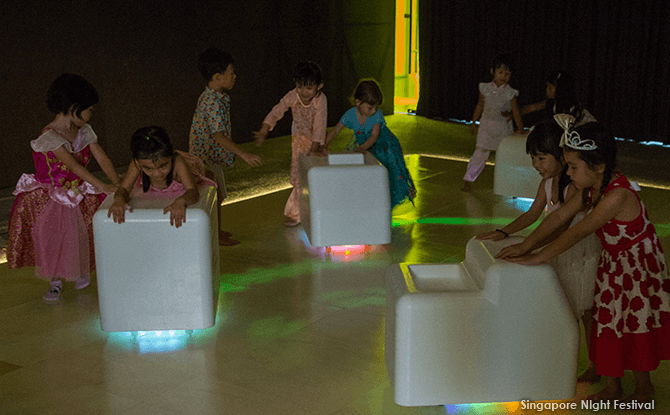 Kids and adults will have a blast at Luma-City, a play space filled with giant toy cars that leave a glowing trail as they are pushed around. Plus, this is locally designed by NUS Division Industrial Design in collaboration with Studio Juju. What's not to love?
21 – 29 August
From 7.30 pm
PERFORM, Level 3, PLAY@National Museum
Or gaze at Drawn in Light, a 12-metre installation made from metal wires, hand-bent to form an Amsterdam townscape. Artist Ralf Westerhof from Netherlands designed it to reflect light, as the sculpture hovers and pivots (much like a giant baby cot mobile) to give the viewer a different angle of the streetscape at every turn.
Another light installation, Le Desir Et La Menace is a collection of three giant birds glowing with light perched atop the majestic Banyan Tree outside the Museum.
21 to 29 August
National Museum, Main Ground
Get into the groove with heart-thumping rhythms with five LED-lit drummers as they march their way through the precinct. The roving street theatre act will move from one festival zone to another on 21 and 22 August, starting at the Festival Village at Singapore Management University at 8.30 pm and ending in a finale at National Museum at 11.10 pm.
21 & 22 August
National Museum Front Lawn and various locations in festival precinct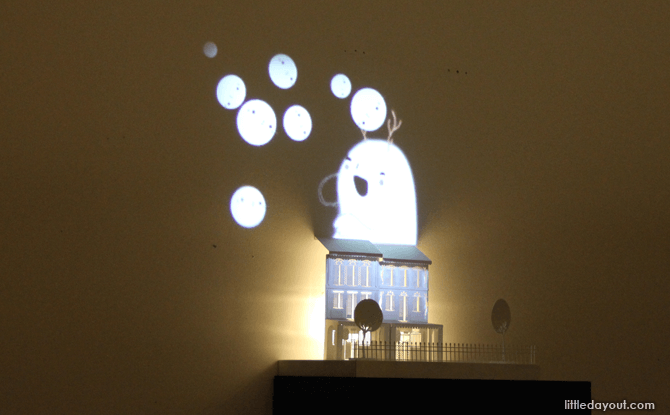 Enter a dark room and discover the secret dreams of a Nonya girl visualised through pop-up projection mapping and light. A Little Nonya's Dreams is a collaboration between Singaporean artist Brandon Tay and French artists Stephanie Ronzon and Fred Multier. A delectable dreamscape bubbling above a small hand-made Peranakan house.
21 – 29 August
From 7.30 pm
Salon, Level 1, National Museum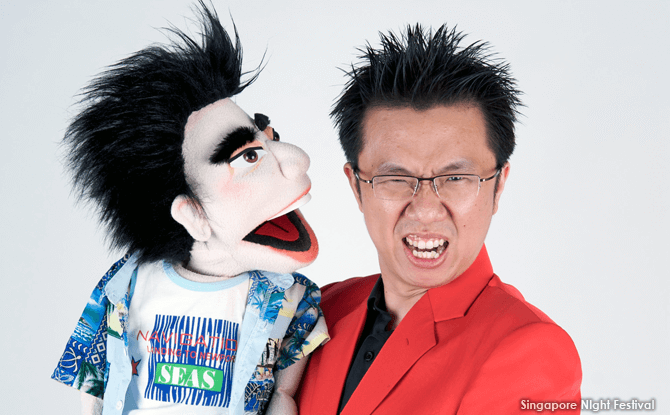 A new feature of the Night Festival, the House of Glamour situated at the field opposite The Cathay presents a fun mix of puppetry, magic stand-up comedy, improv acts, and music by homegrown talents such as Singapore-based theatre company How Drama, puppetry maestro Frankie Malachi, and ventriloquist-magic acts by Joseph Then and Shawn Chua. Buy your tickets here.
21 – 29 August
House of Glamour, Cathay Green
Let your children's creations come to life in Be a Director, a fun-filled workshop by Stephanie Ronzon and Fred Multier who will teach simple camera and animation techniques. Using a simple flashlight and computer wizardry, your child will learn how to create a frame by frame animation. For six to 10 years old, tickets are $30 a pop.
22 August
4 pm – 5.30 pm
The Salon, National Museum
Update: Watch our little night out at Singapore Night Fest 2015 on 28 August 2015!