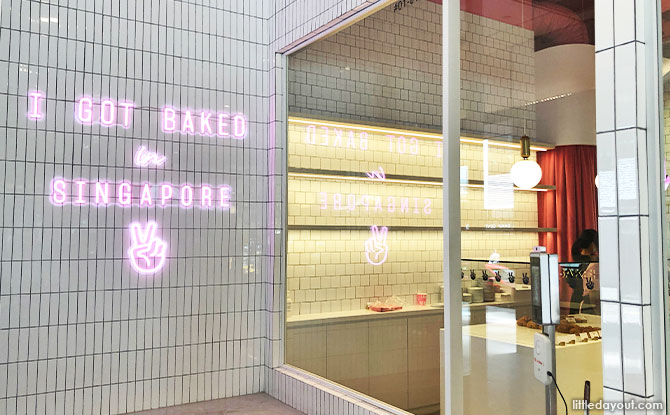 Mr Holmes Bakehouse's newest and only flagship in the world is now open for all to enjoy their signature bakes! Located at the first level of Pacific Plaza, fans and pastry lovers can finally enter the signature bakehouse in all its signature "instagrammable glory".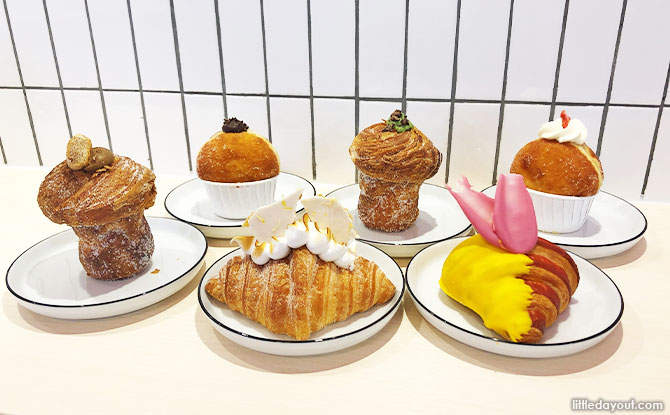 Other than grabbing a bite (and photo) of the various cruffins, doughnuts and croissants, customers can enjoy the signature aesthetics of a Mr Holmes Bakehouse outlet including their white-tiled walls, contrasting pop of pink and an "I Got Baked in Singapore" neon sign.
---
Mr Holmes Bakehouse x Mighty Jaxx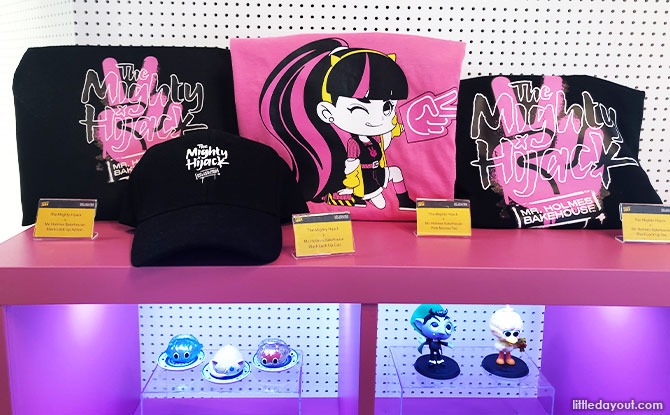 As part of their opening, Mr Holmes Bakehouse is having an in-store toy and merchandise pop-up in collaboration with award-winning toy designer studio, Mighty Jaxx. AS part of their "hijacked", they've brought along Monixx, a character designed especially for the launch of the bakehouse. Customers can delight in the pops of yellow from the brand Mighty Jaxx and get a blind box from their stylised toy vending machine.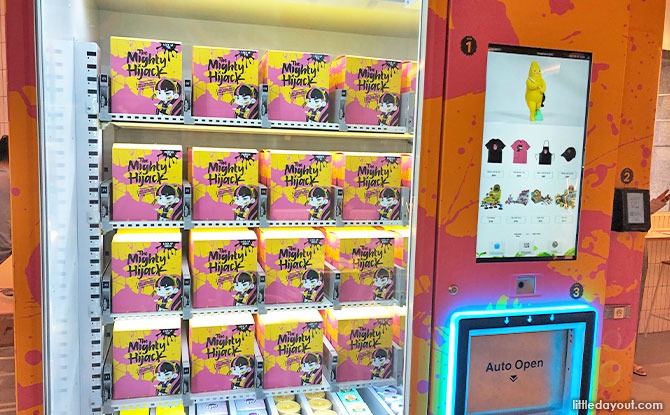 In the blind box, customers can stand a chance to get branded T-Shirts, Aprons and Caps alongside a mix of Mighty Jaxx's miniature collectables.
---
Cruffins by Mr Holmes Bakehouse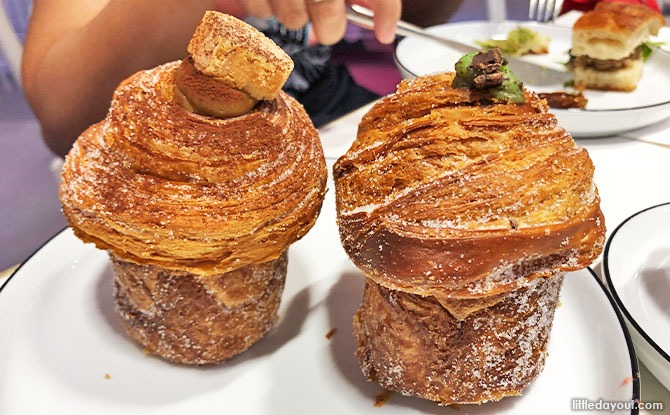 Mr Holmes Bakehouse's menu offers customers a mix of sweet bakes and savoury treats. There are also a variety of drinks such as coffee, tea and kombucha. Here are some of the foods that we tried.
Essentially a hybrid of the croissant but rolled up on a muffin tray, the resulting bake is a variant that is strikingly layered and flaky on the outside, gloriously moist and buttery on the inside.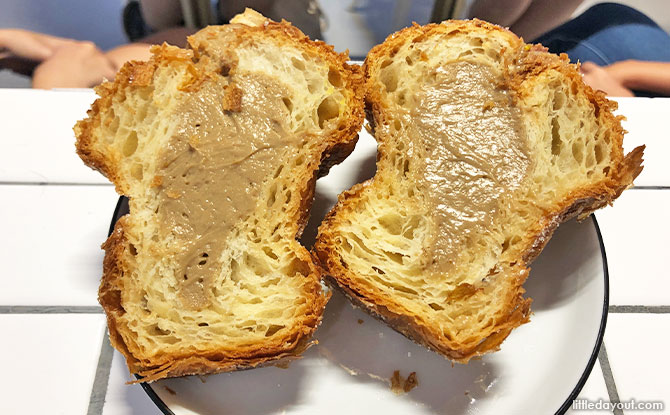 For its opening, customers can enjoy three flavours of their signature cruffins, a hybrid of the croissant but rolled up on a muffin tray, resulting in a bake that is layered and flaky on the outside and moist and buttery on the inside.
Each cruffin is piped with pastry cream, rolled in fine sugar, then dolloped with the same filling and a finishing accent for a drool-worthy bake. Choose from flavours such as Tiramisu Cream, a coffee-infused mascarpone cream, Mint Chocolate Chip Cream or Peanut Butter Milkshake.
---
Croissants by Mr Holmes Bakehouse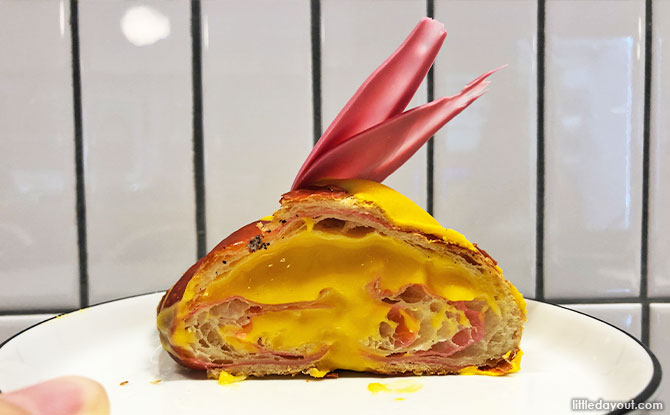 There are also croissants of various fillings. A must-try item includes the Yellowpink, which is the baked good in collaboration with Mighty Jaxx. Inspired by Monixx and the signature colours of Mr Holmes Bakehouse (pink) and Mighty Jaxx (yellow), this croissant is covered in a mango curd, a half-dipped glaze of yellow chocolate and finished with a swipe of red ruby chocolate.
There are also other flavours such as Lemon Meringue Pie, matcha, and the savoury option of ham and cheese.
---
Doughnuts by Mr Holmes Bakehouse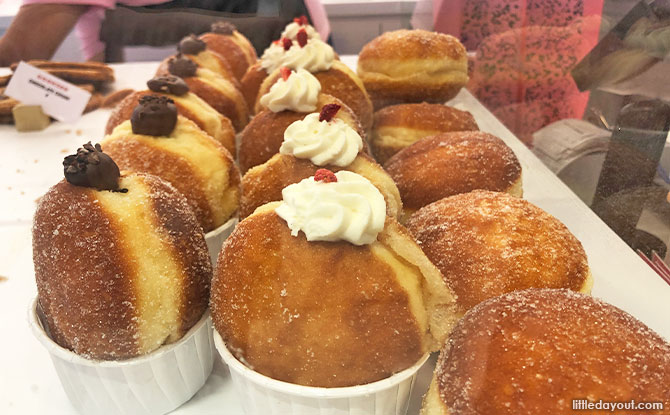 For those looking for a softer bite, Mr Holmes Bakehouse's also has fried buttery brioche doughnuts, each loaded with a different ooze with fillings such as chocolate garnished with cocoa nibs; Strawberries and Cream for a dual-core of homemade strawberry jam and fresh whipped cream; or a tart and sweet filling of Yuzu Plum Jam that's only available on weekends from Fridays to Sundays.
---
Sandwiches by Mr Holmes Bakehouse
Those looking for something savoury can opt for their sandwiches which comes with fillings such as Tomato and Pesto melt, Bacon Habanero and Pulled Pork. We enjoyed the tomato and pesto melt which gave a good balance of flavours with the sundried tomato and cheese, as well as the juicy pulled pork which was well seasoned and had a good amount of flavour in each bite.
---
Mr Holmes Bakehouse at Pacific Plaza
Mr Holmes Bakehouse is located at Pacific Plaza, 9 Scotts Road #01-01/02/03 Singapore 228210. They are open daily from 8 am to 6 pm. Visit their website for more details.