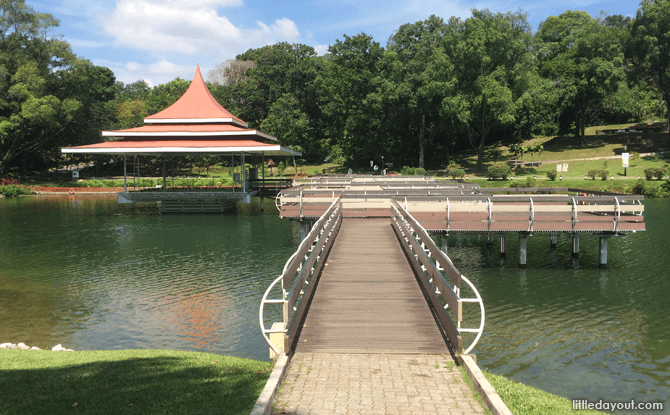 MacRitchie Reservoir Park sits on the edge of MacRitchie Reservoir at Lornie Road. With paths that criss-cross the park and a zig-zag bridge from which you can look at terrapins in the water, the park is a popular place for walks.
MacRitchie Reservoir Park provides a spot of nature in the centre of Singapore. Built in 1867-68, MacRitchie is Singapore's first reservoir. Its park has open areas to wander around including a path along the top of the dam and a zigzag bridge from which you can admire the terrapins swimming below. The more adventurous can venture into the reservoir's primary forest, either through the forest along the Lornie path, or along the boardwalk that hugs the water's edge. At the end of one of the long hiking routes, you will be rewarded with the TreeTop Walk, the first of its kind free suspension bridge that connects the two highest points in MacRitchie, offering you a bird's eye view of the forest canopy.There is also a fishing spot toward the west of the car park. Do keep an eye out for families of long-tail macaque monkeys that call the forest home.
Read about 15 things you did not know about MacRitchie Reservoir Park.
---
Useful Information
MacRitchie Reservoir Park
Address: MacRitchie Reservoir, Singapore
Phone:
Email:
Website: