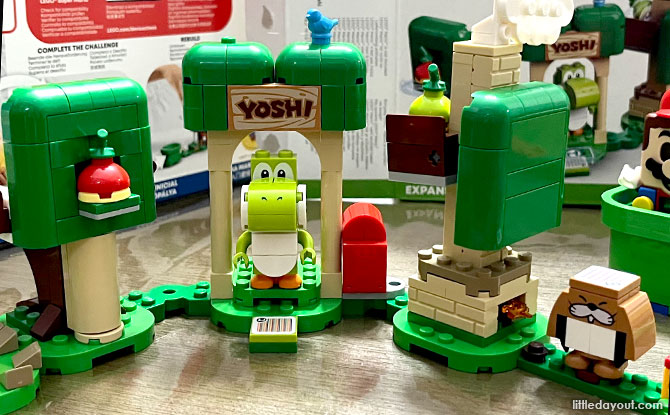 Fans of Super Mario world will love this buildable Yoshi which rides on the popularity of this character in the Super Mario game series. This cute playset is built around Green Yoshi's house, complete with different play points. However, players need to be on the lookout for the lurking enemy, Monty Mole!
A great add-on to any LEGO Super Mario set-up for players who already have the basic LEGO Super Mario Starter Course with electronic LEGO Mario/Luigi/Peach (71360/ 71387/ 71403) playset, this expansion kit comes with 246 pieces to add on to the primary course.
---
Fun Features of the Yoshi's Gift House Expansion Set (71406)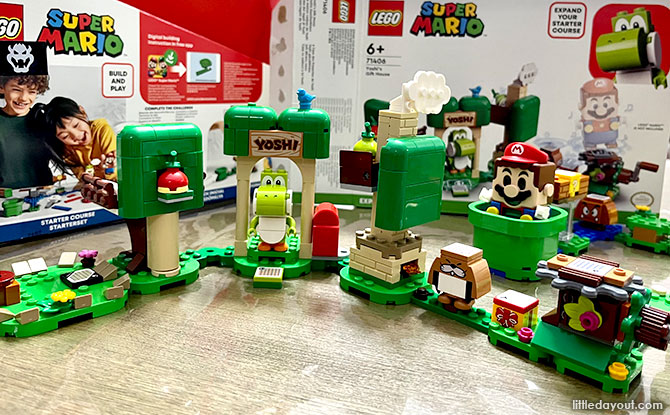 Upon landing on the barcoded entrance pad at the doorway to Yoshi's house, an icon of Yoshi's face will appear on the screen of interactive LEGO Super Mario (not included in the expansion set) with the two of them exchanging excited greetings!
The gift house comes with a bed, mailbox, a tiny blue bird perched on curved trees with a fruit-knockdown features, and a present box for gifting either of the two red and green fruits.Continuing LEGO Mario's quest to collect as many virtual coins as he can, Yoshi's house offers fruit-picking, eating and gifting activities to gain coins.
---
Eating Fruit Triggers Happy Reactions Plus Coins!
Coin-scoring activities include picking (scanning) and eating fruit, collecting fruit from the gift box and eating it, and gifting it to another character.
When LEGO Mario scans a fruit, he eats it when tilted forward three times, with his screen showing each bite until the fruit icon disappears into sparkles, scoring a coin along with the electronic toy figure going, "Oooh yummy!"
Mario has to avoid landing on red brick plates after picking a green fruit (but the red fruit prevents fire damage, being of the same colour!) as he gets scorched by the lava or he will have to discard the burnt green fruit with a loud "Eeuw!" of disgust. In the course of the challenge, when overcoming Monty Mole, he also gains a coin!
---
Rotating Carousel Powers Up Fruit
This upgrading carousel feature is amazing!  How it works: if LEGO Mario has a red or green fruit icon on his screen and stands on the carousel's barcode, then cranking the handle on the rotating machine for a quick spin magically changes the fruit colour to gold!  When Mario eats the upgraded golden fruit, the screen changes to stars as with the other fruits but with a bonus of 5 coins and temporary protection from damaging terrain such as red lava or poisonous purple swamp.
---
Social Play in Gifting Fruits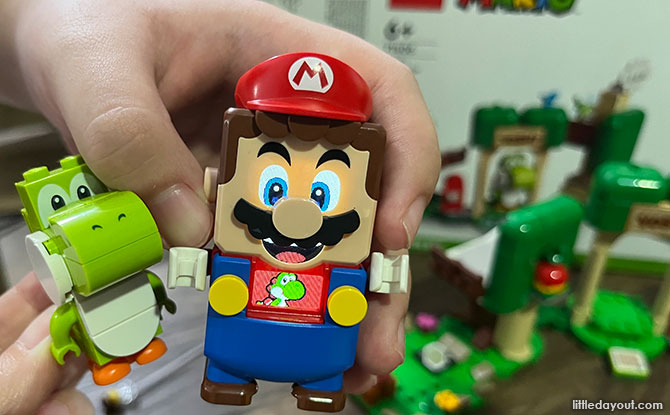 If LEGO Mario's chest screen has Yoshi before he scans a fruit, Yoshi will eat it, scoring the player 1 coming. For higher scoring, once Mario has picked up a fruit and goes to talk to Yoshi at his entrance barcode, Yoshi will accept the fruit as a gift and eat it, earning the player 5 coins.
Fruit can also be gifted to another interactive player character when our LEGO Mario scans the gift box, then an animation appears on the screen, and the fruit is placed in the box, to be collected out by another player for wider more inclusive play.
The set certainly facilitates sharing as a good behaviour, promoting group play among usual-squabbling kids. It offers a game play that rewards feasting and friendship! How ingenious!