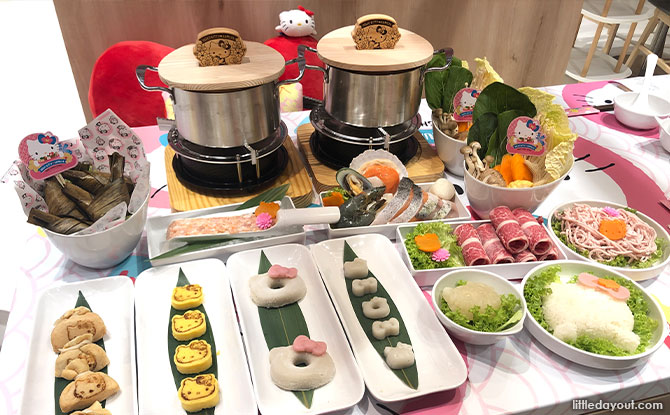 Surround yourself with good food and good company with Singapore's first-ever Hello Kitty Mini Shabu-Shabu pop-up restaurant at Kumoya @ Orchard Central from Wednesday, 1 September 2021 for a limited time.
The kawaii Hello Kitty is the newest guest at themed café Kumoya's Orchard Central outlet and bringing a splash of Japan to the café so that diners can have one of the best dishes to enjoy with friends – hot pot! Surround yourself with colourful Hello Kitty Japanese themed motifs such as kimono prints, paper lanterns and of course, the iconic Mount Fuji.
---
-- Story continues below --
There are lots of photo spots around the café, including a small photo-taking area with Hello Kitty cuddling an adorable baby merlion!
---
Hello Kitty Shabu Shabu at Kumoya Orchard
Unlike previous Kumoya concepts, this Hello Kitty Shabu Shabu experience has a base set that consists of a soup base, a mixed vegetable basket, the meat, seafood or vegetarian set, Hello Kitty rice or beetroot noodle and one dipping sauce. There are also add-ons, ranging from S$1 to S$44.90, that can be added to the mini shabu.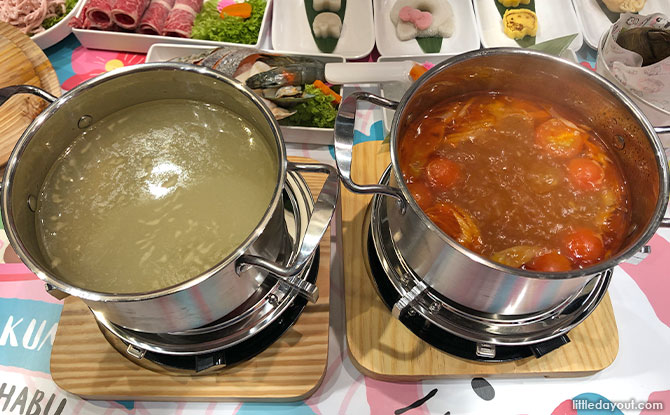 There are 10 different flavours to choose from with a special soup base being the "Hello Kitty Chicken Beauty Collagen (available with a $6 top-up). The standard flavours include soups such as Fresh Garden Tomato, Nourishing Herbal Chicken or a seaweed-based Oishi Dashi. Those who wish to have a spicy option can opt for a Szechuan Mala or Sawadee Tom Yum.
Diners can opt for even more kawaii shabu shabu ingredients to add to their hotpot soup base. This includes an Ultimate beef platter, a donut fishcake, Tobiko and fish stuffing fortune bag, a Special QQ Mochi rice cake and more!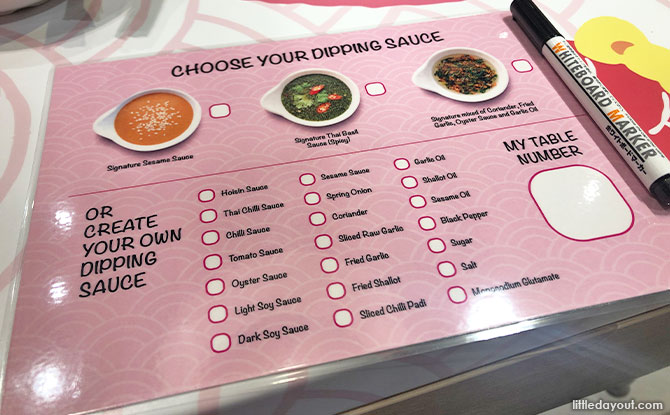 We also enjoyed customising the dipping sauces. We recommend the signature mix of coriander, fried garlic, oyster sauce and garlic oil.
We enjoyed the soup base that we ordered and the ingredients served were fresh and it was exciting to look into the pot each time and fish out a Hello Kitty themed ingredient to enjoy.
---
Hello Kitty Sides and Kids Meals At Kumoya Orchard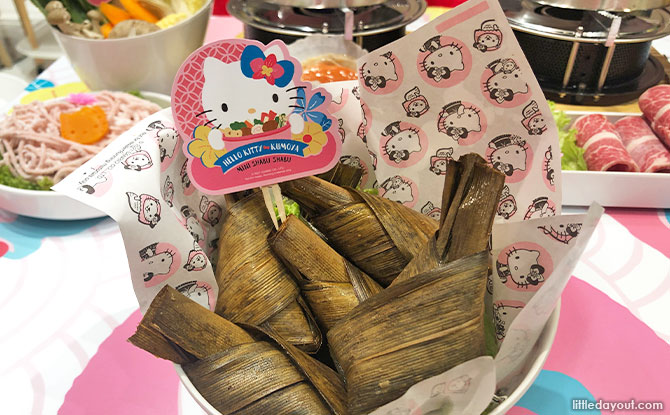 There are also sides that diners can order with a total of six snack options to choose from, including newer sides such as chicken sausage with brown sauce and Thai-style pandan chicken. The sides are served in a basket with a hello kitty themed decoration and details.
Kids can enjoy a kids meal that consists of Japanese rice, with a choice of tempura salmon or karaage chicken accompanied with cream sauce and Hello Kitty's favourite fruit, an apple.
---
Hello Kitty Desserts and Drinks at Kumoya Orchard
Kumoya's themed desserts have always been a highlight, and diners can choose from three Hello Kitty-themed desserts. The first is an Apple mousse cake which has a chocolate tart base and a mousse cake with a strawberry centre in the shape of an apple. It also has biscuit crumbs, ice cream and whipped cream on the side.
Other desserts to look forward to including the Strawberry pudding and Strawberry swiss roll. The portion of desserts are slightly smaller as compared to other Kumoya launches, but this was appreciated as the hot pot was very filling and the portion of the cake was just enough for us to end the meal on a sweet note.
There is also an assortment of Hello Kitty-themed hot and cold drinks including unique flavours such as Soursop Mint Frappe, Mango Yuzu Frappe and Momo Watermelon Frappe.
For hot drinks, diners can get Hot chocolate, Hot latte or a pot of Hot Tea with the choice of Jasmine, Oolong, Earl Grey, Lychee or Berries. All drinks are served with an allocated limited edition café exclusive Hello Kitty Coaster. There are a total of three designs to collect.
---
Hello Kitty X Kumoya Mini Shabu Shabu Experience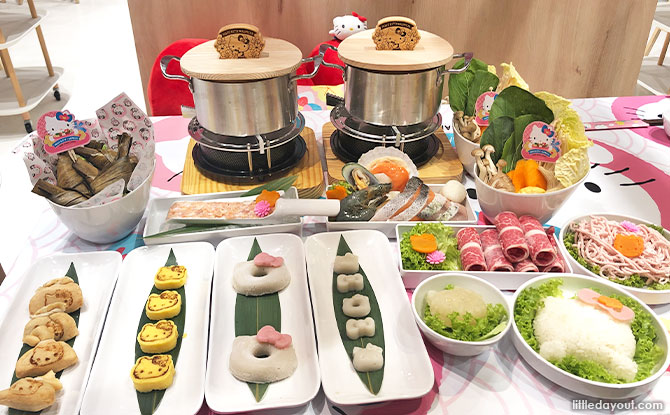 Customers can bring back exclusive Hello Kitty Mini Shabu-Shabu merchandise to complete their memorable Hello Kitty X Kumoya Mini Shabu Shabu experience. Kumoya is Muslim friendly with No pork, No lard and No Alcohol although it is not halal certified. Dining time is limited to 90 minutes and there is a minimum spending of $25 per person. Reservations can be made online at the site here or via Kumoya's social media platforms. All prices stated are subject to GST.
Kumoya @ Orchard Central
181 Orchard Road, #04-08, Orchard Central, Singapore 238896
Website