When it comes to saving on the family expenses, every little helps. Promotions that let kids eat for free are a godsend! Yes, there's no free lunch on earth (you still have to spend on your own meal before the kids get to eat free), but at least your wallet feels happier! Here is our list of dining spots where kids eat free 2018 in Singapore.
Kids Eat Free 2018 Promotions
---
O'Coffee Club (selected outlets)
"Kids Eat Free – all day, every day – @ O'Coffee Club",  says a banner proudly displayed on O'Coffee Club's website.
Available at the Marina Square, Seletar Mall, Paragon, Raffles City and Changi Airport T3 outlets, this promotion lets kids aged 12 and below enjoy a free kids' meal with every la carte order from the All Time Favourite, Sandwich, or Pasta categories in the menu. They can choose anything from the kids' menu, which comprises six items ranging from mac & cheese to chicken bolognaise and sausage & mash. Each meal comes with a juice.
A very good deal, if you ask us. Especially when there's no day or time restrictions on when the kids can eat for free. While you're there, don't forget to get your coffee fix at this coffee chain pioneer! More details.
---
-- Story continues below --
---
Seoul Garden
Kids eat for free all day too at all Seoul Garden restaurants except E!Hub Downtown East. The grand old dame of Korean barbecue lets children 12 years old and below dine in for free with every paying adult. The great thing is, this kids eat free 2018 promotion is available every day, including public holidays! Details here.
---
Smokey's BBQ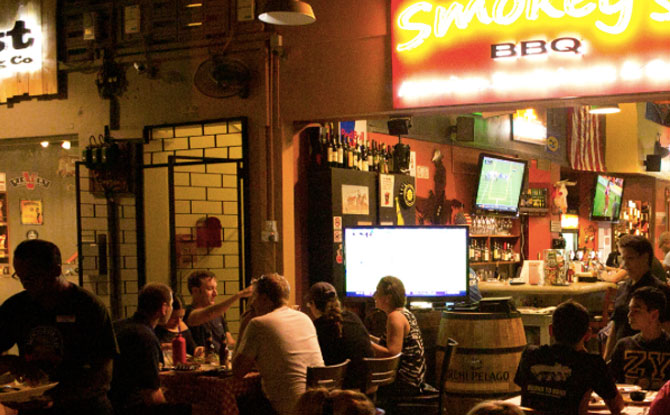 For a different type of barbecue, try Smokey's for true-blue American taste. Kids 10 years old and below get to eat for free during the weekends from 11 am to 3 pm – one free kids' meal with every adult meal ordered. The kids' menu is decidedly small, but it does include yummy options like baby back ribs and pork sliders. Meals are served with fries, juice or soda, and a cookie. Details here.
---
Morganfield's
Here's another smokin' promotion that lets kids eat for free. For every adult main meal ordered at Morganfield's, you can redeem one free kids' meal, up to a maximum of two kids' meals per table. This Kids Eat Free 2018 deal is available on Saturdays, Sundays, and public holidays, for kids below eight years old or 120cm in height. Great excuse to get munching on some tender, slow-cooked pork ribs, or what Morganfield's calls "sticky bones". Get more details here.
---
Chili's at Tanglin Mall and Clarke Quay Central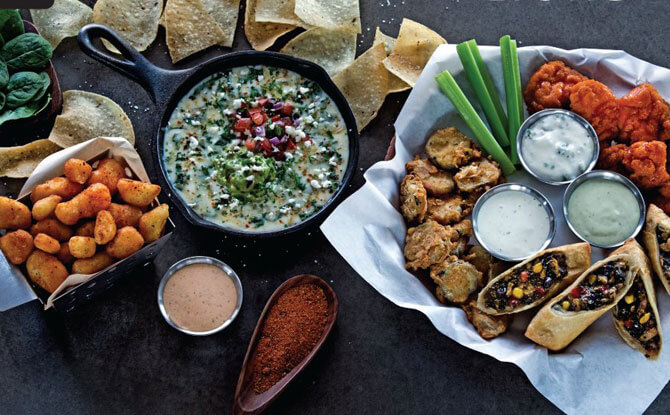 On top of ribs, Chili's menu features Southwestern American fare such as fajitas and quesadillas as well. The Tanglin Mall and Clarke Quay Central outlets now offer kids under 12 years old a complimentary kids' meal with every adult entrée ordered on Mondays to Fridays, from 11.30 am to 5 pm. This promotion can also be enjoyed at the Clarke Quay Central outlet on Sundays. Get details here.
---
IPPUDO Tanjong Pagar Centre
From hearty American fare, we move on to delicate Japanese ramen. And not just any ramen, but the Hakata-styled bowls of slurpy goodness from the multi-awarded IPPUDO! At its Tanjong Pagar Centre outlet, one Kid's Delight Meal – consisting of a bowl of tonkotsu ramen, a riceball and potato salad – is on the house with any order of a regular ramen. This promotion is available from 11 am to 10 pm on weekends, for kids 12 years old and below. Details.
---
Café Melba at Goodman Arts Centre
Monday is when many eating establishments close for a day of rest. Not Café Melba!
On Monday, at the Goodman Arts Centre outlet, you get to enjoy Melbourne- and Asian-inspired fare (think hake fish and chips, beef rending and tandoori salmon). And the kids get to eat for free with your order of a main meal!
At 3 pm, the colourful bouncy castle opens, and from 5 pm to 8 pm, kids can have fun at the art and craft corner. Mondays will be their best days ever!
Kids can also earn free meals by being loyal Café Melba customers. With a Kids Club card, they can collect a stamp for every kids' meal purchase. At the fifth stamp, an adult gets a free main meal. When they reach the tenth stamp, they become a member of the Kids Gold Club, which entitles them to a free kids' meal at every visit! Details.
---
Swensen's at Changi Airport Terminal 2
Further down east from the Goodman Arts Centre, another Kids Eat Free 2018 promotion beckons, this time at Swensen's Changi Airport Terminal 2 outlet. This is part of the 'Changi Loves Kids' programme and offers one free kids' breakfast for 4- to 12-year-olds with every adult breakfast set ordered from 3 am to 11 am daily. Exactly what makes a morning good! More details.
---
Pizza Hut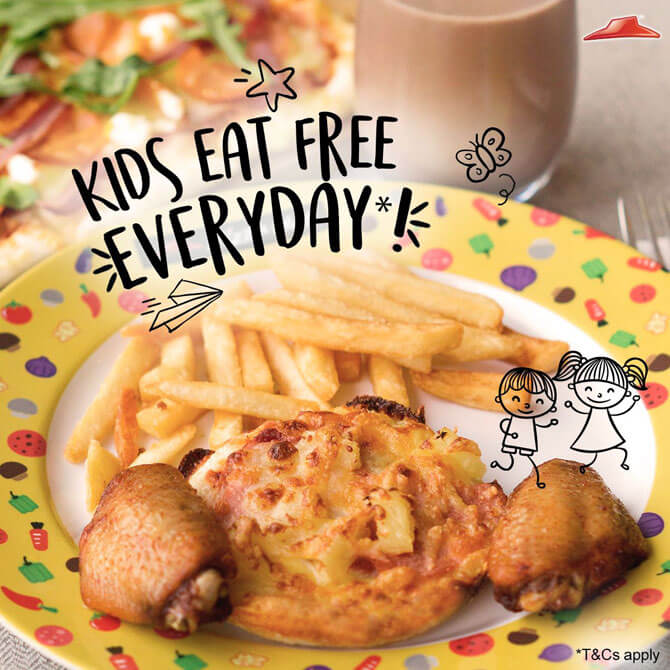 Over at Pizza Hut (that means nearly everywhere in Singapore), you can enjoy a Kids Eat Free 2018 promotion where you get a kids' meal worth $7.90 for free with any a la carte main order. Add $1, and the little one can enjoy a cute Munchie Mouse Ice Cream! Happiness! Details here.
---
Gyu-Kaku
This is not a promotion specifically for children, but with a bit of creative engineering, younger kids can get to eat for free.
On Mondays, Gyu-Kaku offers free French fries, gyozas (two pieces) or takoyaki (two pieces) for every purchase of a lunch set at its UE Square, Novena Square, The Star Vista and OneKM outlets. So with two adults, you can order two lunch sets and choose two of the free items, which make a good enough meal for a little one! More information here.
---
Crystal Jade La Mian Xiao Long Bao at Holland Village
If you have a school-going child with a student pass, you can enjoy Crystal Jade La Mian Xiao Long Bao's promotion of a la mian for $5.80 plus a one-for-one xiao long bao (four pieces in each basket). While this is not a promotion where kids eat for free, we thought we'd include this on our list as $5.80 for a big bowl of noodles is pretty cheap, not forgetting the free basket of xiao long bao that you get out of this deal! Find out more here.
---
Ma Maison (selected outlets)
Well, kids don't get to eat for free here. But they get a free toy! The Ma Maison Kids & Family Fair promotion rewards families for dining at its Bugis, Takashimaya, Anchorpoint and Capitol outlets with a free glass of Asahi beer for Dad, free ice cream for Mum, and free toy for kids 10 years old and below! There is a high probability that Mums would give the free ice cream to the kids, so there you go, kids get a free bite after all! More details here.
Promotion details are correct at the time of publishing.