KFC has recently launched a new item on their menu: the KFC Zero Chicken Burger. This meat-free product is available for a limited time at the various outlets starting 13 January 2021. Singapore is the first country in Southeast Asia to have this meat-free item on KFC's menu.
---
KFC Zero Chicken Burger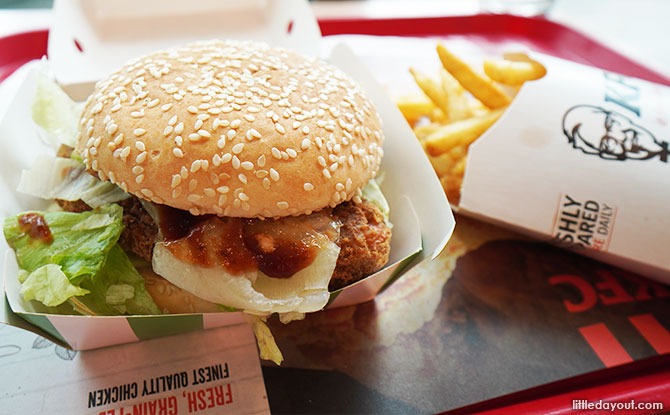 This burger is consists of a meat-free patty coated in Original Recipe marinade, lettuce, sliced cheese, BBQ sauce, and mayonnaise, all sandwiched between two toasted sesame buns.
The burger retails for $6.55 as an ala carte item or $8.65 as a meal with fries and a drink. The KFC Zero Chicken Burger is available for dine-in, takeaway and KFC Delivery at all restaurants except for outlets at Singapore Polytechnic and Singapore Zoo.
---
Meat-Free But Not For Vegans Or Vegetarians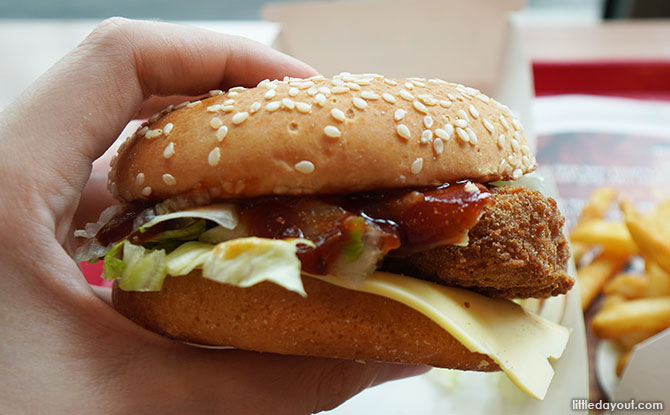 Although marketed as a meat-free burger, the burger is not suitable for vegans or vegetarians as the meat-free patty is fried in the same oil as some chicken products. The sauces such as the mayonnaise are also not vegan.
---
Taste Test: KFC Zero Chicken Burger Review
At a glance, the meat-free-patty did attempt to be shaped to be similar to its meaty alternative. As for the texture, it was very similar to that of a firm chicken breast. It wasn't too dry and the seasoned patty still gave it a decent amount of flavour and texture.
Like all novel items, we don't see ourselves having much of a reason to order this again other than for the thrill of wanting some variety on the menu. It is interesting to consider that the demand for meat-free alternatives is slowly making their way to fast-food restaurants and perhaps there will be a permanent vegan item on KFC's menu in the future.