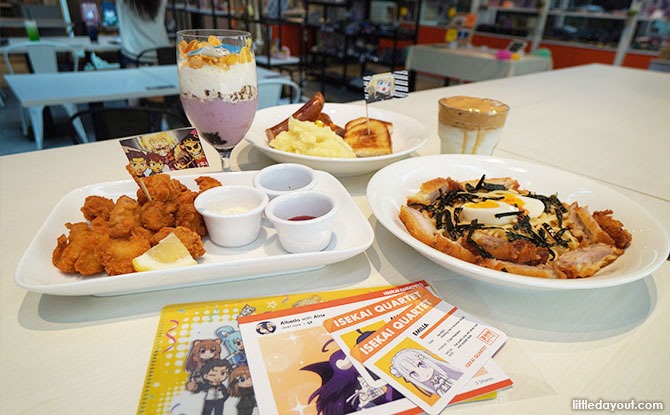 Calling all anime fans! ANIPLUS café is thrilled to announce the first-ever Isekai Quartet 2 collaboration café in Singapore, beginning 22 October! Have an otherworldly experience as you step into the café with Isekai Quartet classroom-themed interior, a specially designed 'school cafeteria' menu, and a wide range of exclusive souvenirs and original merchandise which are available for purchase!
---
Isekai Quartet 2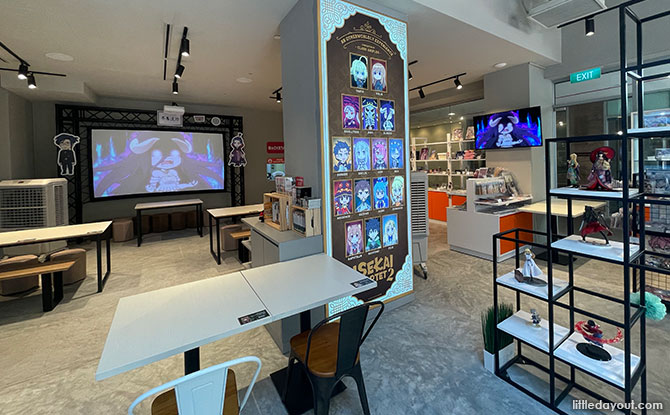 For those who have yet to join the fandom, Isekai Quartet 2 is a 12-episode fantasy-comedy anime produced by KADOKAWA and animated by Studio Puyukai. A sequel to the popular Isekai Quartet, this is a crossover anime which fuses some of the most popular Isekai 'another world' animes – Overlord, KonoSuba, Re: ZERO – Starting Life in Another World, The Saga of Tanya the Evil.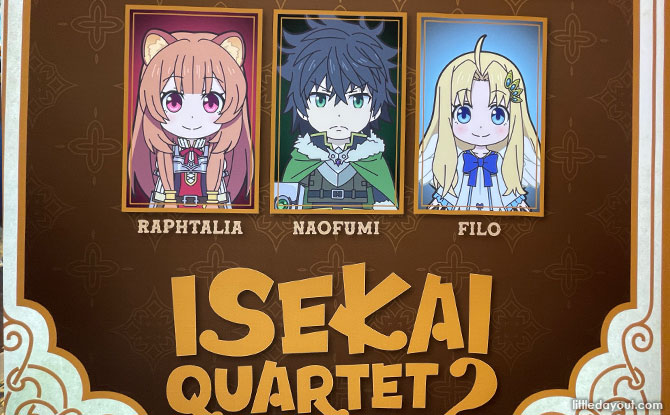 ---
-- Story continues below --
In this new season, Naofumi Iwantani from The Rising of the Shield Hero will be joining the cast and adding to the adorable chaos that happens in each short. «Isekai Quartet 2» was voted by viewers as "Short of the Year" in Reddit's 2020 Anime Awards.
---
 

Enter the world of Isekai Quartet at ANIPLUS café
As you enter the café, a larger than life display of the iconic «Isekai Quartet» anime key visual greets all new classmates and one can take memorial photos with your new classmates at the special pop-up standee.
Some iconic items that are featured include the broken but mended School Festival Banner, a lightbox display of the cast for an Isekai school play, and more displays replicating the lockers and the view of the classroom chalkboard, just as it is seen in the anime!
---
Recess time at ANIPLUS café with Isekai Quartet 2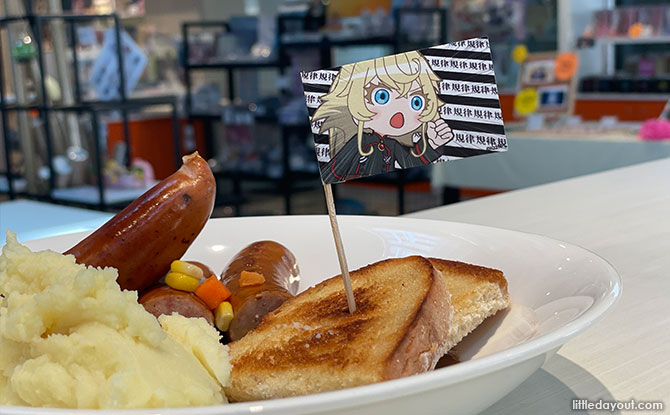 Everyone's favourite time of the day where we can take a break from studying and spend time hanging out with friends and refuelling our tummies. At ANIPLUS café's specially designed 'school cafeteria' menu, diners can choose dishes inspired by the characters and story of Isekai Quartet.
Diners can get choose to sit with their favourite desk mate which is indicated through the character profiles displayed with the table decals. Here are some of the dishes we tried.

---
The Disciplinary Committee's Daily Grub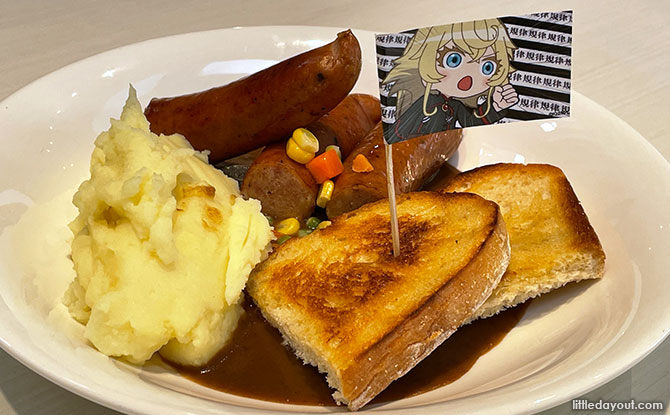 This comforting brunch plate consisting of German sausages, mashed potatoes and sourdough bread is inspired by none other than character Tanya von Degurechaff. This dish was very flavourful and we especially enjoyed the juicy sausages on top of the flavourful hash sauce that we dipped with bread.

---
Megumin's Crimson Explosion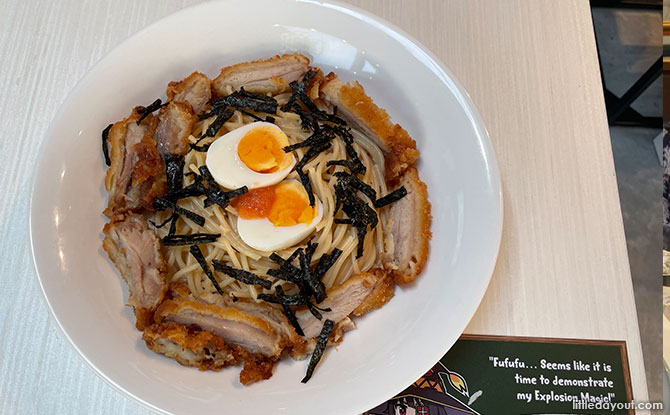 "Fufufu…seems like it's time to demonstrate my explosion magic!" Inspired by explosion magic obsessed Megumin of KonoSuba, this dish looks like an explosion of ingredients in one yummy dish. An honest plate of Mentaiko Pasta topped with chicken and onsen egg, we would have preferred the onsen egg to be full instead of cut in half for an added "explosive" effect, but enjoyed the dish all the same.

---
An Isekai Karaage Crisis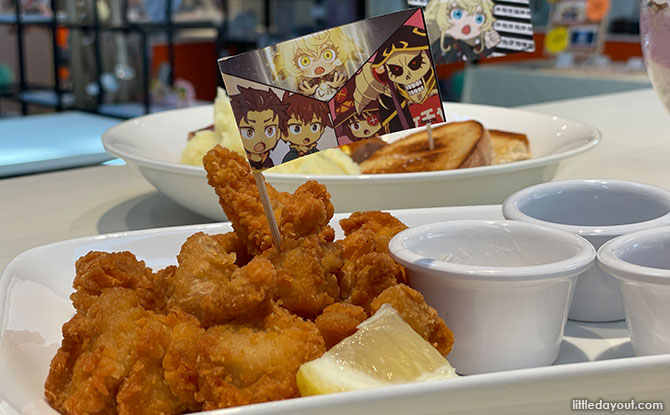 A karaage platter inspired by Episode 6 of Season 2. Crispy and flavourful chicken karaage served with mayonnaise, ketchup, salt and pepper. You don't have to play dodgeball for this.

---
Emilia's Mystic Ice Parfait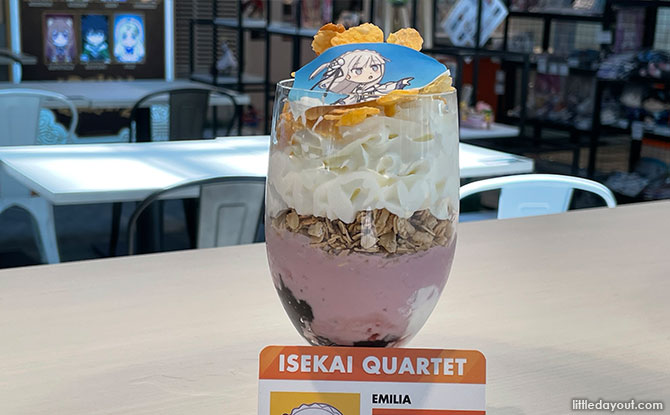 This dessert is inspired by Emilia's special ability of ice magic and her lovely appearance as a half-elf. Consisting of Blueberry yoghurt, granola, dried fruits, blueberry jam and whipped cream, this parfait was a sweet ending to a very filling meal.

---
Limited edition postcard and special drink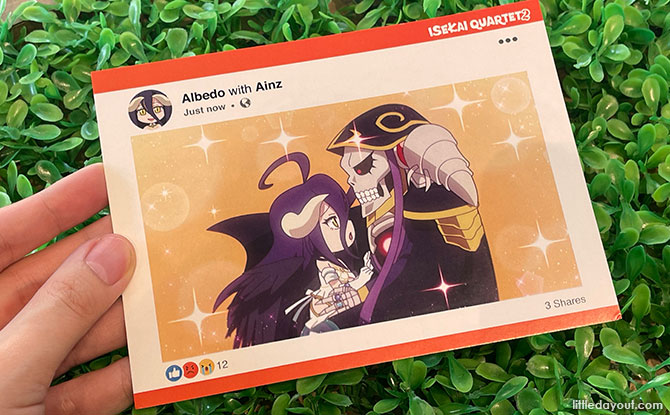 As part of their special menu, diners can enjoy two drinks that are available for a limited period and with each purchase of the drink, you can get a limited edition postcard as a collatable item.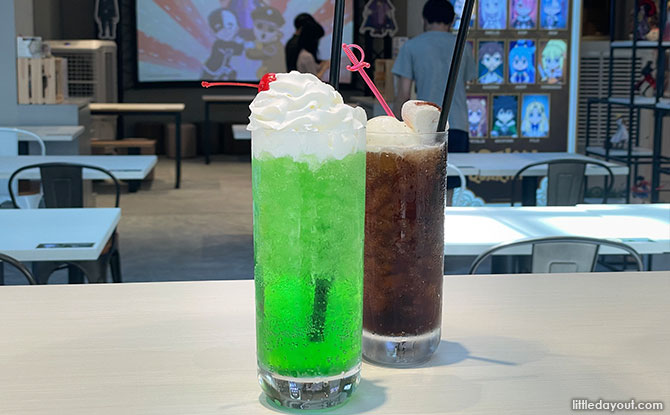 The first drink is Ainz's Undead Potion – a coke float with a marshmallow and cocoa powder, perfect to enjoy in our humid weather. This drink is available in Weeks 1-4. In weeks 5 – 8, sip on Aqua's Goddess Blessings, a sprite float with a beautiful blue syrup.
Another drink that we think is worth trying is A Hero's Destiny, inspired by the new character in Isekai Quartet, Naofumi. This melon soda is topped with a generous amount of whipped cream and a maraschino cherry.

---
Premium Giveaways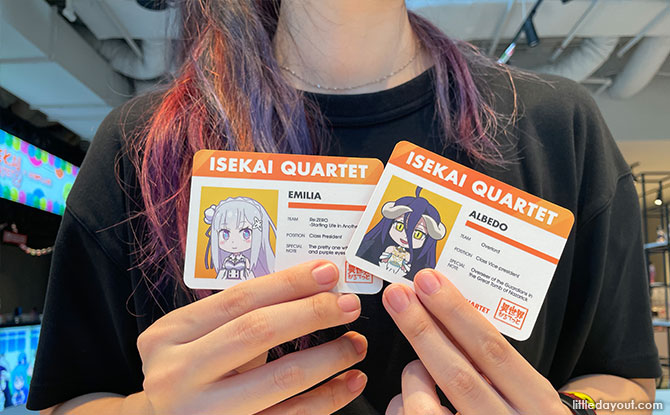 Isekai Quartet 2 X ANIPLUS presents special premiums which will be released in three waves. In the first wave, fans will receive an exclusive Isekai Quartet Student ID card with every purchase of a collaboration menu item. The Student ID Cards are available in a total of 16 designs and will be released in two batches. The following waves of special premiums will be revealed at a later date.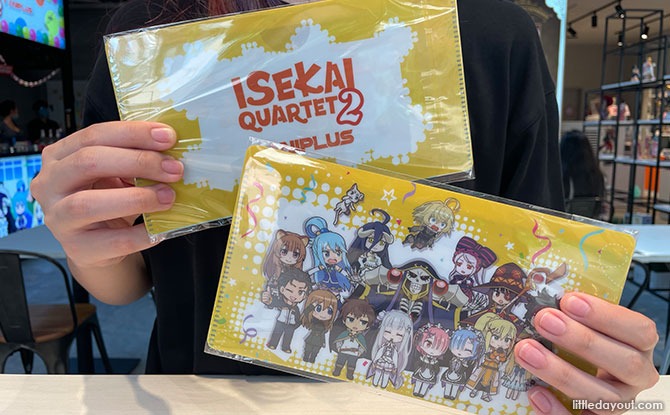 To commemorate the collaboration, ANIPLUS will be giving a limited edition Isekai Quartet Mask Case to fans who spend a minimum of S$35 on collaboration menu items and Isekai Quartet merchandise at the café. Don't miss the chance to collect this handy mask case, only available at ANIPLUS café!
There are also collectables such as trading can badges and acrylic keychains, to school and work essentials like jackets and mouse pads.
ANIPLUS café is located at 8 Raffles Avenue, #01-13C Annexe, Esplanade Mall. They are open from 12 pm to 9 pm, Tuesday to Sunday. For more information, visit the ANIPLUS café's website here.