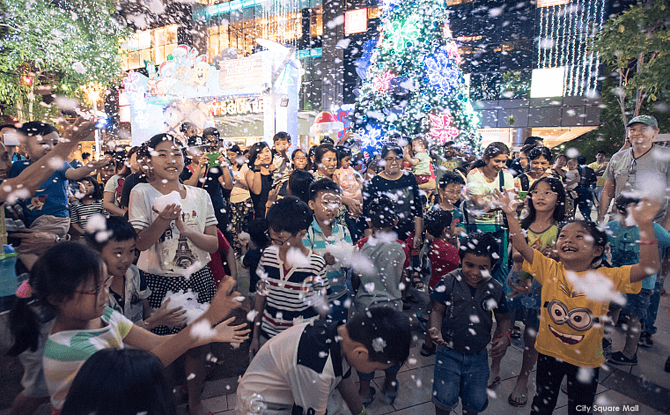 It's just one of those things.
Like chestnuts roasting on an open fire, carollers on your doorstep and jingle bells, the image of a snowy white Christmas is burned into our minds by way of popular songs, movies and books.
Well, here in the tropics, we have our ways of getting that wintry Christmas we've always wanted. Here are some top places to find snow in Singapore.
All that's left is to find some roadside stall with the gao-lak (chestnut) uncle who roasts and serves the chestnuts hot!
Christmas Wonderland at Gardens by the Bay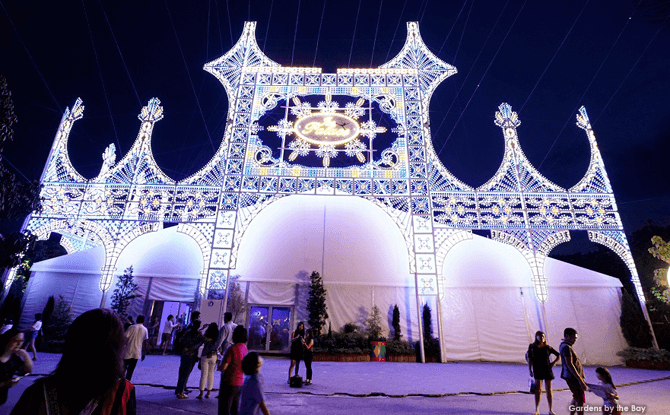 Ice Palace is an indoor arctic chamber.
Escape to an European winter this year-end without leaving the country. Christmas Wonderlandincludes an European-style festive market with game stalls, a vintage carousel, and funfair rides at Gardens by the Bay.
Of note, there is an indoor snow playground and an ice-skating rink in the arctic indoor Ice Palace. Dress up in warm clothes and make some snow angels.. with real snow!
Snow "blizzards" will also take place at least three times a night, in addition to Christmas parades and choral or theatrical performances.
Kids will also enjoy the rides, which include a nostalgic carousel (merry-go-round), a 14-metre tall Helter Skelter Slide, kid-friendly swinging chairs, and train rides in the fairground area.
Admission to the venue itself is free and entrance fees for the rides and attractions range from $4 to $14.
Find out more about Christmas Wonderland in our walkthrough here.
Bumper cars on ice at The Rink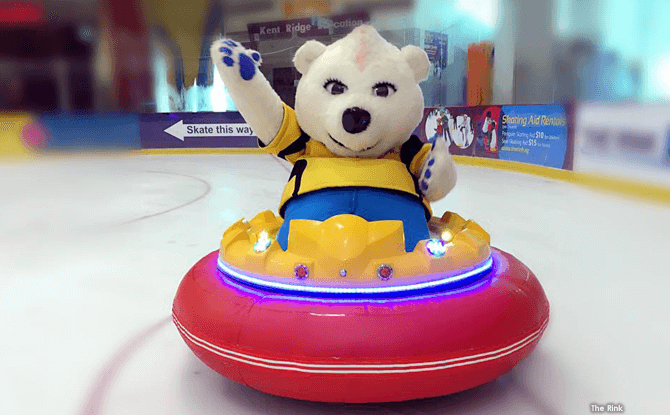 In addition to ice-skating and snowfall foam party fun, The Rink at JCube is offering new bumper car rides this Christmas. Great for kids (and adults) who don't ice-skate!
You might also bump into their adorable polar bear mascot called JR in the ice rink, dressed up as Santa.
For kids who would like to try ice-skating, but can't stay on their feet so well, there are also skating aids available here in cute animal designs like penguins, seals and snowmen.
Full details here.
Bumper cars on ice (available in Dec 2015)
$8 per 5min ride
Friday & Saturday:  5.15 pm – 11.45 pm
Sunday: 5.15pm – 9.30pm
Snow and foam party
Dec 24, 2015
9.45pm – 12.45am
Snowtime at Tanglin Mall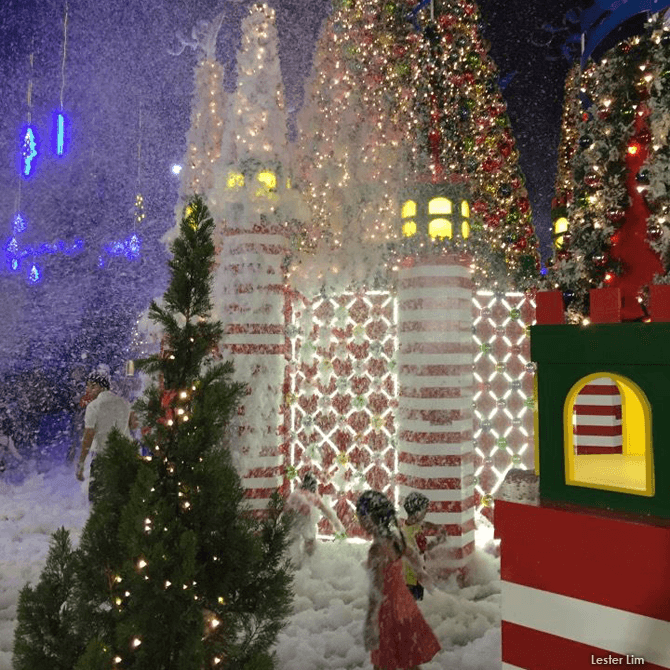 The well-known snowfall sessions at Tanglin Mall are a sure hit with the kids, every time Christmas season comes around. There can be a lot of "snow" or foam during the "avalanche" sessions – almost knee-deep – so be sure to pack a change of clothes!
Children under 12 have to be accompanied by adults.
From Nov 14, 2015 to Jan 2016. See here for weekday and weekend timings.
Wintry England at Universal Studios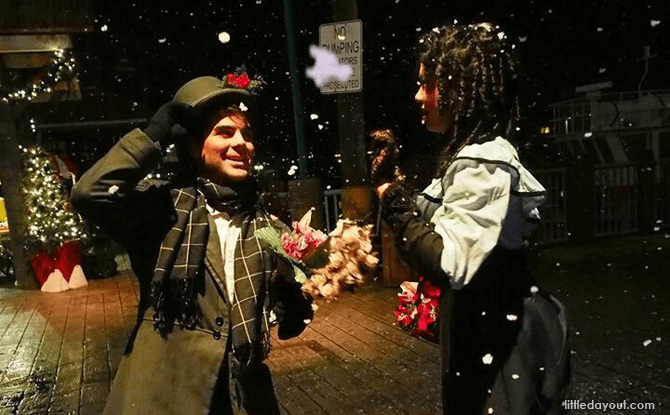 Travel back in time and celebrate a Victorian Christmas, as Sting Alley in Universal Studios Singaporeis transformed into 19th Century England.
Scrooge, his neighbours and carollers recreate life in an old port town, replete with magical snowfall.
Head to the theme park's New York Public Library to take photos in front of its wintry Christmas facade, set to the tunes of familiar Christmas carols.
Snow at Snow City
Singapore's first permanent indoor snow centre has revamped with a new look and fun activities.
Be transported to the Arctic Circle as you're surrounded by life-size snow sculptures.
Go on an egg whirl ride and listen to tales of the North during storytelling sessions. Slide down the signature 60m-long snow slope.
In the Snow Chamber, you can play with snow, which is made with a special Snow Gun which cools water using liquid nitrogen. About 10 to 15 tonnes of snow is produced each week.
SpongeBob Playland at City Square Mall
In larger-than-life cartoon style, Singapore's first-ever outdoor SpongeBob Playland will entertain kids till Jan 3, 2016.
The Christmas festive village at the ground level of City Square Mall transforms City Green park  into the underwater world of the iconic, very yellow cartoon character, SpongeBob SquarePants.
The themed village is open from 12 pm to 10 pm daily, with last admission at 9.30 pm.
As you enjoy the Christmas light-up, bask in the snowfall sessions at 8 pm and 9 pm every night.
Snow Play Corner at Hamley's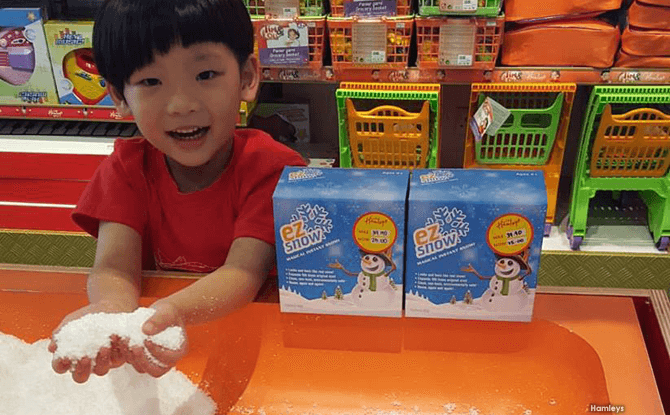 We spotted a cosy little snowy corner at British toy shop Hamley's in Plaza Singapura.
A large tray table full of play snow will occupy the kids for some time.
Apparently, Instant Magic Snow – which sold at Hamley's – is a super-absorbent powder that feels like real snow when you add a small amount of water and expands to 100 times its original size.
Non-toxic and environmentally safe, this artificial snow goes back to its powder state after being to left to dry out, and thus can be re-used time and again.
Till next Christmas, we say!