Borrowing books from the library? The new self-checkout service "Grab-n-Go" at the National Library Building makes it even easier. Starting 18 May 2022, this self-checkout system will enable patrons to pick up a book from the library and it will be checked automatically out as they exit through the gantry.
---
"Grab-n-Go" at the National Library Building
"Grab-n-Go" is a pilot project and is part of NLB's ongoing efforts to leverage technology to enhance the experience for its patrons under its LAB25 (Library and Archives Blueprint 2025) plan.
It is also one of the replacement services for the Central Public Library as it closes temporarily from 13 June 2022 for its revamp. Other replacement services available include the reservation lockers at basement 1 and a 24-hour book drop facility at level 1 of the National Library Building.
---
-- Story continues below --
---
How to use "Grab-n-Go" at the National Library Building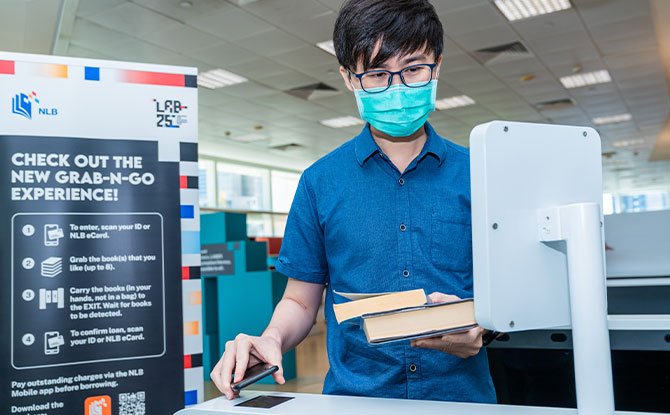 Patrons can be the first to experience the new system at the Level 5 Study Lounge of the National Library Building. The self check out works in steps:
1. Scan ID or NLB eCard at the gantry.
2. Grab the book/s (up to 8) from a selection in the Lounge;
3. Carry the book/s at the gantry;
4. Tap ID or NLB eCard to confirm loan to exit.
Users are welcome to submit any feedback via e-mail at enquiry@nlb.gov.sg, or online.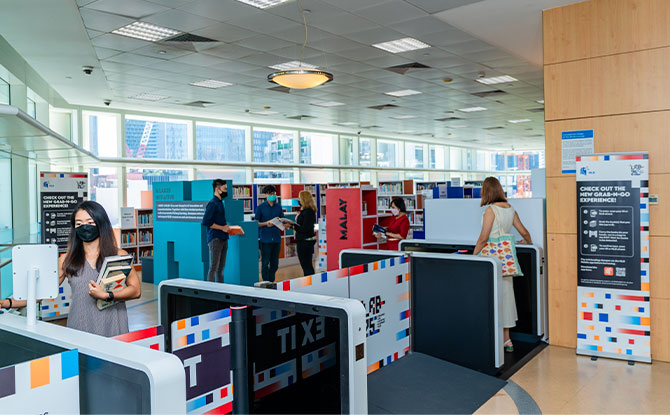 NLB Chief Executive Officer, Mr Ng Cher Pong, said: "We are always keen to try new ways to enhance our patrons' experience at our libraries and archives….We hope to roll out more Grab-n-Go systems in time, to enable our libraries and archives to be the go-to learning marketplace."
More information on "Grab-n-Go" can be found on the website here.