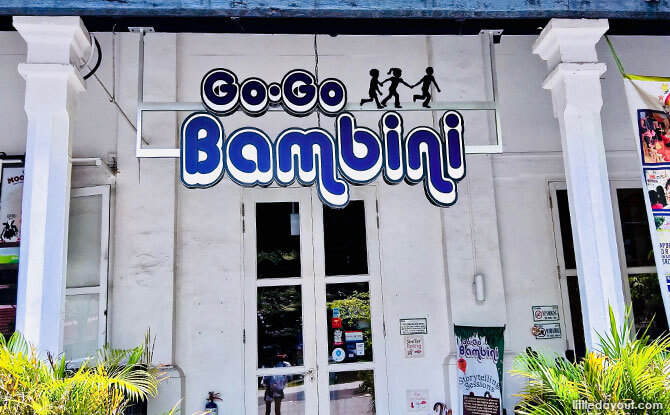 [Editor's Note: Go-Go Bambini has closed.]
Nestled amongst the cluster of restaurants, cafes, and galleries at Dempsey Hill is Go-Go Bambini, one of Singapore's very first indoor playgrounds. Brunching in Dempsey Hill on the weekend? Consider dropping the children off in Go-Go Bambini for a few hours of peace and quiet for you, and endless fun for them!
Climb and Slide at this Indoor Playground in Singapore
Registration at Go-Go Bambini is fuss-free and very casual. Parents are provided with a guest card at the door, and away you go! I suppose Go-Go Bambini  has  chosen to do away with chirpy staff at reception so that you and your children can just get to it – you are there for the playground, aren't you? Need hand sanitiser? It's on the wall. Need to put your shoes away in the cubby holes? They're round the back where the toilets are.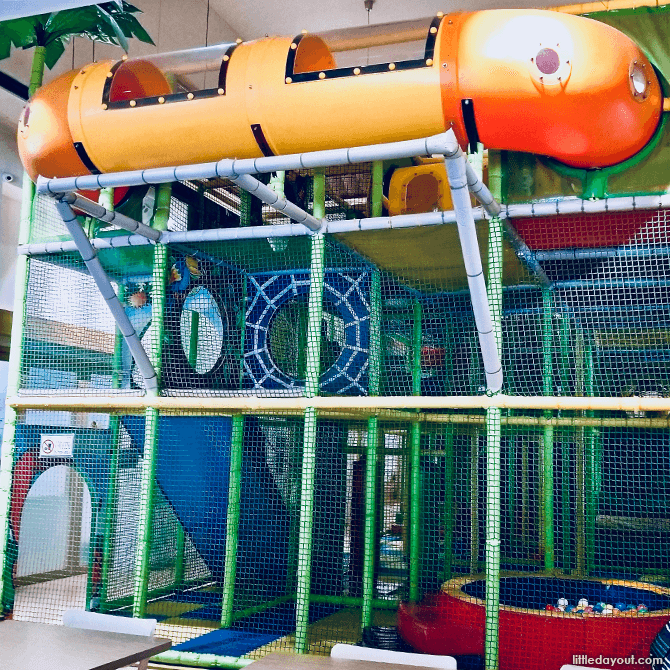 Soft, warm lights flood Go-Go Bambini which makes for a cosy environment. The 6-metre tall climbing frame, however, is just passably lit, so parents with younger children might want to remind them to watch their step.
---
-- Story continues below --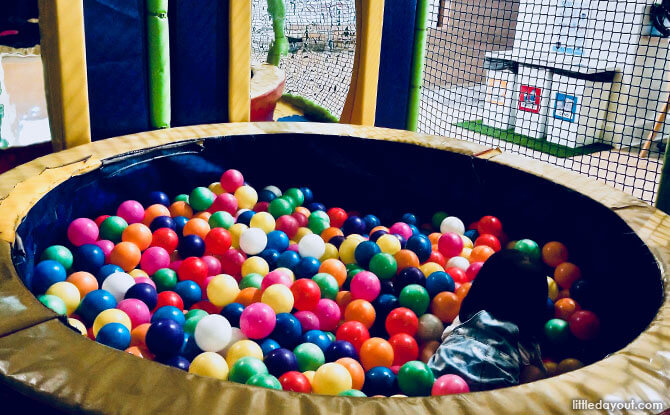 Go-Go Bambini's unique playscape also includes a flying fox, ball pits, tunnels, padded climbing walls and even a floor piano. At almost four storeys high, Go-Go Bambini's mesh climbing frame is sufficiently challenging for children of all ages, and very safe as it is fully padded.
Toddler Play at Go-Go Bambini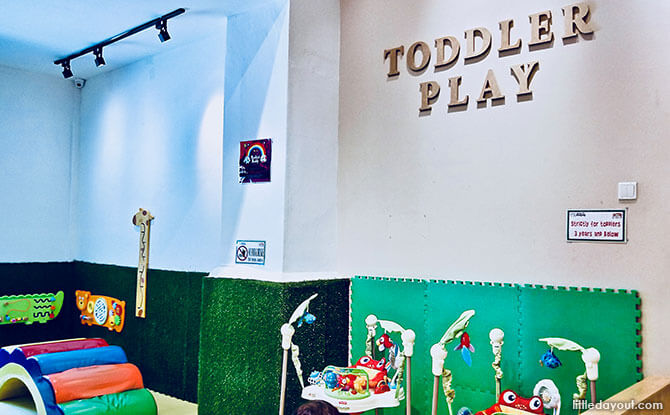 Toddlers under the age of three will not be left out in Go-Go Bambini as there is a separate Toddler Play zone just for them. Tucked in a cosy corner away from the fast-paced action of the main climbing frame, the Toddler Play zone is filled with age-appropriate play equipment to engage and challenge the crawlers and pre-walkers. There are jumperoos for the babies, a mini foam-padded slide, a play kitchen, and some toys.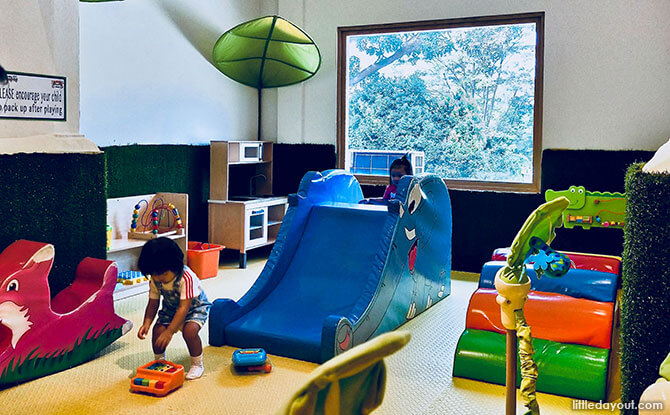 Securely fenced off from the rest of the indoor playground, the Toddler Play zone is adequately equipped and will certainly not overwhelm babies and toddlers. Parents of toddlers know the extent of the toddler attention span – Go-Go Bambini's Toddler Play zone will probably pacify them long enough for you to have a coffee and muffin.
Reading Nook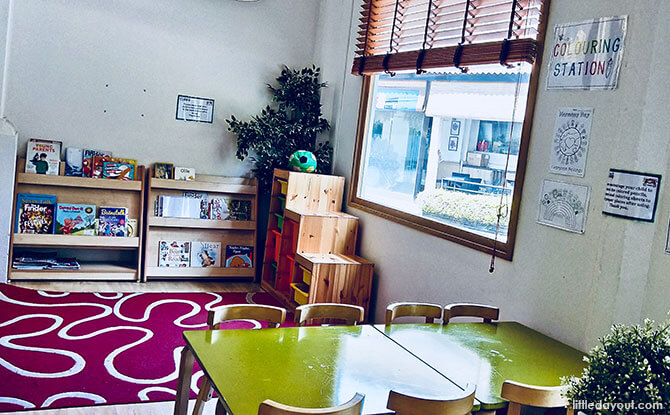 To the far end of Go-Go Bambini is a little reading nook and some low tables and chairs where children can indulge in some colouring. My daughter was quite happy to sit on the rug to read alone. It's a lovely corner, what with the natural light streaming in.
Go-Go Bambini Cafe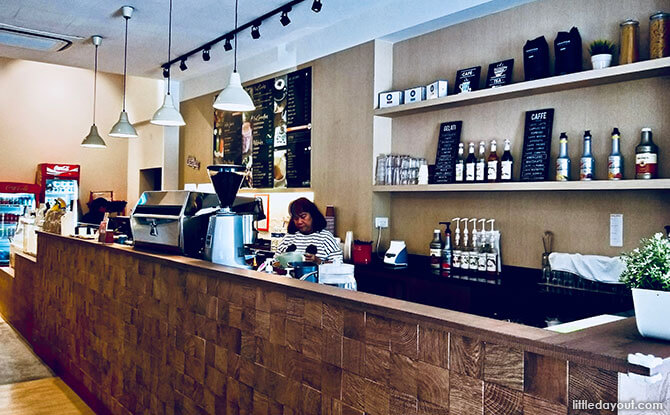 Go-Go Bambini's in-house cafe offers parents and caregivers a place to sit back and relax while the children occupy themselves happily on the climbing frame. Enjoy the cafe's selection of gourmet food ranging from salads, all-day breakfast items, sandwiches, pizzas, pastas, coffees, and ice-cream.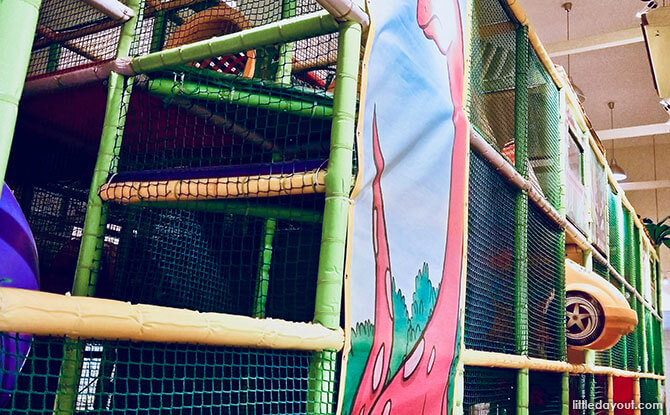 Go-Go Bambini is worth keeping in mind if you're thinking of rewarding your child for sitting through a two-hour lunch at Dempsey Hill with you. If you drive, you'd know parking is free, and that's always a bonus. For more information on opening hours, go here.
[Editor's Note: Go-Go Bambini has closed.]