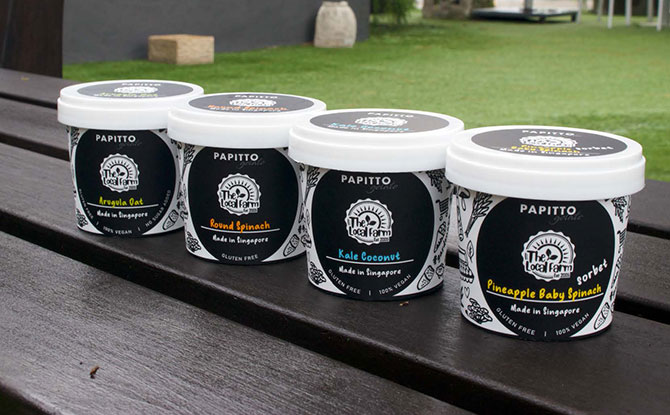 Kids often offer up some resistance when asked to eat their vegetables but they won't turn down an offer of ice cream. Bringing these two dichotomies together is Singapore's first set gelato flavours made from locally-grown vegetables, which you can get a taste of from 4 June 2022.
---
The Local Farm's Gelato with Locally-Grown Vegetables
Curated by The Local Farm by Gardenasia (TLF), the gelato flavours incorporating locally-grown vegetables will be officially launched over the weekend of 4 and 5 June 2022 at The Local Farm Weekend, a monthly event being held at Gardenasia in the Kranji Countryside. Thereafter, they will be available to be purchased online via the TLF website and across hotels under the Intercontinental Hotel Group.
The TLF Gelato line is part of the brand's efforts to explore ready-to-eat foods which not only supports local producers but are also easy and convenient for consumers.
---
-- Story continues below --
The four flavours of gelato that will be available are:
Arugula Oat (in partnership with Sustenir Agriculture);
Kale Coconut (in partnership with Sustenir Agriculture);
Pineapple Baby Spinach Sorbet (in partnership with Sustenir Agriculture); and
Round Spinach (in partnership with Yili Farm)
TLF Gelatos are 100% gluten-free, with three out of four flavours being vegan. They have been crafted in partnership with Papitto Gelato, a local gelato business that makes gelato at their HACCP certified factory in Singapore.
The Local Farm Gelatos will be available in two sizes — 100 ml ($4.50+) and 475 ml ($18+).
---
Support Local
"The Local Farm believes in bringing convenience of accessing locally harvested goodness to people, and we understand the consumer pain point of having to go out of their way to find and support locally-grown produce. With the gelato line, we work with Singapore farms to provide consumers a fun and easy way of supporting local farms by buying local," remarked Mr Kenny Eng, Director of Gardenasia. "In the future, we would like to expand to other products as well, collaborating with more local businesses to simplify the way we buy local!"
Those wish to head down to The Local Farm Weekend this Saturday and Sunday, 4 & 5 June 2022, can look forward not only to the new gelato flavours but activities like a moss activity booth, animal encounters, different local produce and more.