Dale Chihuly: Glass in Bloom has been extended till 3 October 2021. As part of the extension, four local artists will be displaying their artworks to complement the Dale Chihuly: Glass in Bloom exhibition from 17 September onwards. These artworks will be specially located at different locations in the exhibition areas. The exclusive showcase will be set against the impressive glass sculptures by Chihuly.
---
Four new artists at Dale Chihuly: Glass in Bloom
Tunku Khalsom
The first artist is Tunku Khalsom who will be displaying The Colours That Surround Us (2021). This work is inspired by colours in the world, from the flora and fauna to the sunsets and sunrises. Khalsom's work is often recognised by bold and colourful expressions and she took on concepts similar to Chihuly as inspiration.
---
Florence Ng
There will also be works by Florence Ng, a pioneer glass artist, who will display Circle of Life (2021). The artwork is inspired by the stamen of the flower, which is the part of the flower that is often overlooked but very integral to the continuation of life. The art piece is made in metal and cast and blown glass, holding the elements in perfect balance in a circular sculptural form.
Jahan Loh
The third artist is Jahan Loh, a well-known contemporary artist based in Singapore will be displaying a bronze artwork titled Adam and Eve (2018). The art piece was part of an exhibition Jahan presented, which delved deep into the topic of existentialism, questioning the origins of humanity through the book of Genesis. Fusing religious iconography from the Renaissance with science-fiction, pop-art influences, he challenges audiences to consider ideas of good and evil as raised in Genesis.
---
Koh Dawn
The fourth artist's work to keep an eye out for is Koh Dawn, a Paper Sculpture Artist, who will display Discover Your True Self (2021). This sculpture is a re-interpretation of Dawn's original life-sized paper sculpture artwork for Discover Your True Self (2020). The art piece is made from offcut paper, wires, watercolour and acrylic materials and wallpaper and takes the form of a Renaissance painting of a flower arrangement.
---
Additional programmes to enjoy at Dale Chihuly: Glass in Bloom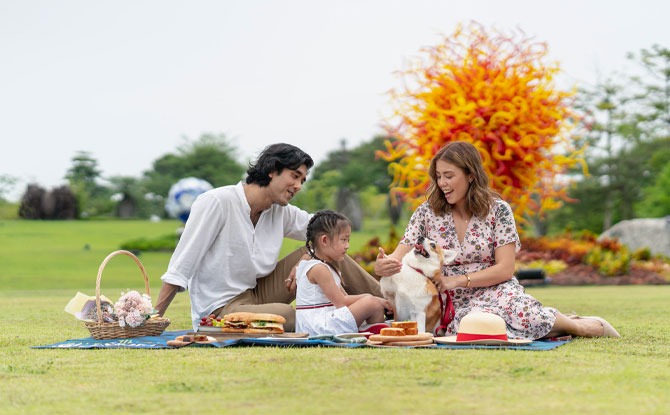 Members of the public can also look forward to a host of additional programmes celebrating Chihuly's glass art, including a comprehensive guided tour of the exhibition, assorted workshops and complementary activities such as Art Jamming, Picnics and wellness sessions by various yoga and fitness studios.
From 1 September to 30 September 2021, Airport and Aviation Workers can get free entry to enjoy the extension of the exhibition. Family and friends visiting with them are also eligible for a discount on ticket prices. Read more here.
For more information, on the exciting events, visit the site here.