Many of us rely on store-bought pancake mixes nowadays. But if you ever run out of it or the supermarket runs out of stock, here is a simple, basic and delicious DIY pancakes recipe you can try out and make from scratch.
Recipe for DIY Pancakes
Servings: 12 pieces (mini 2")
Ingredients
1.5 cups of flour
3.5 teaspoons of baking powder
1 teaspoon of cinnamon powder, optional
1 tablespoon of sugar
1 teaspoon of salt
1-1/4 cup of milk
1 egg
3 tablespoons of butter, melted
1 teaspoon of vanilla extract
Method
In a large bowl, add in the flour, baking powder, cinnamon powder, sugar and salt. Mix well and set aside.
In another bowl, combine the milk, egg, melted butter and vanilla. Mix well.
Make a well on the dry ingredient bowl, pour in the wet ingredients, whisk to mix well till you get a smooth mixture.
Do not over whisk. It is fine even if there are some lumps in the mixture.
Lightly grease a skillet or griddle on medium heat.
Put two tablespoons of batter (for mini-sized pancakes) or 1/4 cup of batter for regular-sized pancakes on the skillet. Heat till you see bubbles starting to surface. Carefully flip and cook the other side for another 30 seconds.
Serve your DIY pancakes warm with maple syrup, honey, butter, whipped cream or fruits. Enjoy!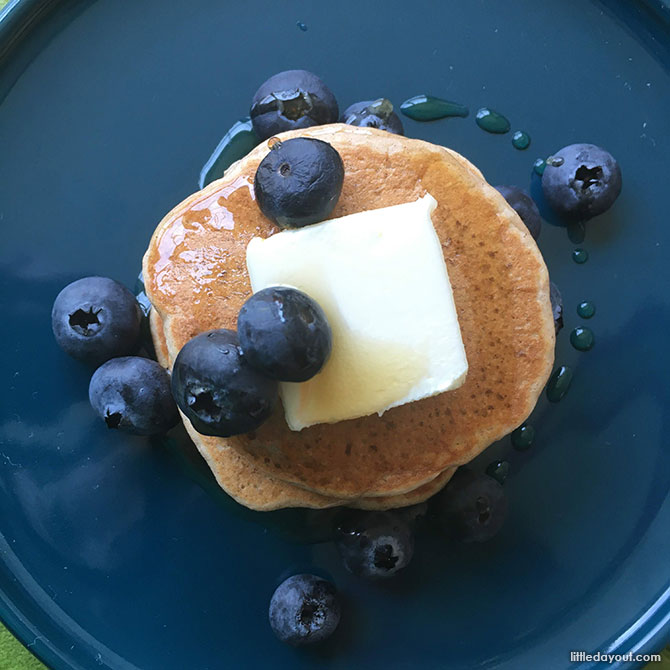 Click here for more recipe ideas.