Four maps of early Singapore from the National Library's rare materials collection have been featured on four stamps being launched today, 1 December 2020.
---
Stamps with Early Singapore Maps
The SingPost stamps with the early Singapore maps each come in the following denominations: 1st Local, 70 cents, 90 cents and $1.40.
A First Day Cover and a Presentation Pack will also available at $4.80 and $5.85 respectively.
---
National Library's Rare Materials Collection
The early maps which the stamp offer a fascinating window into Singapore's past. Some of the maps serve as evidence of how Singapore was an important navigational landmark and the place of trade in the maritime crossroads of East and West, even before the arrival of the British in 1819.
On some of the early maps, Singapore is marked out by its ancient, indigenous names. Look for references to Temasek ("sea town") and Pulau Panjang ("long island").
---
At The Crossroads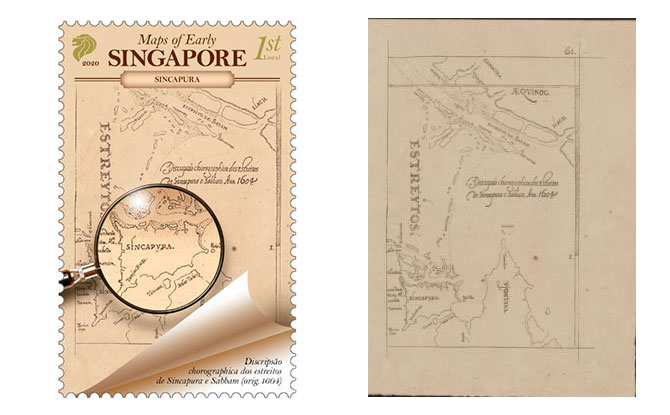 One of the maps depicted was drawn in 1604 by Manuel Godinho de Erédia. The map captures one of the earliest close-up views of Singapore as an island. It shows the "Xabandaria" (harbour master's compound) and the Old Strait and New Strait − two key waterways that connected the East-West trade routes. These features indicate the presence of trade activities in Singapore during the 17th century.
It even has familiar names such as Sungei Bedok, Tanah Merah and Tanjong Rhu, places and name which we are still familiar with today.
Another interesting map which a stamp was based off is a 17th-century European map. This captures a naval battle between the Dutch and Portuguese forces off the southeastern coast of Singapore and in the Johor River in 1603. It was printed in 1606 and highlights the strategic importance of Singapore as European powers wrestled for control of key waterways that provided access to the profitable Asian trade.
For a closer look at the original maps which were provided by the National Library Board (NLB), visit NLB's BookSG website.