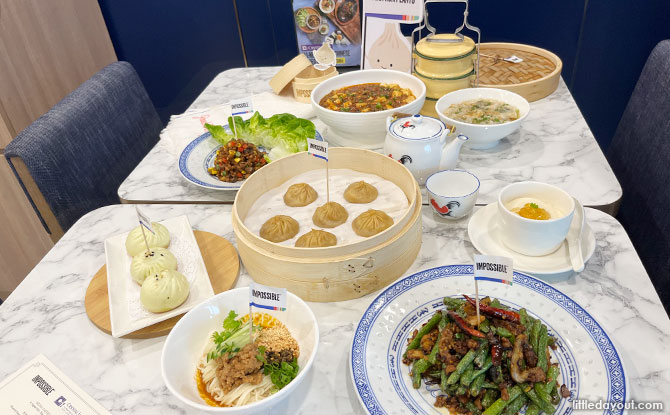 Impossible Pork is joining forces with culinary group Crystal Jade for the latter's first Impossible menu, giving a contemporary plant-based spin to classic Chinese delicacies. The current food philosophy? Delicious, nutritious and sustainable pork dishes with tongue-tingling Asian flavours.
August 2022 heralds Crystal Jade's new Impossible Pork menu which features its modern take on seven classic dishes, exclusively available at its Crystal Jade La Mian Xiao Long Bao branch in i12 Katong, and for home delivery on Deliveroo. 1 August is also when this new casual dining outlet opened its doors at Katong i12 with a view of heritage Joo Chiat shophouses across the road.
---
Crystal Jade Impossible Pork Menu
Steamed Impossible Pork Bak Kut Teh Xiao Long Bao ($9.90+ for 6 dumplings or $14.90+ for 10)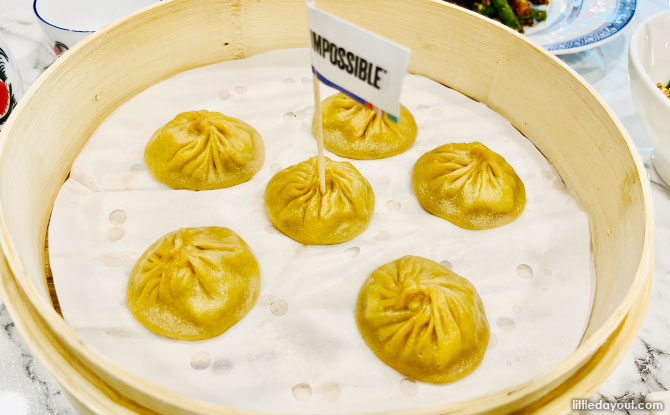 For fans of the pork rib broth, Bak Kut Teh, this is Xiao Long Bao served up with a difference. These neatly-crimped soup-filled dumplings are tinged with dark broth stuffed with tender pieces of Impossible Pork marinated in herbs and spices. With their delicate skin intact when lifting the small swirled mounds from the steam basket, the first taste of the moist meat in piping hot aromatic peppery broth was love at first chewy bite.
---
-- Story continues below --
Pan-fried Shanghai Impossible Pork and Vegetable Bun ($6.90+ for 3 buns)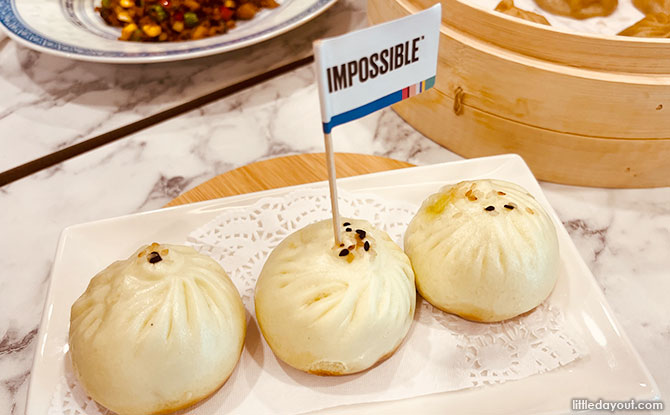 Like a two-in-one steamed and fried mantou, this trio of fluffy plump rounds topped with a smattering of black and sesame seeds are delicious to the max with just the right amount of juicy Impossible Pork and vegetable filling complemented with the golden brown crackly bottom of each bun.
---
Mini Impossible Wanton Soup ($7.90+ for 8 dumplings)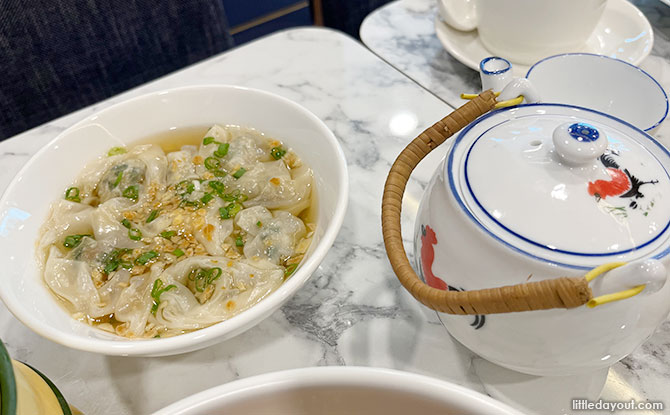 Tender pieces of Impossible Pork in silky wanton skin swimming in a sharp broth with a sprinkle of chopped green onions and fried garlic bits. Each wanton is a lovely bite but we found the soup a tad too salty.
---
Sautéed Minced Impossible Pork with Basil served with Romaine Lettuce ($18.90+)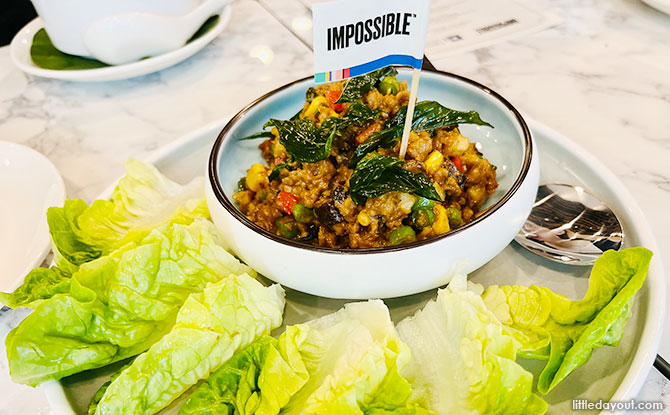 Glossy, caramelised and juicy Impossible Pork sautéed with chopped bell peppers, long beans, basil leaves and corn, this dish was a vibrant burst of colour, textures and flavour. Accompanied with fresh crisp romaine lettuce cups, the presentation was an invitation to enhance the experience by rolling the minced meat into a leafy wrap or heaping glistening spoonfuls into each lettuce cradle to balance the richness. Either way, deliciously flavoursome and refreshingly crunchy!
---
Impossible Mapo Tofu ($15.90+)
Not for the faint-hearted. Robust, hearty and bold, fiery Sichuan beancurd dressed in chilli bean sauce, spiced with chilli oil and peppercorns, with a blanket of chopped green onions, pairs very well with steamed rice.
---
Wok-fried French Bean, Eggplant and Impossible Pork with Lao Gan Ma Sauce ($14.90+)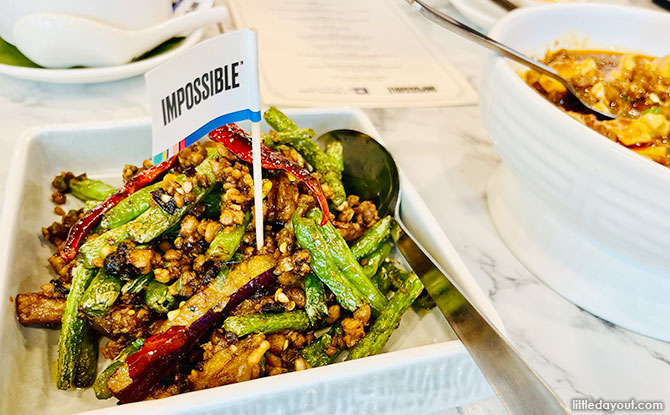 French beans in their deep emerald green beauty have this crisp and tender texture and natural sweetness when fried. Add on slices of eggplant fried to a rich meaty sweetness and magic happens. Stir-fry this with Impossible Pork with a savoury splash of Lao Gan Ma ("old godmother" brand) sauce with its chilli oil, fermented soybeans, garlic and onions giving another layer of crisp textures. With dried chilli tossed in, this dish won hands down for its sweet, mildly spicy, deeply fragrant flavours.
---
Signature Small Bowl Dan Dan La Mian with Impossible Pork ($6.90+)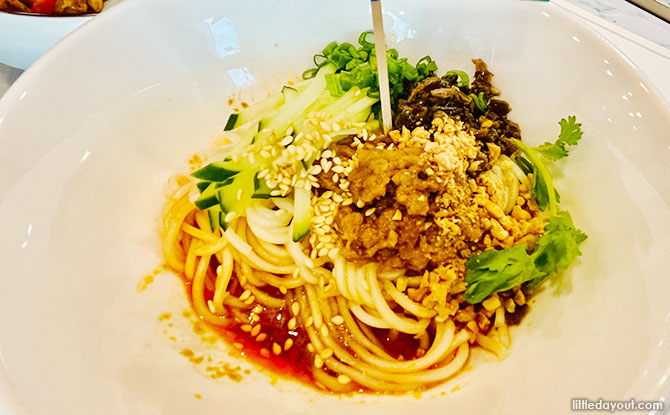 A hit of nuttiness and spice, this bowl of hand-pulled noodles and seasoned Impossible  Pork, is artfully arrayed with finely sliced cucumber, coriander sprigs, black fungus, peanuts and a generous handful of chives and sesame seeds. Deceptively small, the serving was just right, heavy and rich once well-mixed with its base of aromatic chilli and scallion oil.
---
Chilled Beancurd Jelly with Peach Gum ($5.90+)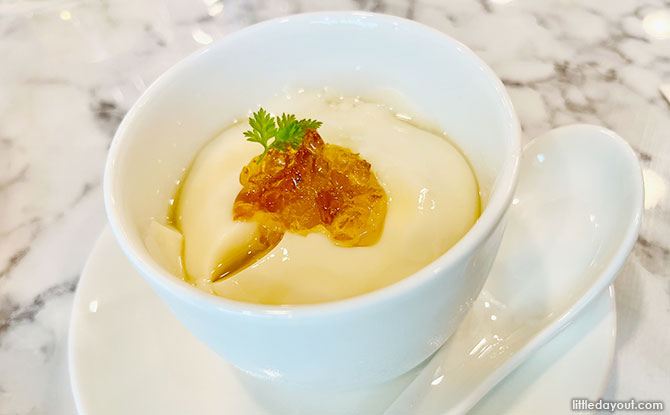 While I had my fill of hot pu-er tea to wash down the heat of the spicer dishes, dessert of a lighter and much-needed cooler fare came in the form of a refreshing serving of sweet beancurd jelly garnished with amber-hued peach blossom tears.
Conceptualised and crafted by Chef Martin Foo, Group Executive Chef, Crystal Jade Culinary Concepts Holding, the plant-based pork* offerings on this latest menu should appeal to Impossible Foods converts and newbies.
All in all, it was a satisfyingly gustatory experience, expanding our palate with new food connecting tastes familiar yet novel.
*Note: the above dishes are not vegetarian but can be made vegetarian upon request with the exception of Steamed Impossible Bak Kut Teh Xiao Long Bao.