Crustless Veggie Mushroom Cheese Quiche – a hearty vegetarian quiche that's perfect for breakfast, lunch or even dinner! Bake it in a large baking dish for the whole family or in a muffin pan for on-the-go meal options.
Recipe for Crustless Veggie Mushroom Cheese Quiche
Servings: 10 persons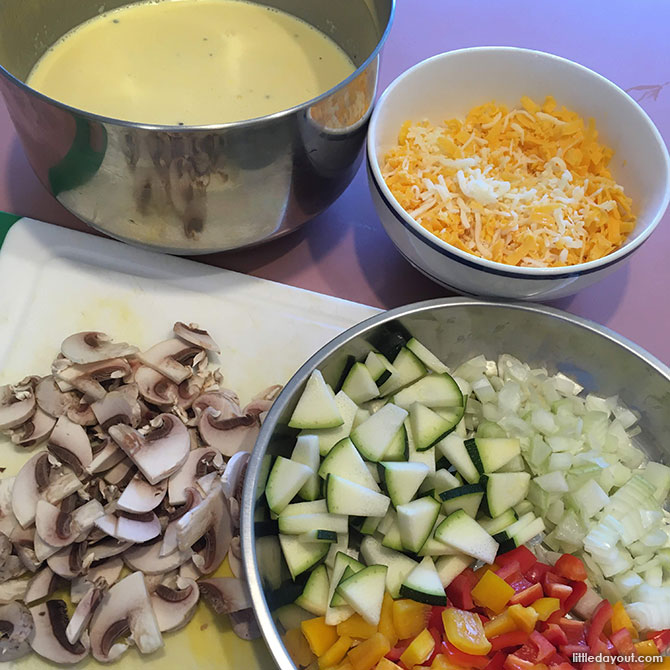 Ingredients
1 tablespoon of butter or olive oil
1/2 cup of finely chopped onions
1/2 cup of chopped bell pepper
1/2 cup of sliced zucchini
1/3 cup of sliced white mushroom
1 cup chopped baby spinach
8 halves of mini cherry tomatoes
2 cups of grated mixed cheese (mozzarella, cheddar, Monterey)
2/3 cup of sour cream (or plain Greek yogurt or omit this completely)
3/4 cup of heavy cream (or whole milk, , low fat milk or half and half)
12 large eggs
1/2 teaspoon of salt
1/4 teaspoon of black pepper
Note: other suggested ingredients include shredded carrots, chopped broccoli, diced sausages, chopped bacon and diced ham.
Method
Quiche in Baking Dish:
Preheat the oven to 175 degrees Celcius. Spray a 9 x 13-inch baking dish with cooking spray. Set aside.
Melt the butter in a medium skillet over medium heat. Add the onion, bell pepper, zucchini and mushroom, stirring occasionally until softened (about 2 to 3 minutes). Transfer the veggies to the sprayed baking dish.
Add the spinach to the skillet and cook for about 1 minute, until it wilts slightly. DO NOT overcook. Transfer spinach to the baking dish.
Add the grated cheese of your choice and stir to mix.
In a large bowl, whisk together the sour cream and heavy cream until smooth. Add eggs, salt and pepper to the bowl, and whisk until well combined. Pour the egg mixture into the baking dish and stir gently to evenly distribute the veggies and cheese. Lay all the halved tomatoes on top of the egg mixture.
Cover with foil and bake for 45 minutes. Uncover and bake for 10 to 15 more minutes, until eggs are set. Serve warm or at room temperature.
Quiche in Muffin-sized Pan:
Preheat the oven to 175 degrees Celcius. Spray the muffin tray well and set aside.
Cook all the veggies, mushroom and keep them in a large bowl.
In another bowl, whisk together sour cream, heavy cream, egg, salt, pepper and cheese. Transfer the egg mixture to the veggie bowl and stir well.
Pour into the prepared muffin pan, and bake for 28 to 30 minutes or until firm.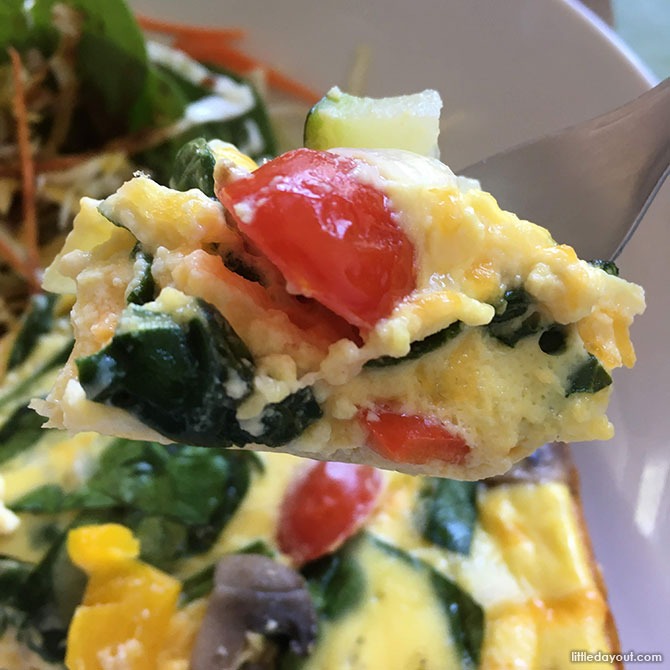 Simple #homecooked-recipes is a series specially developed to inspire beginner cooks with work and kids to handle, and not much time to spare in the kitchen. The recipes are deliberately simple enough even for kids to help you with them. Click here for more simple home-cooked recipes.